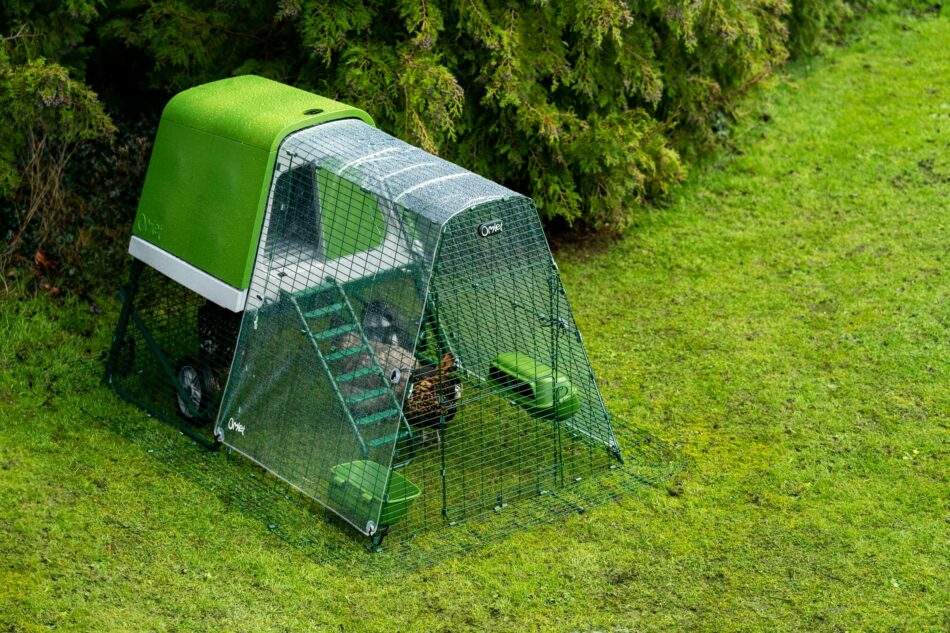 Wondering how to choose the right chicken coop size for your flock? Your hens' home will need to safely and comfortably house them, and you'll want to be sure that you get the right size for the number of chickens you have. Appeal to all of the Goldilocks in your flock with our tips and coop sizing. Find your perfect coop that's not too big, not too small but just the right size. 
The importance of the right size coop
Chicken coop size is important because hens need adequate space to roost at night and lay their eggs. Chicken coops with dedicated egg-laying areas are ideal so that your hens have a place to rest and a place to nest. This keeps your eggs clean and free from being smashed by roosting chickens. 
Your chickens' coop should be large enough for your hens to feel comfortable and safe. Keep in mind that your hens' house will mainly be used to sleep in at night and to lay eggs. Your hens will play, forage and be active outdoors, so their coop will only need to be large enough to maneuver into roosting or laying positions comfortably. 
It's also important to not get a coop that's too large – especially in colder climates. Hens huddle together during chilly weather, and a smaller coop will help contain their body heat within. If you know that you're limited to keeping 3 or 4 hens, it's best to go with a smaller chicken coop. But if you plan to keep more than 4 hens, their body heat will fill the space of a larger chicken coop.
How much space is needed per chicken
There's no exact formula for determining how much space to give chickens, and chicken coop sizes can vary. Different breeds of chickens have varying space requirements, and each individual hen will have their own opinion of how close they prefer to be during roosting. As a general rule, you'll want to provide your hens with as much space as possible. This will allow ample space for your existing flock, as well as room to grow. The phenomenon "chicken math" plagues most chicken keepers when trying to calculate coop size per chicken. This is a term used when flock raisers acquire more chickens than they originally intended to. So, it's always a good idea to get the biggest chicken coop you can for your space, should chicken math creep up on you. 
Some cities or states may require specific dimensions for your chicken coop based on the number of hens you have. Check with your city's zoning department to see if there are size requirements or restrictions before choosing your chicken coop.  
Elements to consider when deciding the perfect size chicken coop
Before settling on your chicken coop size, make sure you consider the following: 
Your city or

homeowners association

's (HOA) size requirements or restrictions 

How many hens you'd like to keep

Your yard's space 
You'll also want to consider if you want a mobile chicken coop or one that you'll keep in a permanent location. Mobile chicken coops are great for letting your chickens help mow your lawn, and are particularly helpful in areas that experience severe weather events. They can be moved to safety quickly and easily – while your flock remains safely inside.  
Chicken coops placed in a permanent location will need a chicken run or chicken fencing to be attached to or placed inside. This will allow your hens time outside of their house in safety, and keep them from areas you'd rather not have them pecking around in.  
Choosing your chicken coop comes down to personal preference. Most chicken keepers would agree that having a chicken coop that's easy to clean is at the top of their list when it comes to selecting a chicken coop. Your ideal chicken coop size should be one that fits your needs and fits your flock inside.
Finding the right coop for your flock size
If you've already decided on which breeds of chickens you're going to keep, it's time to determine how many you want to have. If your city or HOA has restrictions on how many hens you can have at any given time, then your decision is made for you. There are still many different types of chicken coops to consider. Those with these restrictions can easily choose from our chicken coops that house 2-4 chickens: 
The

Eglu Go

 

Perfect for those needing a low-profile chicken coop, or that keep hens that prefer roosting at ground level

Can also be used as additional housing for sick or injured hens

The

Eglu Go Up

Ideal for those wanting an elevated coop 

Can be converted into a mobile chicken coop easily with the addition of handles and wheels 
Larger flocks can be housed comfortably in one of our large chicken coops. The Eglu Cube is recommended for: 
Flocks of up to 10 small breed chickens

Chicken keepers wanting to grow their flocks 

Both mobile and permanent setups 
How to increase the size of your current chicken coop
At Omlet, we have firsthand experience with chicken math. Expanding your flock's space will likely be an ongoing endeavor. After all, unless your city or HOA says otherwise, you can never have too many chickens. 
Our walk in chicken runs can be extended indefinitely to accommodate your growing flock. Simply choose your ideal dimensions using our online configurator, and attach the corresponding run extension to your existing walk in run. Our attached chicken coop runs can also be extended to up to 12 feet. 
Add extra chicken coops for sleeping and laying space within your growing run. The addition of any of our Eglu chicken coops will offer lodging to your growing flock. Create different areas of your chickens' area with chicken run partitions, which can separate your flock by breed, size, or temperament. 
First-time chicken-keeping tips
Ready to get started keeping chickens? Once you've determined your coop size, here are some other things to check off before making the poultry plunge: 
Research what type of diet you will f

eed your hens

. This could be regular laying feed, organic, non-GMO, or free-range pellets or crumbles. 

Decide if you want to

start out with hens or chicks

. There are pros and cons to each, but chicks will require additional equipment and care for the first 6-12 weeks of their lives. 

Prepare your yard and measure where you want your chicken flock's home to be. This can help you determine if you would prefer a mobile or permanent setup. 
The perfect size with Omlet 
Choosing the chicken coop size that's right for you is a big decision. But with Omlet, you can be sure that no matter the size of the coop, you'll be getting a hen house that's been designed to last a lifetime. All of our chicken coops are built from the same heavy-duty, rot-free materials. Add some finishing touches with a Freestanding Chicken Perch or the Chicken Swing to help your flock enjoy their space to the fullest.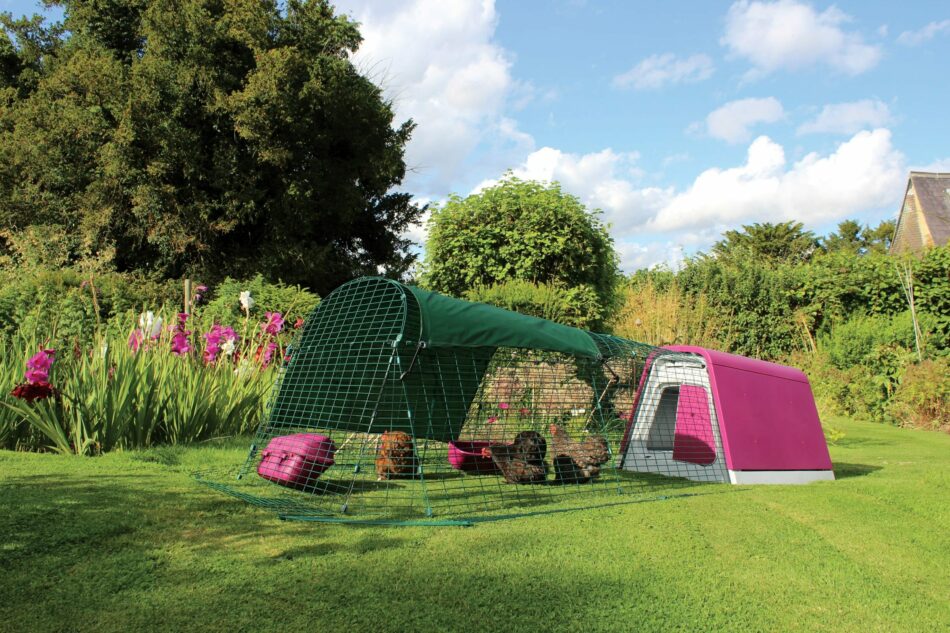 No comments yet - Leave a comment
This entry was posted in Chickens
---