Give Your Eglu Chicken Coop a Spring Clean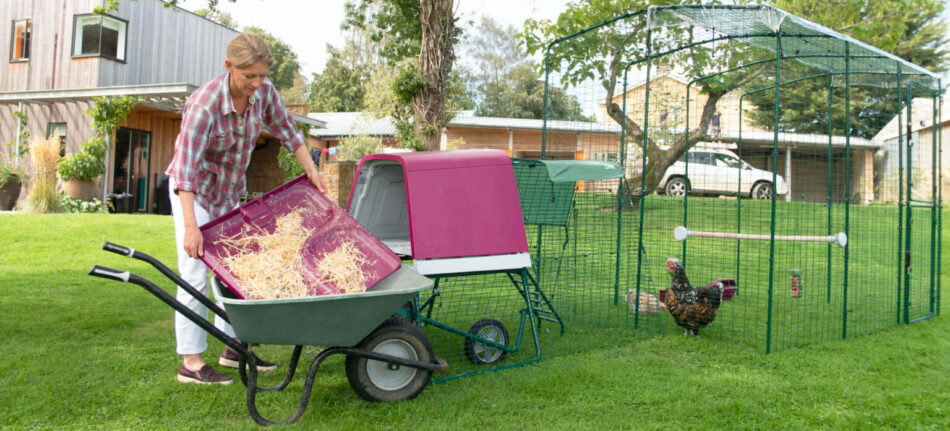 Giving your Eglu Coop a spring clean won't take you long! It's soon coming up to that time of year when your chicken coop is probably looking a bit worse for wear. The hens have been cooped up inside more than normal, there's probably plenty of mud around the garden your hens have been spreading around, and you might have kept spending time in the cold to a minimum. 
Don't put it off any longer – time for the annual chicken coop spring clean! If you have a wooden chicken coop, you might think you have to block out the whole day for this task, but if you're lucky enough to own an Eglu Chicken Coop, you'll be done before the family notices you have gone outside. 
Let us talk you through just how easy it is to clean an Eglu Chicken Coop!
1 – Empty the droppings tray
All Eglu Chicken Coops have a slide out dropping tray where all your chickens' waste lands when they are roosting at night. Just take out the tray, empty it on your compost heap (it will make great fertiliser next year!) and hose or wipe down the tray to make it sparkling clean again!
2 – Take out and clean all removable parts
Once the tray is clean, leave it to one side and remove all other loose parts of your Eglu. The back panel, the roosting bars and nesting box can all be taken out for cleaning. If you have an Eglu Cube, you can also take out the partition between the egg box and the roosting space. 
Feeders, drinkers, any chicken treat toys or other accessories should also be taken off for a refreshing wash and remove chicken perches from your run.
Give all of these a thorough clean. If you have a pressure washer you can just lay them out on the lawn or on your patio and spray them clean, but it's just as easy with a garden hose or simply a bucket of water and a soft cloth.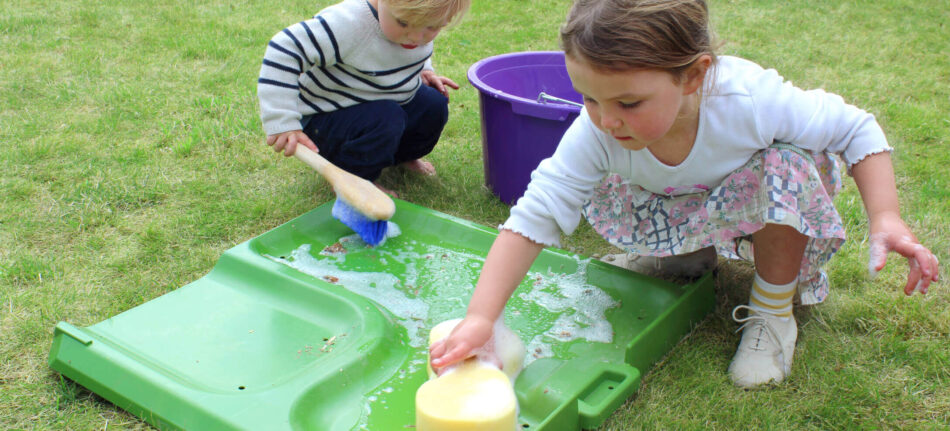 3 – Hose and wipe smooth surfaces
While all loose parts are out, give the inside of the coop a wash as well. Because all the surfaces of the Eglu Plastic Chicken Coops are smooth, and there are no inconvenient nooks and crannies like you would find in a wooden coop, you will be able to easily find any dirt and quickly remove it.
Thanks to the hard wearing, durable materials of the coops, you are not weakening the coop by scrubbing and cleaning it, and as nothing is absorbed by the plastic, you don't have to use any strong chemicals to get the coop clean. In most cases warm, soapy water will be enough, but if you've got some tough stains you can spray on a pet-safe disinfectant.  
4 – Move the coop to fresh grass
If you have wheels on your Eglu Coop, and it's not attached to a larger structure, this is the perfect time to move it to a different place in the garden. Maybe you want to place it somewhere shadier to prepare for warm spring days, or just use another part of the garden to save the grass from getting too pecked?
The dropping tray and wipeable roosting bars keeps your Eglu looking fresh for longer.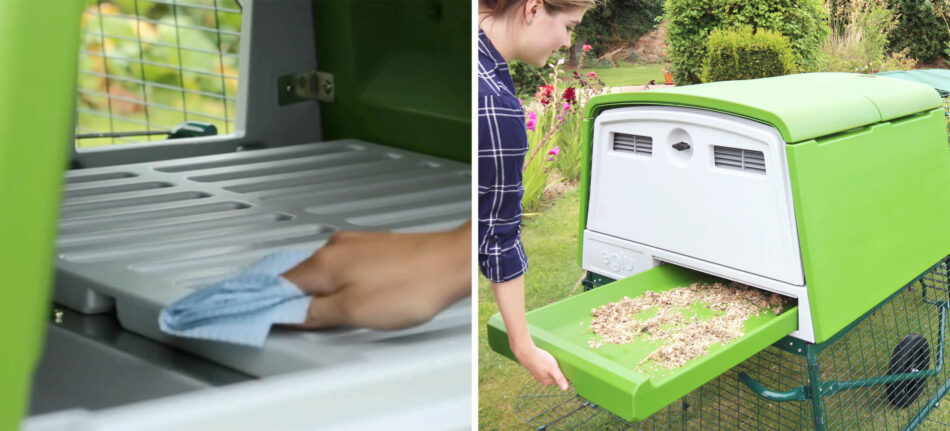 5 – Leave to dry
You should always let the coop dry before you let your chickens back in again, damp environments are really bad for chickens' respiratory systems. With wooden coops, you're looking at at least a few hours before the coop is dry again, but with the Eglus, and maybe a bit of help from the sun, the hens can start using the coop in no time. If you want to speed up the process, you can even dry all the components with a towel before you reassemble.
6 – Get everything ready
Last bit is to put some new, fresh bedding in the nest box, refill the feeder and drinker and put all accessories back. If you want to give your chickens a bit of extra protection, this is also a good time to sprinkle some mite powder around the roosting bars to prevent any pesky pests from attacking your hens at night. 
Depending on how thorough you've been with your weekly cleans, to give your Eglu chicken coop a spring clean should not take you longer than half an hour. Your coop will look even better in the garden, and your flock will really appreciate all your hard work! And if you haven't got chickens already, find out why spring is the perfect time to start your chicken keeping journey in this blog.
This entry was posted in Chickens
---