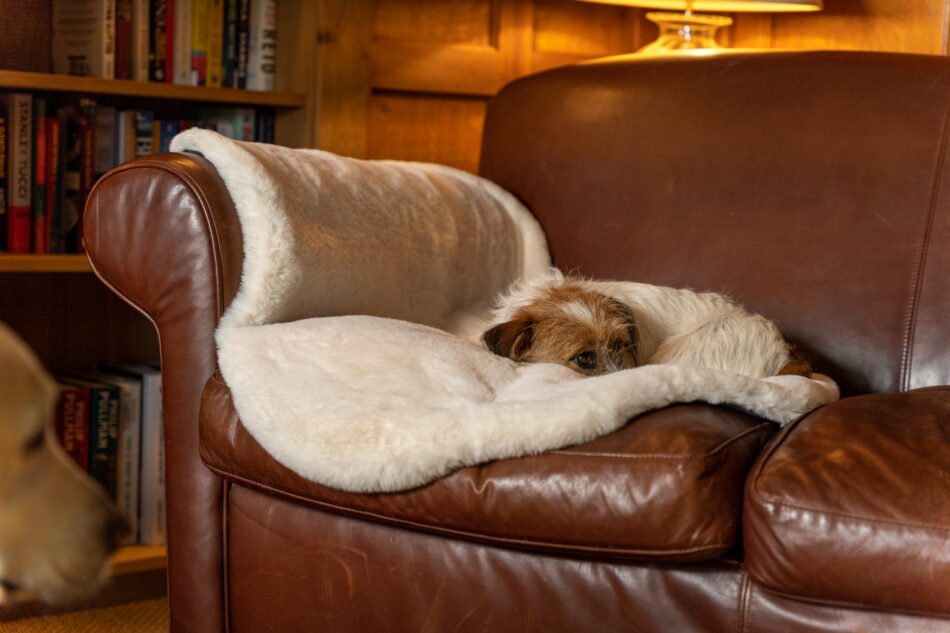 Most dogs dig the winter! Jumping in piles of fluffy snow and running through forests with winter white paws is most dogs' dream! But depending on dog breed, some find the winter season more magical than others.
While enjoying the beauty of the snowy colder months with your dog can be loads of fun, without proper care and preparation, extreme weather can also be quite treacherous for dogs and humans alike! That's why we created this list of 5 helpful tips to keep your dog safe this winter.
Shorter walks
Walking in a winter wonderland is a dreamy thought especially if it's with your bestest furry four-legged friend. But as idyllic as that holiday scene may be, the truth is, some parts of the country get entirely too cold for dogs to handle being outside for extended periods of time. 
So what does that mean for your dog's treasured walks each day? Just because it's cold out doesn't mean their walks have to stop! Instead, increase your usual 1-2 long walks per day to 3-5 short walks so the amount of time spent outside is the same, but in shorter periods of time. 
This way, your dog can still enjoy the fresh air and release some energy but without getting frozen paws in the process! Don't forget to thoroughly dry those foot pads before coming back inside – because no dog likes cold, wet feet.
Appropriate attire
While you are digging through your closet to pull out your wooly winter sweaters, feel free to fetch a dog coat (or two!) for your furry friend as well! Even though dogs are covered in coats of hair and fur, they can still get too cold in the winter months if not protected.
Your dog's ability to handle colder temperatures is entirely dependent upon their age, breed, and size. Thicker coat breeds, such as Huskies and Akitas, may be able to handle lower temperatures, but even these "winter dogs" need to have protective gear when being outside in winter!
Make sure you have a warm, waterproof dog jacket or sweater that is not too tightly fitting for your dog to wear. If your part of the country has snow on the ground most of winter, think about getting some dog booties as well for your pup. The salt and ice can get stuck in their paws on even short intermittent walks causing irritation later if not cleaned out. 
And for those last potty breaks before bed, attach a flashlight to your dog's harness or collar so both you and your dog can avoid any icy patches!
Winter dog grooming
Making sure your dog's fur is well-groomed is not just a hot weather activity. In fact, keeping up with your dog's coat in the winter is almost just as important as any other time of the year!
Here's why – a healthy coat on a dog acts like a temperature regulator. It can keep them cool in the summer and warm in the winter. So maintaining a regular brushing schedule of your dog's coat is essential during winter to ensure their bodies continue to do what they naturally do which is keep them comfortable! And be sure to avoid any complete hair shavings during this time of year.
What about the paws? Don't forget to pay closer attention to your dog's nails this winter and keep them trimmed. Walking on snow lined pathways may seem soft and nice, but this means that your dog's paws aren't getting the natural manicure they are used to when walking on hard concrete. 
Indoor winter fun
Frost-covered windows and snowy white drifts outside create a need for warm places to cuddle inside! And who better to enjoy a cozy snuggle with than your dog?
When weather conditions become too extreme to be outside longer than a quick puppy pee, that means it's time to create a cozy cuddleland indoors! In order to avoid cabin fever, have lots of dog toys on hand to keep your pup physically and mentally active. This is a great time to play new games of "hide and fetch" with your dog so they can get out some energy while also engaging more with you!
And after they have a good round of tug and play, be sure your dog has a cozy spot to snuggle into for a nap or the night. Even if your house is heated, the floorboards can still be too cool for a dog to lay on, so get a bed that is elevated to allow for more warm air to flow around them. The Topology Dog Bed designed by Omlet is a great option as the toppers and mattress covers are machine washable, making it super easy to clean!
Is your dog more of a "need a retreat" kind of dog? Then get them a comfortable dog den of their own to get cozy in like the Fido Nook Dog Crate designed by Omlet. Add a super soft sheepskin blanket to their sleeping quarters and you will have your dog dreaming of sugar plum fairies in no time!
Cold weather pet care
Dogs are no different from humans when it comes to health and the dangers of extreme cold weather conditions. Have you ever noticed that small aches and pains in your joints tend to feel worse in the winter? That's because colder temperatures increase the pressure inside your joints, causing pain receptors to be more sensitive and resulting in a greater sense of discomfort.
Well the same is true for dog's who have any medical conditions with joint pain or arthritis. The colder winter weather decreases their circulation and increases the stiffness in their already strained muscles and joints.
So what can you do to make your dog more comfortable this winter? Several factors can account for your dog's medical condition so it's always best to consult with your veterinarian about your dog's specific needs. But some best practices include keeping weight gain at a minimum, finding lots of ways to keep them warm, and being sure they have a comfortable dog bed to rest on.
Dogs who are prone to joint pain should also continue to move despite the thought that rest will make it better. Just be sure to stick to walks on cleared paths to avoid the slippery ice and snow that can make walking difficult for both you and your dog!
Winter is here! Experiencing these colder months with your dog can make this season more memorable and enjoyable for everyone as long safety measures are in place! So gather the dog blankets, heat up the hot chocolate and watch the snow as it gently falls out your window. With these 5 tips and lots of your love, your dog will be kept safe and warm all winter long!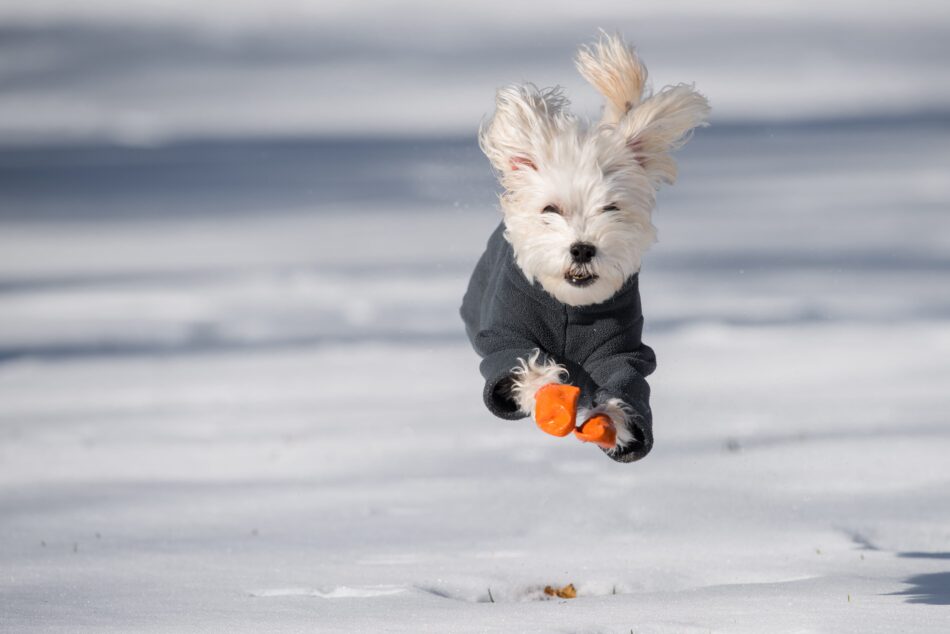 No comments yet - Leave a comment
This entry was posted in Dogs
---