Thanksgiving Treats for Rabbits and Guinea Pigs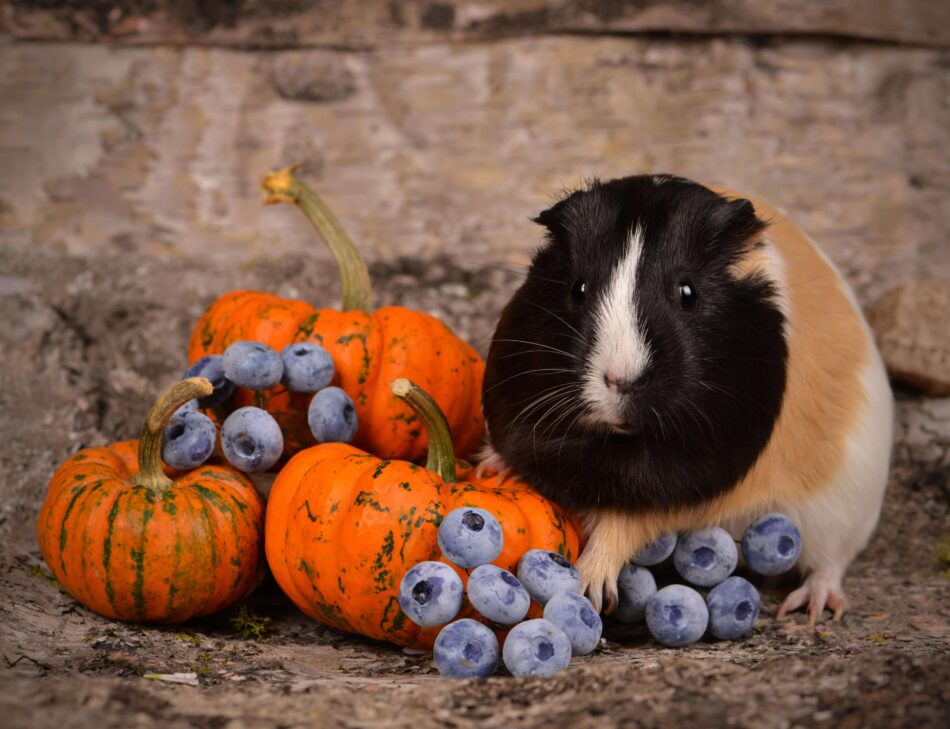 Thanksgiving marks the start of the holiday season. With fall well underway and winter just around the corner, it's the perfect time to snuggle up with your small furry friend and enjoy the mid-season changes. 
And let's not forget the food! Thanksgiving is one of the biggest holidays for a "foodie," and if you share a home with a rabbit or guinea pig, you know they're foodies too! Thankfully, there are several holiday treats that you can share with your food-loving-friends – just hold the seasoning and spices. 
What are your Thanksgiving meal staples? If you're like most Americans, your Thanksgiving spread probably includes turkey or ham, stuffing or dressing, various vegetables, sides, and breads, punctuated with decadent desserts. And with all that meal-prep, there are lots of scraps and trimmings that you can give your rabbit or guinea pig as a special holiday treat! 
Treats for your bunny  
Rabbits and carrots go together like turkey and dressing. But what other trimmings can you save for your bunny when you're prepping for your holiday meal? 
Rabbit-safe Thanksgiving meal ingredients that you can share with your bunny include: carrots and their tops (though in moderation, as carrots are high in sugar- which is why rabbits love them!), celery, cranberries (fresh or unsweetened and dried), fresh green beans, and leafy greens such as lettuce and cabbage. And if your Thanksgiving meal doesn't stick to the traditional menu, a list of rabbit-safe foods can be referenced to see what you can feed your bunny from the kitchen. 
The easiest way to keep your rabbit's treats separate from what gets tossed and what gets seasoned is to keep a bunny-bowl on the counter. Any trimmings that are meant for your rabbit can be scooped into a bowl and offered once you're done with your meal prepping – just make sure all of your helping-hands in the kitchen know what this is for!  
If you're really feeling festive, you can also find many recipes online for rabbit-friendly baked goods like carrot cake or banana treats to make their holiday extra-special! 
Guinea pig goodies 
Guinea pigs follow a diet that resembles a rabbit's, except that they need more vitamin C as they cannot manufacture their own. The same foods that you reserve for your rabbit can be safely offered to your guinea pig, but some additional considerations for cavies are: small amounts of orange or orange peel, bell peppers (yellow, red, or orange are best), broccoli, apple slices, and berries. 
Part of the cuteness of cavies is their build, but with their little legs and larger bodies, it's important not to overfeed them! Ideas for guinea pig baked goods can also be found online, but any holiday goodies should be served as a one-time treat. 
Keep a cavy-cup handy in the kitchen during holiday baking and meal-prep. Guinea pigs need no more than ½ cup of fruits and vegetables per day in addition to their regular diet. If possible, refrigerate excess scraps to offer at a later date if your cup "runneth over!"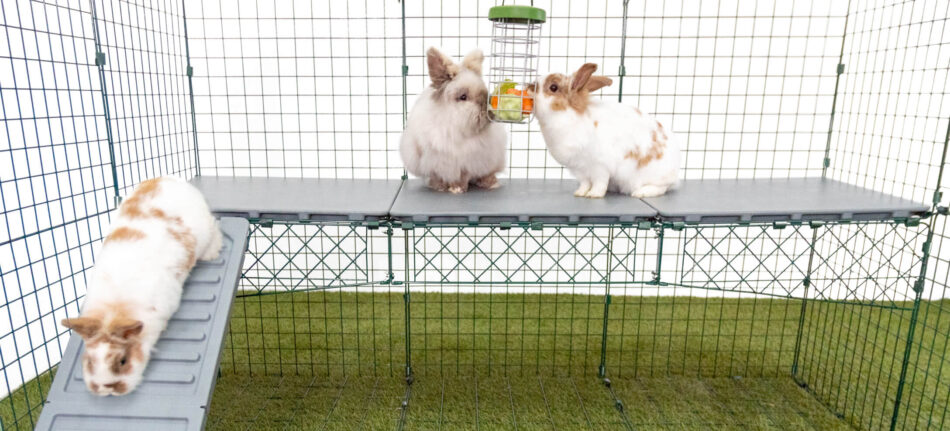 Holiday hazards 
While there are many delicious and nutritious foods to share with your rabbit or guinea pig, there are also holiday staples that should not be shared! Avoid feeding: 
Nuts and seeds

Potatoes (especially if raw!) 

Sugary or baked goods 

Breads 

Meat 
If your rabbit or guinea pig happens to sneak a taste of something they shouldn't, identify what it was and how much they ingested and call your veterinarian. The holidays are the most common time of the year for pets (large and small!) to get into something they shouldn't, so take precautions to ensure your bunny or cavy aren't able to sneak a bite. Make sure your rabbit or guinea pig is safe in their hutch or run, or set up a rabbit or guinea pig playpen to keep your furry family members out of the kitchen and away from falling foods and cooking utensils!  
Special occasion treats and year-round feeding 
Rabbits and guinea pigs both need a quality pellet feed (ideally timothy hay-based), and unlimited access to timothy hay or orchard grass and fresh water, with guinea pigs needing additional vitamin C. Around 90% of both your rabbit and guinea pig's diet should consist of these staples, with treats being given no more than a few times a week. 
The best treats are those that incorporate into a well-balanced diet for bunnies and cavies, such as vegetables or fruits that offer nutritional value. Anything indulgent should be offered on special occasions like holidays or your pet's birthday – otherwise it might upset their digestive systems or influence their food preferences! 
Feeding treats in a Caddi rabbit treat holder or a Caddi guinea pig treat holder is a great way to keep their favorite treats all together and up off the ground. It's also a nice "plating" option when serving up special holiday fare! 
A home for the holidays 
The holiday season should be a time of comfort and joy for both you and your furry family members. This time of the year also brings colder temperatures and freezing precipitation, so be sure your rabbit or guinea pig is housed in an insulated rabbit hutch or guinea pig hutch for optimum coziness. And bring on the joy with Zippi tunnels and playpens for endless fun so guinea pigs and rabbits can warm up their bodies and appetites! 
With a warm home, full bellies, and loving humans, your small furry family members are sure to have the best holiday season! 
This entry was posted in Guinea Pigs
---