As the vibrant colors of autumn begin to paint the world outside, it's only natural to want to extend the cozy ambiance to your home interior. While you let the warmth of the new season take center stage in your decor, don't forget to upgrade your dog's bed to suit your fall interiors. At Omlet, we found the best way to enhance your dog's comfort and your home's aesthetics is with the timeless comfort of corduroy. Discover your dog's next and last bed to suit your fall decor with our new Corduroy dog bed collection.
Pebbled perfection
Influenced by the flexing of dog paws on the smooth stones of a beach walk, the Omlet Corduroy Pebble dog beds were purposefully curated to embrace your dog's feeling of comfort. The beautiful color of this limited edition design creates a calm space for your dog within any space of your home. As the colder temperatures of fall find their way into our lives, the Corduroy Pebble dog bed offers a swaddling cuddle for your favorite furry friend and a peaceful palette of beauty to your decor. 
Matched in moss
The hues and tones of fall can vary from state to state. But the colors of the first rays of sunlight as it beckons over your morning walk with your dog remain the same. And that was the inspiration behind the Omlet Corduroy Moss dog bed design. The subtle green shade reminds you of the morning dew sniffed in gratitude by your canine companion and reflects a soft and warm embrace in your interior. A timeless design with the tactile luxury of corduroy, the Moss dog bed will comfort your dog from mid-morning nap until post-walk bedtime.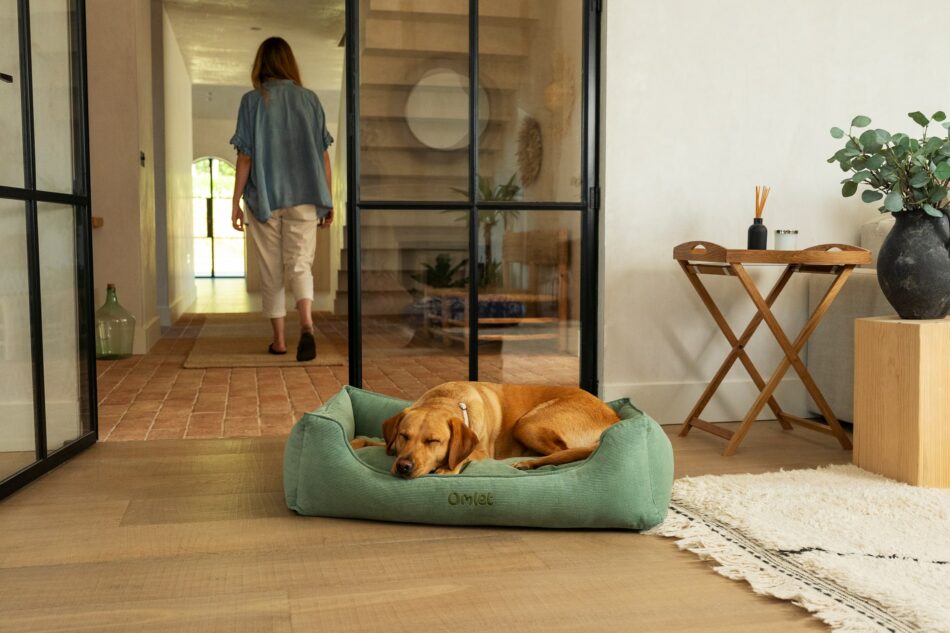 Pick a cover, pick a bed
Having a dog bed that looks good is one thing. But having one that comforts, supports and, more importantly, lasts is another. At Omlet, we believe both are equally important and essential to your dog's care so we designed our products that way. The Corduroy Collection was inspired by the effortless connection between human and canine with colors and materials that reflect comfort and beauty. 
Both corduroy covers can seamlessly be used on the Omlet Bolster dog bed, Nest dog bed, and Cushion dog beds. Designed with the same easy-to-clean and durable features, these luxurious fabrics are the perfect way to give your dog that fresh clean sheet feeling. Whether you're changing up your interior style completely, or just washing muddy paw prints off another cover, the Corduroy Collection by Omlet is sure to add style to both your dog and your home. 
Accessories to suit
Fall decor is all about creating a multi-layered and textured environment. Whether you choose the Pebble Corduroy or the Moss Corduroy, you'll need accessories to match. As the temperatures outside begin to drop, chillier nights call for added comfort for your furry friend. In these early days of fall, the Omlet Super Soft Dog Blanket is a great addition to give your dog more warmth and comfort in their slumber. And as you make your way further into the season when the temperatures really begin to plummet, use the Luxury Faux Sheepskin dog blanket that will not only add that extra needed layer of warmth, but will look great amongst all your autumn decor.
Fall is also the gateway to the long, dark days of winter where feelings of hibernation sit on the horizon. Give your dog the gift of a more comfortable sleep as you move into this season with stylish dog bed feet that raise their comfort and happiness. The transition into fall means more muddy walks in the forest amongst fallen, crunchy leaves. Which for you, means more time cleaning up messes. That's why we created our exclusively designed dog bed feet for the Omlet Topology and Bolster dog beds to help improve airflow, prevent build-up of dirt and debris, and create a more healthy and hygienic environment. 
Omlet and your dog
At Omlet, we're pet people, and we bring our personal experience into every design solution we create. No matter what season you're in, we make products that cater to the needs of your dog while ensuring they will always look good in your home. From super comfy dog beds that match your fall decor to cozy dog blankets and stylish dog bed feet that add warmth to everyone's surroundings, Omlet has designed the products that you and your dog can enjoy for the rest of the year ahead.
No comments yet - Leave a comment
This entry was posted in Dogs
---