What Size Crate Should I Get For My Dog?
In the wild, dogs naturally seek out small enclosures like homemade dens to retreat to for sleep or safety. So it only makes sense that they look for the same comfort in our homes as domesticated animals. Dog crates are the perfect solution to this innate canine need, but how do you know what size crate your dog needs? And with all the options available, how do you choose the right one?
Dog crates come in all shapes and sizes and flavors of style so choosing the right one for your pup can be a little overwhelming if you're not sure where to start! Thankfully, we have our paws on the pulse of finding the right dog crate!
Omlet dog crates
At Omlet, we know all too well that dogs are denning animals! They crave and even seek out small, enclosed spaces as a way to feel safe and secure. Our product team factors in that essential need when creating all our dog crates and they have come up with many different options to fit almost any dog!
When it comes to picking the right size crate, there are two things to consider:
What is the measurement of your dog from its nose to the base of its tail? 

And is the crate big enough for your pup to comfortably stand and turn around in? 
On average, most dogs do well in crates that are about 6" longer than their length and 6" taller than their height. Let's take a look at the Omlet Dog Crates to see which one suits your dog the best:
The Fido Classic
Designed as a portable crate option, the Omlet Fido Classic Crate is perfect for the family that likes to travel with their small to medium breed dog. This easy folding, steel wire crate is super secure and can go both in your home and in your car. One of the biggest advantages of the Classic Crate is the twin door openings. This unique feature allows you to position the crate against any wall or space with the option of front or side door openings. 
The Fido Classic comes with a plastic tray bottom that is easy to clean when your puppy or senior has an accidental potty spill inside. For a luxury upgrade, you can add the Fido Classic Dog Bed which comes in the same sizes as the crate for a perfect fit!
The Fido Classic is available in three sizes:
24 inch: Fits breeds up to 25lbs. Ex: Lhasa Apso or Pug
30 inch: Fits breeds up to 44lbs. Ex: Cocker Spaniel or Basset Hound
36 inch: Fits breeds up to 70lbs: Ex: Border Collie or Dalmatian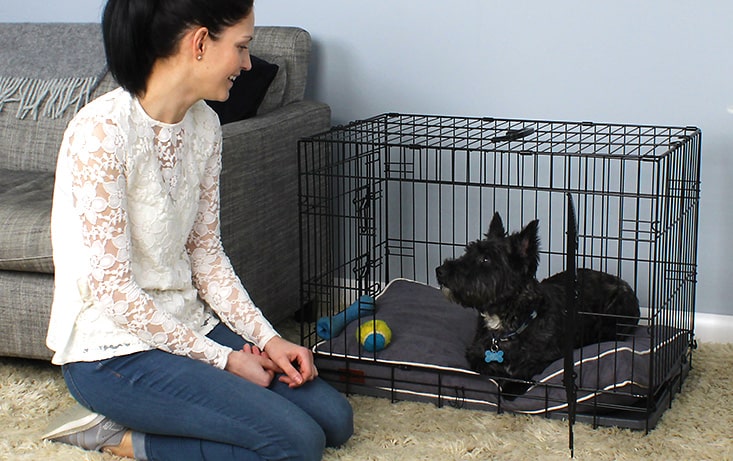 The Fido Studio Dog Crate
Did you know that you can have a dog crate that fits in seamlessly with your home? Meet the Fido Studio Dog Crate – a classic crate built into a contemporary piece of furniture! This brilliantly designed indoor dog crate is a perfect complement to your home as it doubles as a nightstand or end table! And not only will this crate offer your dog the safety and secure space they seek, but it also comes with a small storage compartment to keep all their toys, chews, and blankets!
Do you have a fashion forward pup? With the Fido Studio, you have the option to customize the storage area into a closet space – complete with clothing hooks and a mirror! Not only will your dog love this new space, but you can now add it to any room in your house for a contemporary and practical piece of furniture.
The Fido Studio Crate is available in two sizes:
24 inch: Fits breeds up to 25 lbs. Ex: Pomeranian and Yorkshire Terrier
36 inch: Fits breeds up to 70 lbs. Ex: Whippet and Pointers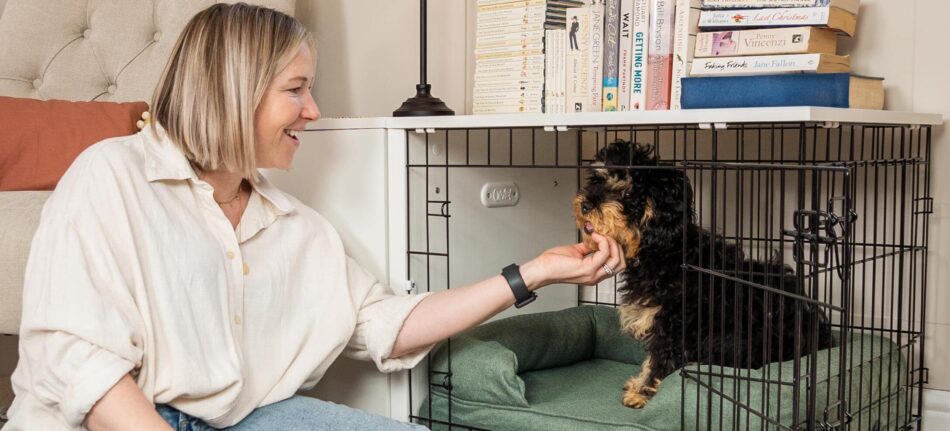 The Fido Nook Dog House
If you are looking for a home within your home for your dog, look no further than The Fido Nook Dog House! This one-of-a-kind dog den is the best of both worlds. Combining the easy portability of the classic dog crate with the luxury of the contemporary furniture look, this dog house is the last crate you will ever buy! 
Similar to the Fido Studio Dog Crate, the Nook Dog House offers a stylish design that complements modern and traditional interiors alike. The biggest benefit being that the classic crate can be removed, revealing a perfectly pawsome 'nook' for your pup to call their own. That's right! Once your puppy has successfully house-trained from using the crate, you can take it out and put a standard dog bed in its place.
The Fido Nook Dog House is available in two sizes:
24 inch: Fits breeds up to 25 lbs. Ex: Dachshund or Chihuahua
36 inch: Fits breeds up to 70 lbs. Ex: Labradoodle or Goldendoodle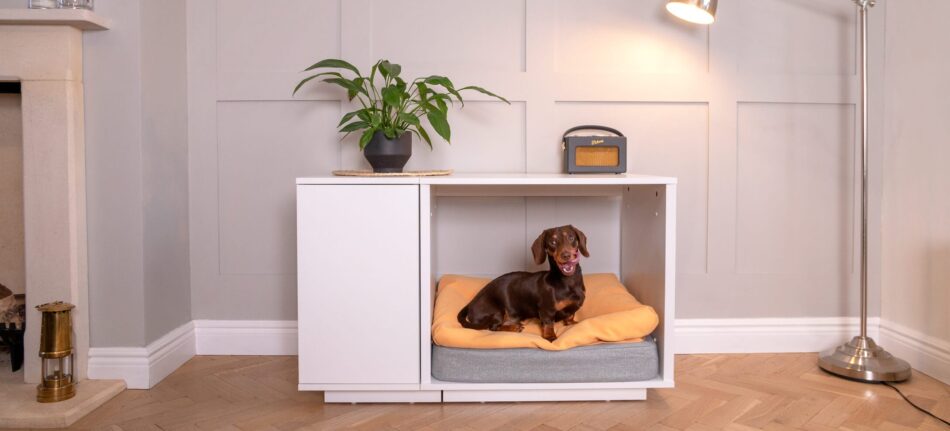 When do I need a crate for my dog?
When introduced to a crate early on as a puppy, some dogs will appreciate a crate well into their senior years. Most veterinarians and dog trainers agree that crate training is essential for puppyhood as it helps with potty training, chew toy use, and providing a comfortable safe escape for puppies to unwind and get their all important sleep.
Once your pup has been fully house trained and learned the difference between a chew toy and a shoe toy, then utilizing a crate may no longer be necessary. However, many dogs will still desire that enclosed secure space to call their own, so don't be too quick to get rid of it! Investing in a dog 'nook' will allow you to have a crate option that can grow with your dog from puppy to prime years! Just remove the crate when your dog is ready, and your dog can still enjoy their denning space away from the hustle and bustle of the home.
The benefits of crates go far beyond the training tools of potty and obedience. The truth is, dog crates provide our furry friends the comfort and space that they innately crave! Dogs can use their crate as a peaceful retreat to help self-soothe, deal with any anxiety, or just get an uninterrupted power nap in! Finding the right crate for your dog is as easy as www.omlet.com! 
This entry was posted in Dogs
---