Just like humans', dogs' opinions on hot weather vary. Some absolutely worship the sun and will take any opportunity to find a sunny spot to lie down on, whereas others prefer to stay in the shade sipping some cold water, longing for autumn. Certain dogs are more likely to struggle with heat, including flat-faced breeds, dogs with thick coats, giant dogs, overweight dogs or dogs with underlying medical problems, so if your pooch is in a high-risk group it's extra important to make sure he or she stays cool. Here are some ways you can help you dog beat the heat:
1. Adjust Exercise
When it's really hot outside it's best to stay inside during the hottest hours of the day. Your dog will still need exercise, but if possible, stick to walks early in the morning or late at night when it's cooler. 
It's also worth trying to walk as much in the shade as you can, to avoid hot pavements and tiles, and to stop your dog from running around too much while out on the walk, maybe by keeping them on a shorter leash.
2. Keep Hydrated
Make sure your dog always has access to clean, cold water, ideally in all rooms of the house. If you're going out, bring a bottle of water and a foldable bowl. 
If you're worried your dog doesn't drink enough water, try feeding them things that are hydrating and have a cooling effect. Frozen fruit and veg are great, but you can also put some cooked chicken in a blender with some banana or assorted berries and freeze in ice cube trays. 
3. Get On Top of Grooming
This is extra important for dog breeds with thick fur, as they particularly struggle in the heat, but most dogs benefit hugely from some extra grooming in summer. For some, regular brushing to get rid of dead hair will be enough, but others need to have their coat properly trimmed for summer. 
Don't be tempted to grab the trimmers and give your dog a buzz cut; the sudden lack of insulation can shock the dog and damage the quality of the coat, as well as make him or her feel very self-conscious! Take them to the groomers and ask what they recommend for your dog's type of fur. 
4. Go For a Dip
Having water around to cool themselves down with will be highly appreciated by most dogs. You can put a shallow kiddie pool in a shaded area of the backyard, turn the sprinklers on and watch your dog run through them, or let him or her play with the garden hose.
If you live close to the ocean or another body of water and your dog is used to swimming you can take them there to lower their body temperature in the evening. Remember that swimming can be tough exercise though, so call them back up when you're happy they've cooled themselves down.
5. Keep Cool Inside
When it's too hot to be outside, your dog will probably spend most of their time indoors, so it's important to try and keep your house as cool as possible. It might be nice to open windows on different sides of the house to create drafts or find other ways of letting cool air circulate. Drawing the curtains or blinds will help stop the sun from heating up bedrooms during the day. 
6. Avoid The Car
If possible, try to avoid going in the car with your dog when it's hot. We all know that you should never, ever leave a dog in a car in warm weather, it doesn't matter if the car is parked in the shade, you've got the windows open and it's only for a few minutes. A stationary car will quickly get very, very hot, and it can kill your dog.
If you can choose not to go in the car on very hot days, try to avoid it, especially if your dog is not a big fan to start with. 
7. Get a Cooling Mat
On a hot day, your dog will love relaxing on something cooling. The Omlet Dog Cooling Mat doesn't require refrigeration or electricity but works by absorbing heat from your dog's body while at the same time cooling your pooch down. The memory foam mat is foldable and super comfortable, so you can take it with you wherever you go in summer, assuring your dog will always have a place to rest that will also minimize the risk of heatstroke.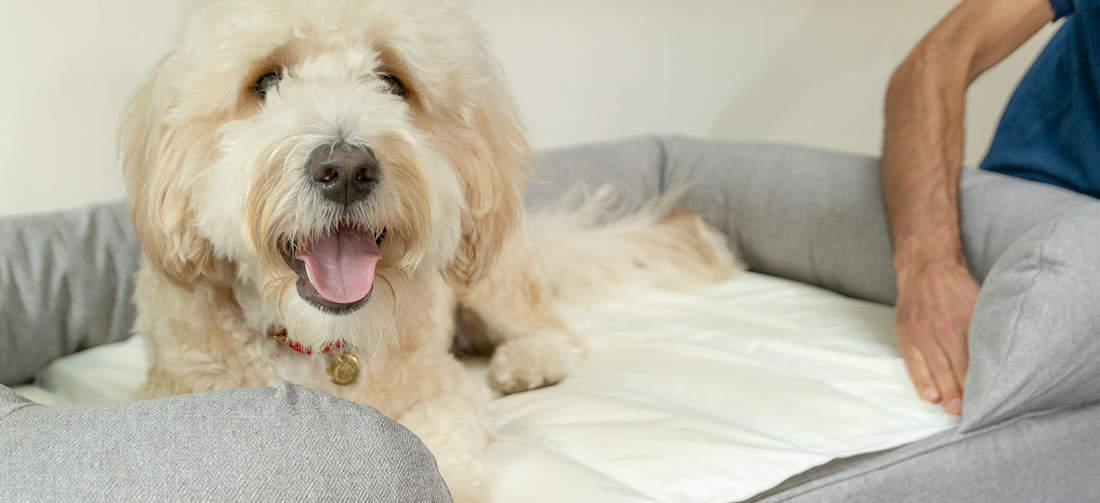 No comments yet - Leave a comment
This entry was posted in Dogs
---