The best products for cats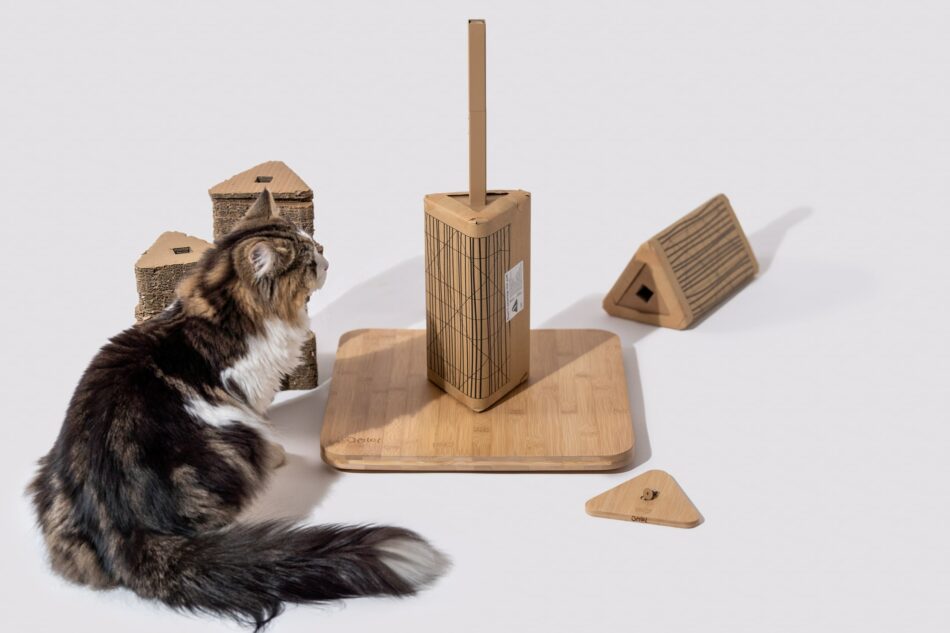 All cat owners agree that when it comes to our feline friends, only the best products will do. We love our furry tail-swishing friends and part of showing them that true love is through the products we buy them. But what makes something the best when it comes to products for cats?
At Omlet, we believe durability, longevity and ultimate support and comfort are just a few of the key ingredients to making a cat product that is best in class. We engineer our products to save you the hassle of buying over and over again so both you and your cat can enjoy them for a lifetime. So let's take a look at some of the best products for cats designed by Omlet.
Cat beds
Cats like to sleep. A lot. So when it comes to finding a cat bed that's the best for your furry friend, you want to make sure it's not only supportive and comfortable, but practical and stylish, too. Meet the Maya Donut cat bed designed by Omlet – the best cat bed you can buy for your feline.
Give your cat a sleep upgrade with this premium faux luxurious cat bed. Designed with a unique donut shape cushioning, we engineered this dreamy bed to deliver first-class comfort to cats who deserve the best. The squishy marshmallow feel and soft cuddly cover provide both comfort and support to any cat's body, regardless of age or breed.
But what makes this cat bed even better are the customizations you can choose, specific to your kitty. Available in 15 stylish colors, you can design the Maya Donut cat bed to match both your cat's personality and your interior design. And the best part? Every cover is removable and machine washable so it's easy for you to clean. 
With the Maya Donut cat bed, you can also elevate catnaps with optional designer feet. By raising your cat's bed, airflow underneath your cat is increased which, in turn, benefits your cat's health and well-being. Plus, adding designer feet will make your cat's bed look like another beautiful piece of furniture in your home.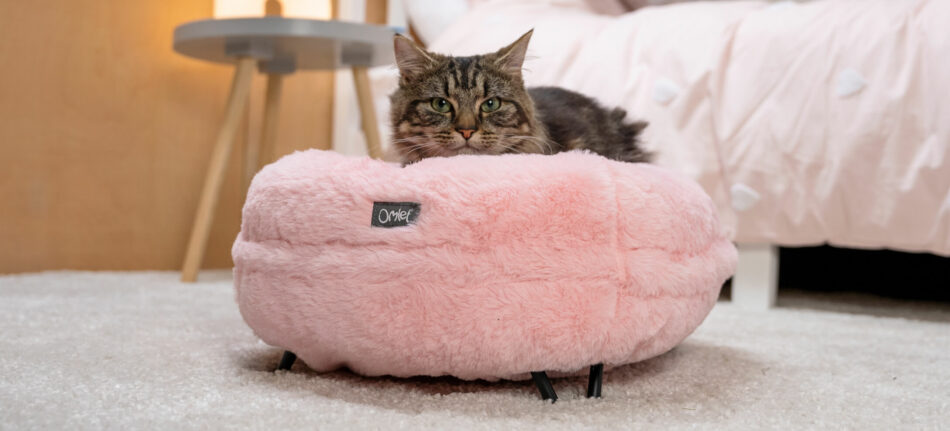 Cat litter furniture
When we set out to design the best cat litter furniture box, we looked at our own bathroom experience as a guide. If humans can use the bathroom in privacy, why can't our cats have privacy as well? Enter the Maya Cat Litter Box Furniture – a sleek furniture-style litter domain that gives your cat a secluded bathroom experience while effectively minimizing the smells and messes in your home.
At Omlet, we believe that in order for a litter box to be the best, it must be high-quality in design, hygiene and discretion. That's precisely why we designed the Maya Cat Litter Furniture to offer a range of entry points and styles to suit all cats. Senior and disabled cats will enjoy the side entry point for easy access and you will love the anti-tracking platform of the top entry box for your active kittens and cats. In addition, each box comes with a durable, long-lasting litter liner and activated carbon filter so that odors are absorbed and messes are easy to clean.
But to truly make a cat litter box the best, privacy to do cat business behind closed doors is the most important. The Maya Cat Litter Furniture offers your cat the ultimate bathroom seclusion with its smooth swinging door that creates a smell barrier with ventilation while also giving your cat a sense of privacy at the same time. Top off the box with high-quality cat litter designed by Omlet to ensure your cat's bathroom experience is the best of the best.
Catios
What do you get when you put a cat on an outdoor patio? A catio, of course! As the brand that is continuing to pave the way for happier pets and people, we challenged the standard wooden frame outdoor cat enclosures to design a product that was better for you and your cat.
The Omlet Catio is a spacious and secure outdoor cat space that provides enrichment and exercise for your kitty while they safely explore nature. Born from the notion that cats are curious and adventurous, we designed an enclosure that allows them the freedom to seek out new spaces while safely being protected from any possible dangers or predators. 
Constructed from heavy-duty steel welded mesh, the Omlet Catio is the safest and easiest to assemble outdoor cat enclosure on the market. The modular design allows you to customize the size of your enclosure to suit your backyard space with the ability to expand at any time. Perfect for indoor or outdoor cats alike, the Omlet Catio is not only the best product for your cat to enjoy more of nature, but a perfect space for you to connect with your furry feline friend as well.
Cat scratching posts
What's one trait that all cats have in common? They all love to scratch. And if you're like us, you want to enable this innate feline behavior – just not on your furniture. As pet owners ourselves, we, too, have cat scratchers for our kitties but we got sick and tired of throwing them away after they were worn down. Not only is it expensive to buy new ones every few months, but cat scratchers ending up in a landfill is not good for the environment.
So we asked if there was a way for a cat scratcher to live forever? And our answer to this question has arrived in the form of the Stak cat scratcher. Designed with replaceable cardboard layers that can be recycled or composted when worn away, the Stak cat scratcher is sustainable and eco-friendly. Aka the last cat scratcher you'll ever buy.
Available in different sizes as well as freestanding and wall-mounted options, we created this cat scratcher with your cat's natural behaviors in mind. When the cardboard is worn away from numerous fun, feel-good scratch sessions, simply recycle the old layers and replace with a new refill of cardboard. With the Stak cat scratcher, you can feel good about giving your cat the best scratching experience while also giving back to the planet.
Cat climbing frames
When it comes to climbing, cats are the experts of heights. In the wild, cats climb trees or other objects as a way to escape predators and also observe their surroundings. But do indoor cats like to climb cat trees? At Omlet, we believe they do.
But in order for us to make a cat tree that was best in class we had to challenge our engineers to think outside the traditional all-in-one cat trees. You know, the ones that take up a lot of space, become smelly and useless when worn down and often end up in a landfill as a result. Our mission was to create a cat tree that was high-quality and sustainable yet also customizable to allow for more interactions and bonding between you and your beloved furry friend.
The Omlet Freestyle Cat Tree is truly an innovative and unique product that delivers these attributes and more. Designed for all cats, regardless of age or breed, the Freestyle is engineered as a space-efficient, customizable adventure tower that provides your cat with endless hours of mental and physical stimulation. Choose from a variety of accessories like the hammocks, steps and ramps to create the best cat tree that your cat could ever climb.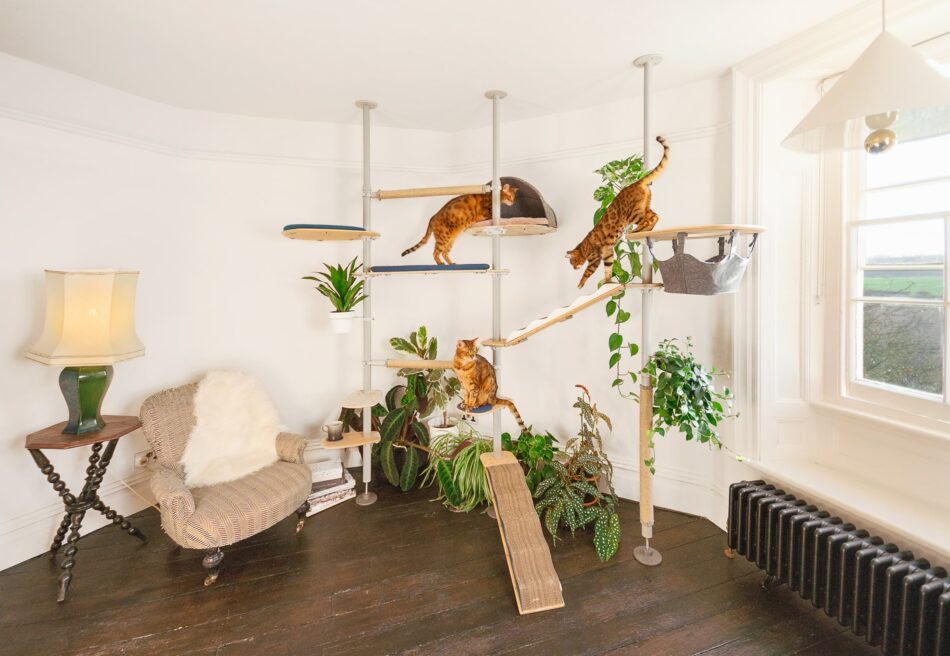 Cat toys
There really is no time like playtime with your cat! Both an engaging and bonding activity, playing with your cat brings happiness to you both. And one of the best ways to engage your feline friend in play is with cat toys. 
That's why we designed our Omlet cat toys to keep your cat physically and mentally engaged for hours. Our unique sea-inspired designs are carefully made both with and without catnip as we know some kitties love catnip more than others. Keep your cat entertained with these unique and best-in-class cat toys!
Omlet and your cat
The connection you have with your cat is a wondrous thing and we believe that bond should be celebrated in the products you use. As the pet company that is constantly challenging the norms to bring the best to you and your pet, our designs are the highest quality products available on the market. From the stylish and comfortable designs of the Maya Donut cat bed to creating the custom adventures that your cat craves in the Freestyle cat tree to the sustainability of the Stak cat scratcher that reduces waste, Omlet has every best in class product that your cat needs.
This entry was posted in Cats
---