Reduce your cat's carbon pawprint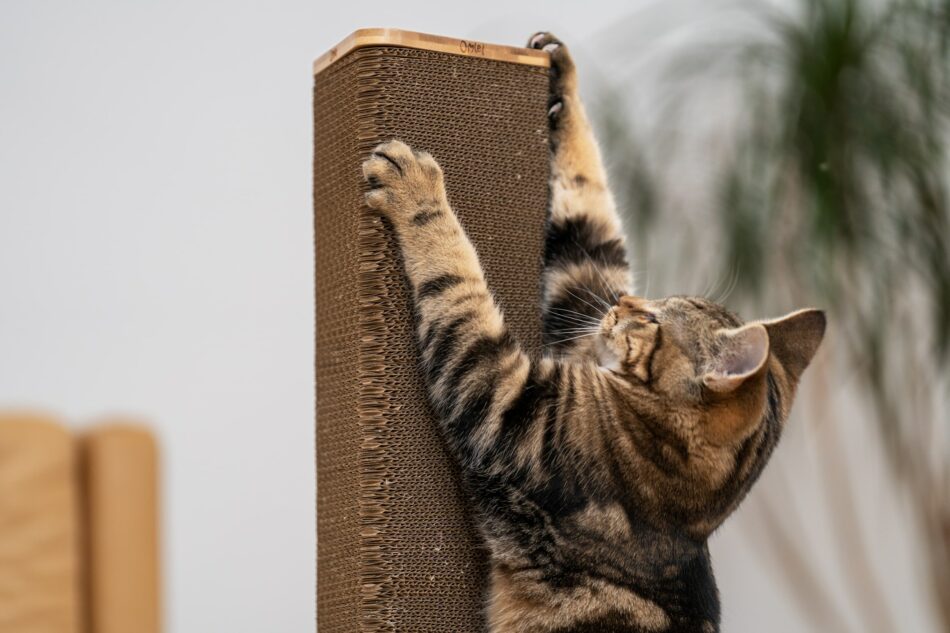 As consumers, humans are becoming more mindful of the products we purchase to ensure they are better for the planet. But did you know that your cat is a consumer, too? While they don't go to the store and buy what they need, cats – by way of humans – do in fact have their own carbon foot(paw)prints. But fear not! There are many small – and simple – actions you can take to reduce your cat's carbon pawprint and live a more sustainable life alongside you.
Many of the items that your cat uses such as toys, litter and even food can be produced in ways that are harmful to our environment. So let's have a look at some sustainable swaps you can make to help reduce your cat's carbon pawprint.
Can a cat scratcher be sustainable?
When you think of cats, you can't help but think of cat scratchers. Because scratching is an innate natural behavior for our feline friends, it's imperative that you have a good quality cat scratcher for them to use for their mental and physical health. But is it possible for a cat scratcher to be sustainable?
A quick search on the internet will reveal a wide range of different cat scratcher options, all made from a wide range of different materials. From carpet to sisal to cardboard and many other materials, you'll find yourself scratching your head over all the choices. So how do you know which cat scratcher is good for your cat and the environment?
At Omlet, we recognized that not all cat scratchers are made the same. While some may look good, the materials they are made with are not recyclable, meaning those scratching posts will end up finding a new home in landfill before too long. Which means they're not good for the environment. 
So, we set out to create a product that your cat will not only love, but is also good for the planet. The Stak Cardboard cat scratcher is a sustainable cat scratcher that's made of refillable cardboard layers that are 100% recyclable and compostable. Your cat can enjoy a sturdy and stylish scratching experience and you can feel good about having a product that will withstand your cat's scratch habits.
Eco-friendly kitty litter
Another way you can help reduce your cat's carbon pawprint is through the cat litter choices you make for them. We know that cats can be quite particular about a lot of things – including their kitty litter – so you have to take yourself, your furry friend and the environment into consideration when choosing which is best. Thankfully, Omlet has many litter choices that your cat will love.
The two most popular formulas for cat litter are clay cat litter and pine cat litter. While both have specific properties that are good for reducing smells and odors, not all cat litters are good at reducing your cat's carbon pawprint. Omlet's wide range of cat litter offers options covering low waste and natural scents that eliminate bad smells and reduce your cat's carbon pawprint at the same time. Who knew your cat's bathroom experience could be so sustainable?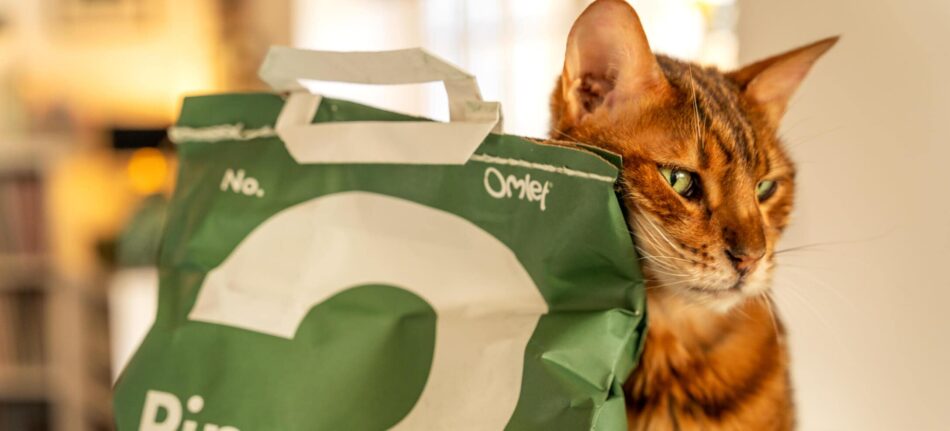 Invest in long-lasting cat toys
Do you ever play hide and go seek the toy with your cat? Engaging in fun and stimulating playtime with your cat is not only essential to their mental and physical well-being, but it is super beneficial to the bond you form with your feline as well. 
Just like other non-recyclable products we consume, when they have run their course of use, where do they usually end up? That's right, in the landfill. And in order to do our part as consumers for our cats, we can take simple steps to be more eco-friendly by buying long-lasting products instead. Made from high-quality materials, the Omlet cat toys are designed to withstand the constant pawing and pouncing of your kitty for a long time. Which means less waste for you and more fun for your feline. 
Omlet and your cat's carbon pawprint
At Omlet, our mission is simple. Design pet products that deliver to the needs and wants of your pet while connecting you closer to them. The bond between human and animal is such a wondrous connection and we believe making our products sustainable doesn't compromise that relationship. Our line of sustainable cat scratchers, low-waste cat litter, and long-lasting cat toys are just a few of the ways we are giving your cat what they need while also giving back to the planet.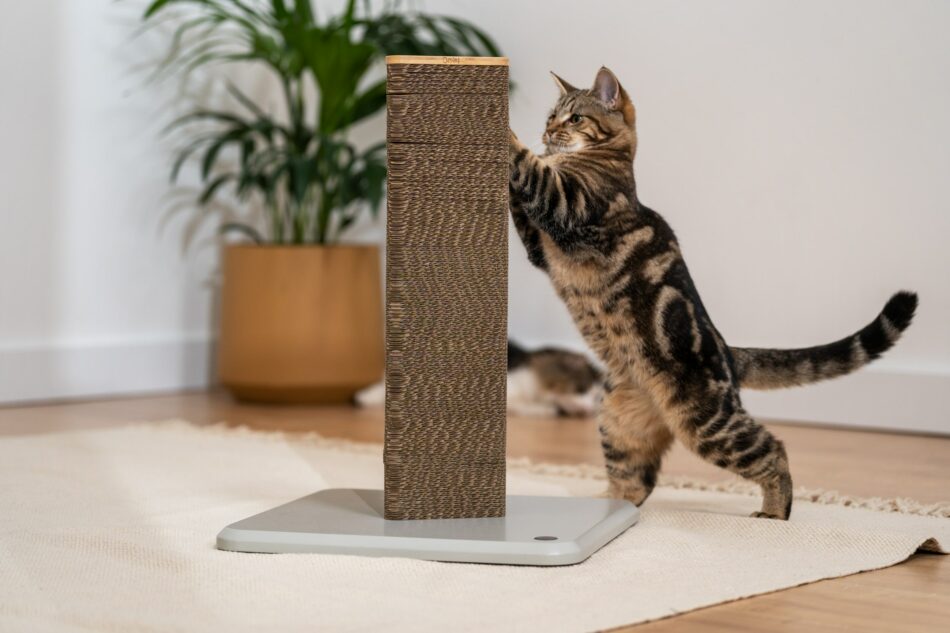 This entry was posted in Cats
---