This warming, fall inspired pasta recipe is perfect for when you want to curl up on the sofa with a big bowl, your favorite Netflix show on the tv and maybe some candles in the background. Contrary to popular belief, pumpkins aren't just for carving! The sweet squash makes the perfect ravioli filling for a cold autumnal dinner.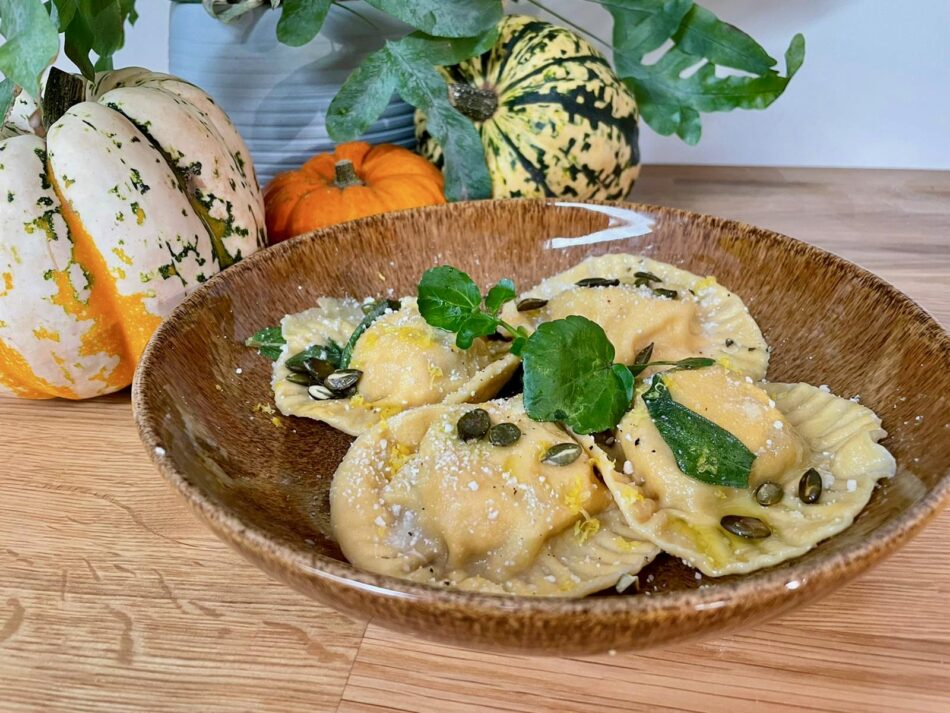 For the pasta:
200g 00 Pasta/Tipo Flour
2 Eggs
Salt
For the filling:
Half a pumpkin or squash of your choice
Ricotta
Fresh Sage
Grana Padano or Parmesan
Salt
Pepper
Extra toppings
Pumpkin seeds
Butter
Olive Oil
Watercress or other salad
---
Instructions
– For the filling, cut your pumpkin in half and scoop out all of the stringy flesh and seeds. You then need to chop the pumpkin up into equal sized pieces, slicing off the skin as you go. Spread the pumpkin cubes out on a baking tray and drizzle with olive oil, some salt and pepper and roughly 6 sage leaves. Give it a good mix around. Pop this in the oven on 350 degrees until the pumpkin is crispy and golden on the edges. It should be soft enough to mash, roughly 30mins in the oven, but keep an eye on it.
– Take it out of the oven and allow to cool for a little while. Remove any of the sage leaves you can see, then place in a large mixing bowl with a couple of big dollops of ricotta cheese and some grated Italian hard cheese. Mash them all together. Season to taste. Cover and place in the fridge until cooled. Now move onto the pasta part of the recipe.
– For the pasta please follow our previous pasta recipe up until the point where you've made a long lasagna style sheet (we're not making linguine this time).
– Lay your 2 long pasta sheets out and add a spoonful of the cooled mixture onto one sheet, spacing them out by about 2-3in.
– Then brush or dab water on the pasta sheet around the pumpkin mixture so that it's ready to stick together with the top pasta sheet. You'll then need to carefully place the other pasta sheet on top and press down around the edges where you have wet the base sheet. Try to avoid getting any air bubbles in the ravioli.
– For this next part you can either use a ravioli cutter or the top of a small wine glass to cut around the ravioli. Dust each one with some flour and place on a plate ready to boil.
– Boil the ravioli in batches of 3-5, for roughly 3mins. In the meantime you can start melting some butter in a frying pan with some sage leaves to make a delicious sage butter. Add a drizzle of olive oil to stop the butter from burning then transfer your ravioli with a slotted spoon into the frying pan.
– If you want to be really fancy, we recommend toasting some pumpkin seeds and scattering them on top of your ravioli with some more grated Grana Padano and a drizzle of olive oil. Serve with a salad of your choice, enjoy!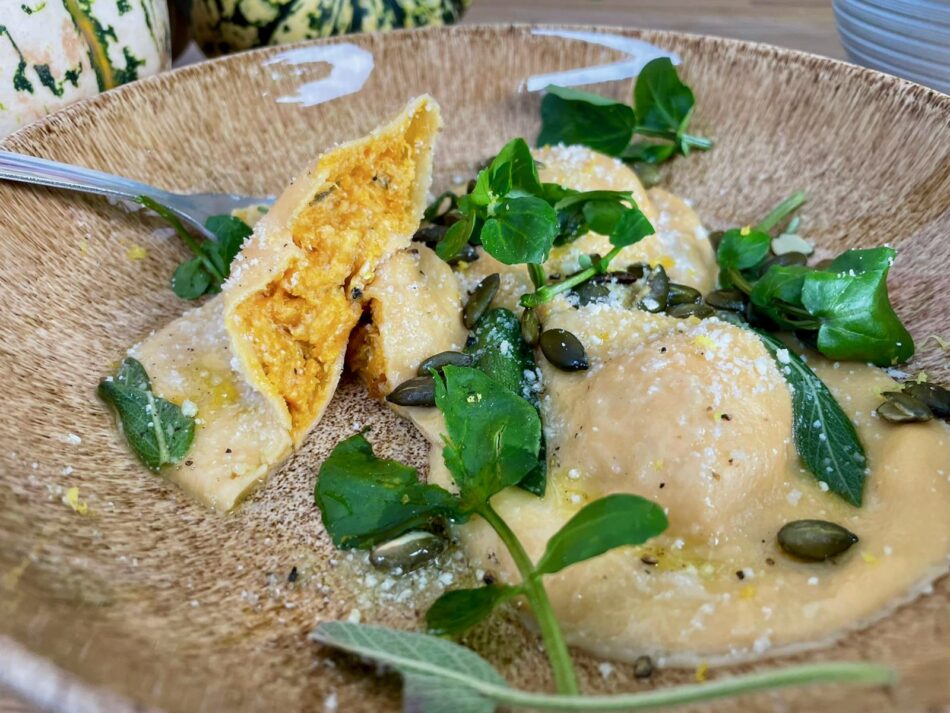 No comments yet - Leave a comment
This entry was posted in Recipes
---