Autumnal Apple Pie Recipe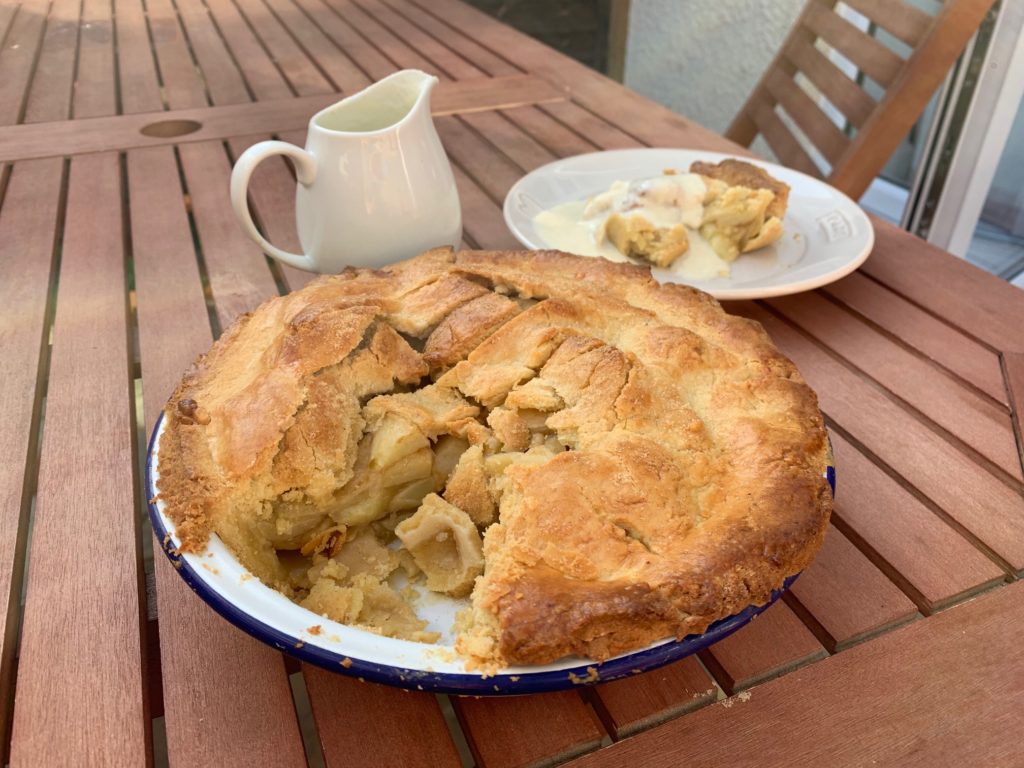 As the leaves begin to fall and the evenings get shorter we all start to crave comfort food. What's more comforting and warming than hot apple pie with homemade custard?! Apples are in abundance this time of year so grab some cooking apples and cosy up with a bowlful of this homemade yumminess. 
Ingredients:
Filling
4 Cooking Apples
150g Golden Caster Sugar
Pinch of Cinnamon
3 tbsp Plain Flour
Pastry
250g Unsalted Butter
50g Golden Caster Sugar
2 Eggs
350g Plain Flour
Custard
2 tsps Vanilla Bean Paste
1 pint Whole Milk
4 large Egg Yolks
2 tbsp Caster Sugar
1 tbsp Cornflour
Method:
The filling- Peel, core, quarter and slice 4 cooking apples. Lay them out on paper towels to get as much liquid out of them as possible. Leave until you need them later.

Mix the sugar and flour for the filling with cinnamon and place in a bowl big enough for the apples and set aside. 

For the pastry- beat the butter and sugar together then whisk in 1 whole egg and 1 egg yolk (save the white for glazing pastry later.)

Now fold in the flour slowly until it starts to form a ball, collect the remainder of the pastry together with your hands and form a solid ball. Wrap and place in the fridge to cool for 1 hour. 

Whilst the pastry is cooling, make a start on your custard. 

The custard- Heat the whole milk and vanilla bean paste to boiling then take it off the heat. Whilst that cools slightly, in a large bowl whisk 4 egg yolks, sugar and cornflour then slowly start to add the milk mixture in ladle by ladle whilst continually whisking. 

When all the milk is added to the mixture, pour it back into the saucepan and place on a low heat for roughly 20 mins, continuously stirring, take off heat when the custard becomes thick. 

Take pastry out of the fridge and set aside a third of the pastry for pie top. Roll the majority of the pastry out to fit your pastry dish, make sure there is a bit of overhang. 

Put the apples into the bowl with the sugar and flour and coat the apples using your hands. Now pile the apples into the pastry tin, then roll out the remaining ball of pastry. 

Brush some water around the edges of the pastry in the tin and then lay the other round of pastry on top and join them. 

Trim the left over hanging pastry off of the tin and make 5 slits in the top of the pastry to let the steam out. 

Preheat oven to 190 degrees c and place the pie in for 40mins until golden brown. 

Allow to cool for 5 mins then serve with hot or cold custard.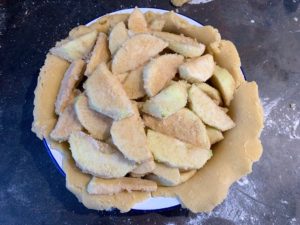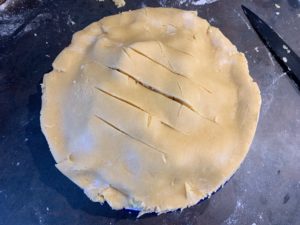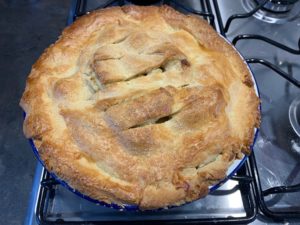 This entry was posted in Recipes
---