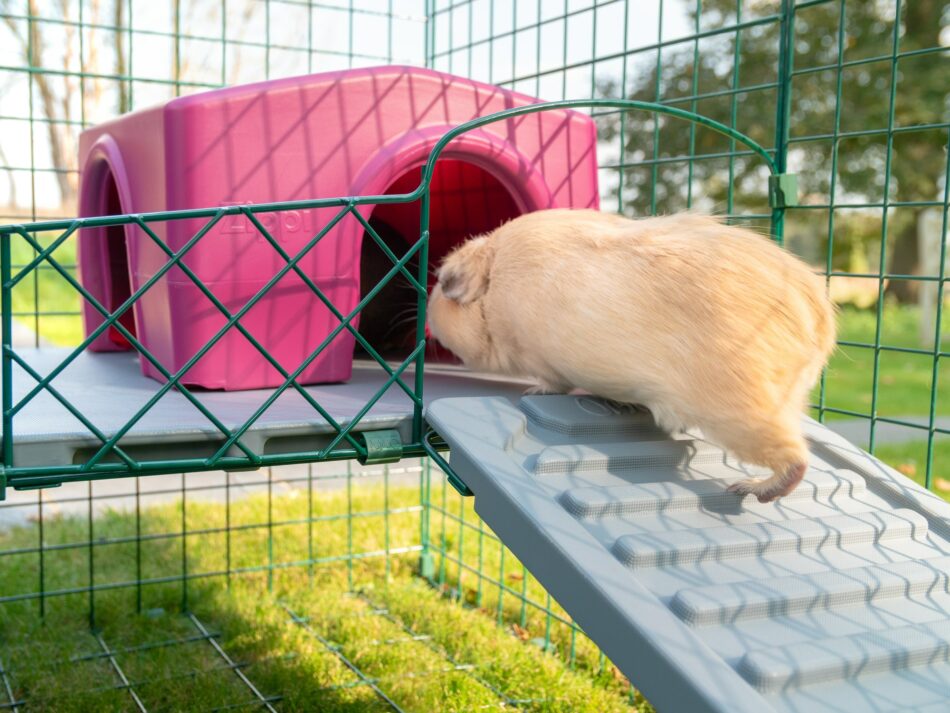 Rabbits and guinea pigs need exercise – and lots of it. Bunnies and cavies can become bored quickly without enough physical and mental stimulation, and a lack of activity can create these small pets to gain an unhealthy amount of weight. Adding levels to your rabbit or guinea pig's enclosure through the use of platforms encourages more exercise and builds strength. 
Physical and mental well-being
Exercise is important to rabbits and guinea pigs to keep them both physically and mentally fit. Keeping small animals at an appropriate weight is essential to their longevity. Accomplished through a balanced diet and plenty of space to be active, a rabbit or guinea pig kept at a healthy weight will remain active far longer than their overweight counterparts. 
Omlet's Zippi Platforms for rabbits and guinea pigs are designed to add extra space to your pet's run. More space in their enclosure offers more opportunities for enriching activities and accessories. Teach your bunny or cavy new tricks on their platform to further stimulate their critical thinking skills. 
Prevent the risk of injury and obesity
Rabbits and guinea pigs that spend the majority of their time in their enclosures aren't able to exercise as much as their cousins in the wild. Wild cavies and hares run long distances, burrow, scurry, and don't have constant access to food. Our pets that descended from these wild animals have slower metabolisms as a result of breeding and circumstance and rely on care from their owners to remain fit and healthy. 
The use of ramps to access Zippi Platforms strengthens muscles and offers mental stimulation. Our platforms can be easily repositioned for rabbits especially to add more height. By exercising at an incline, your rabbit or guinea pig will utilize their muscles in ways that a one-dimensional enclosure can't offer. 
Overweight pets are prone to joint pain, health issues such as diabetes or other metabolic diseases, and decreased lifespan. Regular veterinary checkups can help you determine if your rabbit or guinea pig is receiving adequate nutrition and exercise. You can also do a quick check at home to see if your pet is overweight by gently pressing along the sides of your rabbit or guinea pig's abdomen. Can you feel their ribs? You should be able to feel the distinct ridges of your pet's ribcage without having to press too firmly. If you can't feel their ribs, they're likely overweight. 
Along with exercise, diet is critical in keeping your rabbit or guinea pig healthy. Offer high-quality pellets that are timothy hay-based, and offer free-choice loose timothy hay or orchard grass. Treats should be given sparingly, and should consist of fresh greens rather than store-bought treats. Other guinea pig and rabbit-safe treats can be offered, but are best utilized during training sessions or other special occasions. 
Platforms: a multitude of possibilities
Rabbits and guinea pigs grow bored easily in their surroundings. By adding platforms to their run, the topography of their environment can be changed regularly. Try feeding them on their platform one week, and below the platform another week. You can also place their favorite bed or toy at the top of the platform to encourage climbing up and down the ramp. 
Small pets are also prey animals, which means they appreciate a higher vantage point. Your guinea pig or rabbit will appreciate the opportunity to scamper and scurry to the top of their platform to get a new look at their world. 
Create the ultimate playspace for your rabbit or guinea pig. Omlet's Zippi Platforms can be easily adjusted to a height that accommodates your pet's personality and skill level. They can also be repositioned easily around the run to change up your bunny or cavy's enclosure regularly. Our non-slip design builds confidence in your pets, allowing them to navigate the ramps and platforms with ease. 
An easy way to have fun together
An elevated space in your rabbit or guinea pig's run gives you a chance to interact with them on a higher level – literally! Sit with them at eye level, train on a flat and accessible surface, and customize their run with the use of Zippi Platforms. A designated training space will help you train your rabbit or guinea pig to perform tricks, giving you a clear, easily accessible area to work with your pet. 
The first training opportunity you'll find with your rabbit or guinea pig is getting them comfortable with their ramp and platform. Offer your rabbit or guinea pig's favorite treats in a Caddi Guinea Pig or Rabbit Treat Holder placed at the top of the ramp. This will be the easiest way to help your pet get the hang of going up to the platform – especially if they are food-motivated. Once they are comfortable using their ramp and platform, you can begin teaching your rabbit or guinea pig additional skills. 
Omlet and your small pets 
Omlet is dedicated to designing products that thrill both pets and their owners. From unique rabbit and guinea pig shelters, to our customizable and versatile Zippi Tunnel System, we've got what you need to create the ultimate experience for your small pets. Foster your rabbit or guinea pig's natural instincts while providing a visually stunning enclosure to enjoy in your yard or garden. With Omlet, owning and caring for your pets has never been easier.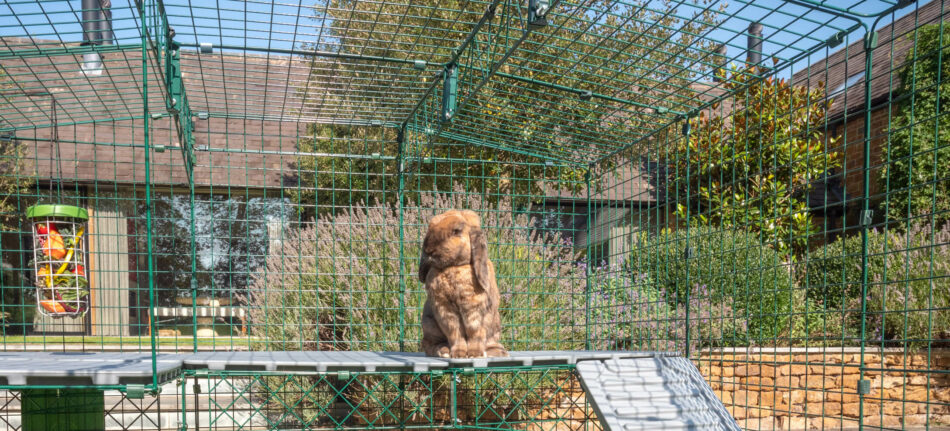 No comments yet - Leave a comment
This entry was posted in Guinea Pigs
---