Which Is the Best Rabbit for You?
Rabbits make great family pets, and there are many different breeds to choose from. Some are suitable for first-time owners, while others require a little more expertise. The following list includes rabbits that can be kept by families or individuals with no previous experience of rabbits.
There is one golden rule that covers all rabbits – they are not suitable for young children. Most rabbits do not like being constantly picked up, they are naturally nervous, and they need gentle but confident handling. They are also quite fragile animals, and can easily break limbs, or even their backs, if they fall from your arms.
So, as long as you handle them with care and give them plenty of space to run around in, these seven widely available breeds will soon be family favorites.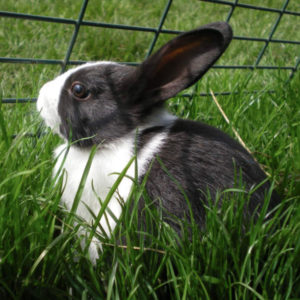 Dutch Rabbit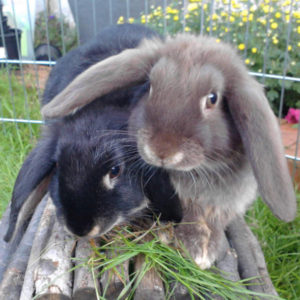 Dwarf Lops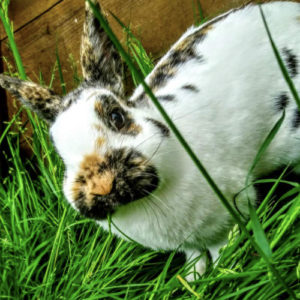 English Spot
Dutch Rabbits
If they have not become accustomed to people in their first few months, Dutch Rabbits can be very jumpy, and may bite and claw. When buying from a pet shop, always ask how old the rabbit is, as animals more than 12 weeks old may be tricky to tame.
This comes back to that central point – most rabbits don't like being picked up. If your pets are going to be spending their time in a run, though, without being handled all the time, age is not an issue.
Dwarf Lops
Being small, these rabbits used to be popular gifts for children. However, small does not mean easier to handle or easier to look after – in rabbits or any other type of pet. Dwarf Lops are fine for children who are able to learn how to handle rabbits correctly, and who are happy to groom their pet regularly to prevent the long fur from tangling. They are not suitable for small children, though.
English Spots
The English Spot is a black and white beauty, instantly recognisable due to its Dalmatian-like spots. They are placid rabbits, and if they are stroked and petted from a young age, they become very happy in human company. Children should still be supervised when interacting with these rabbits, though, as even a chilled breed like the English Spot can become skittish if there is too much noise or inexpert handling.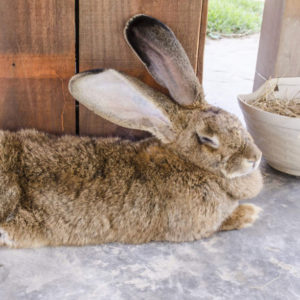 Flemish Giant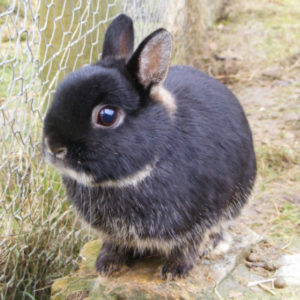 Netherlands Dwarf Rabbits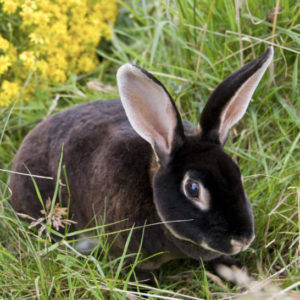 Rex Rabbit
Flemish Giants
One of the great things about the Flemish Giant – and it really is huge – is its chilled-out temperament. If socialized while they are still very young, they can be taught to use a litter tray, and can live in a house like a pet dog. However, they still need to be treated with respect and handled correctly, to prevent them panicking and using those big teeth.
Netherlands Dwarf Rabbits
This breed is increasingly popular, and a lot of that popularity is based on the rabbit's super-cute looks. No matter how old it gets, it always looks like a baby. As a result, it is often bought for children, but this sometimes results in a very nervous and skittish pet that never properly settles down. This is because the rabbit is naturally timid, and unintentionally rough, noisy, excited handling can turn it into a nervous wreck.
The Netherlands Dwarf is an intelligent breed, though, and responds well to gentle handling. It is therefore essential that children should handle the rabbit gently, and an adult should be present during handling sessions. The patience pays off in the end, as this clever little rabbit can be litter trained, and can even be taught to respond to simple commands.
Rex Rabbits
There are several different types of Rex, all with a genetic quirk that makes their short fur stand up rather than lie flat. This makes them very 'strokable', and fortunately, the rex is a rabbit breed that really doesn't mind being stroked a lot. Their placid nature makes them popular family pets – although, once again, younger children will still need supervising when making friends with these bunnies.
The key takeaways here are that rabbits are not the easiest pets to look after, but with patience and appropriate handling they can become very attached to their human friends. It's also worth remembering that, unlike smaller pets such as gerbils and hamsters, rabbits can live for eight to 14 years, so being an owner is a big commitment.
This entry was posted in Rabbits
---