Are rabbits good pets for children?
With so many different species of animals to choose from, many parents find themselves asking: Are rabbits good pets for children? The short answer is yes, as long as there is mutual understanding between rabbits and their owners. Bunnies can be wonderful pets, full of personality and adorable antics when they're able to exhibit their natural behaviors. With complete rabbit setups from Omlet, your children will begin bonding with their bunny right away, and for years to come. 
Why rabbits can make great pets for children
Rabbits are intelligent, sociable, and relatively low-maintenance. These attributes are some of the reasons why bunnies make great first pets for children. Rabbits can be housed indoors or outdoors, but are happiest when they are provided with as much space as possible. In the wild, rabbits live in extensive underground burrows and tunnels – and their domesticated counterparts share the same desire to navigate these structures. 
Omlet's Zippi Rabbit Tunnel System simulates the tunnels and burrows that rabbits would construct in the wild. Combined with our Zippi Rabbit Runs and Platforms, your bunnies will be scurrying, bounding, and exploring just as they would naturally. And, you can let your children pick out rabbit run accessories to further customize their pets' space. 
Our Eglu Go Rabbit Hutches are the perfect size bunny abodes for both pets and children. The easy-to-clean structure will enable your kids to clean their pet's home with ease, and will keep your yard smelling fresh. And, with optional wheels and handles, our Eglu Go hutches and attached runs can be maneuvered around the yard with ease. 
Creating a rabbit's ideal space is just one of the many ways to bond with your bunny. Our rabbit products are designed to bring you and your bunny closer than ever. With the right setup and some quality time, your family will have forged a relationship with your rabbit that will last a lifetime. 
Rabbits and children: 3 things to consider
While it's true that rabbits can make excellent first pets, it's important to set realistic expectations for both your bunny and your children. Make sure your kids are prepared for the responsibilities associated with owning a rabbit, and are familiar with bunny behaviors and body language. 
1. Bunnies should have buddies
Rabbits do best in groups of two or more. In the wild, colonies of rabbits can consist of anywhere from two to dozens of bunnies. A lonely rabbit can act out or display attention-seeking behaviors. Adopting a pair of bonded rabbits is the best way to start off on the right foot, but you can also adopt young rabbits to raise together. Make sure that any males are neutered – even if you only keep males. Intact male rabbits can become territorial when kept together, and unaltered males kept with females will result in unwanted litters. Intact females can usually be kept together with no issues. 
2. Rabbits are a long-term commitment
The life expectancy of rabbits is 8-12 years, so they can be a long-term commitment. Make sure plans are in place for when your children and rabbits are older. Will they take their pets with them when they move out? Do you have younger children to care for the rabbits once their siblings are grown? Or, are you willing to continue caring for the rabbits yourself? 
The Eglu Go Plastic Rabbit Hutch is the only home you'll need to buy for your rabbits. Designed to last a lifetime, our rugged construction of heavy-duty plastic and rot-free materials will stand the test of time. It should be noted that only rabbits over the age of 6 weeks old should be housed outdoors. Younger rabbits have more trouble regulating their body temperature, and will fare better when gradually introduced to outdoor temperatures. This also applies to older rabbits that were raised indoors. Introduce rabbits to life outdoors in small increments over the course of a couple of weeks to make the transition as smooth as possible. 
3. Bunnies need boundaries
Any rabbit can be housed outdoors, and most fare better when they're allowed to live outside. Not only does it mimic their natural habitat, but being outside gives them reprieve from the hustle and bustle of a household. Understanding your bunny's body language will clue you in on how they're doing in their surroundings. And, as with most pets, giving your rabbits as much space as possible will help ensure they're healthy and happy as possible. 
Omlet's Zippi Rabbit Playpens help create boundaries for your bunnies in any setting. Perfect for designated spaces outdoors, or as indoor playpens for a change of scenery, our Zippi Playpens are easy to move and are predator-resistant for peace of mind. 
The attached run of the Eglu Go Rabbit Hutch can also be extended to up to 12 feet long, giving your rabbits plenty of room to roam.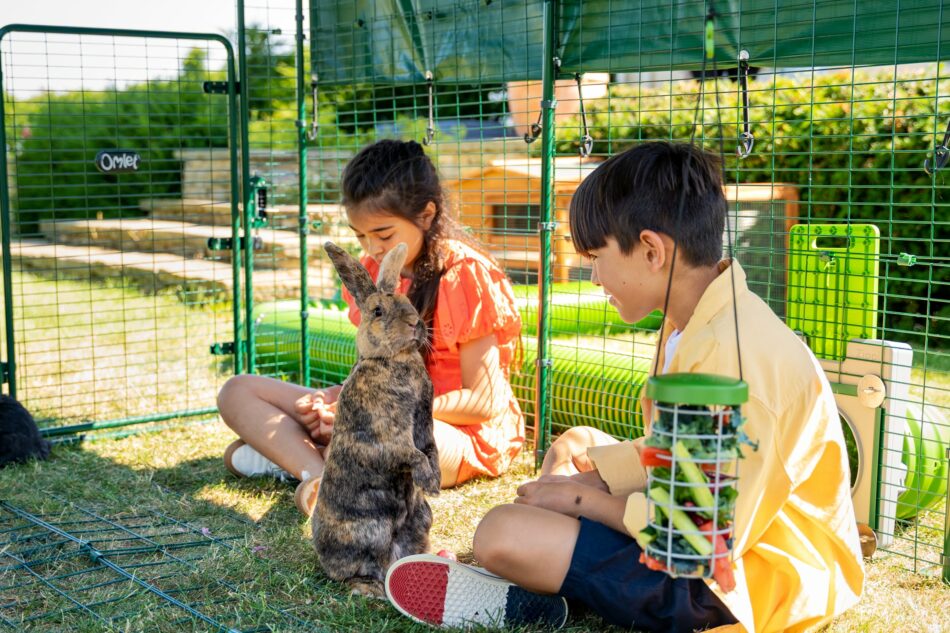 Best rabbit breeds for children
Once you've decided that rabbits will be a good fit for your family, it's time to decide on the breeds of bunnies you'll want to keep. Choosing the right rabbits largely comes down to personal preference and your space or climate. 
For example, breeds like the Lionhead rabbit are excellent for children due to their docile nature, but may not be suited to life outdoors in hot or humid weather. Californians are considered to be a hardy breed in all climates, as well as being known for their sweet temperaments. Other breeds that are good for children include: 
Flemish Giants also make excellent pets, but due to their size require plenty of space. 
Omlet and your pet rabbit
Omlet aims for owners to raise their rabbit-readiness status quickly and easily. Our line of bunny products like the Eglu Go Rabbit Hutch, Zippi Rabbit Playpens and Platforms, and Zippi Rabbit Tunnel System are all designed to make rabbit ownership truly remarkable. At the end of the day, parents have to ensure that their children are caring for their pets properly, but with Omlet, helping your children with chores becomes a joy. With Omlet, you'll bring your entire family closer together – both with each other and with your pets. 
This entry was posted in Rabbits
---