10 Ways to Bond With Your Rabbit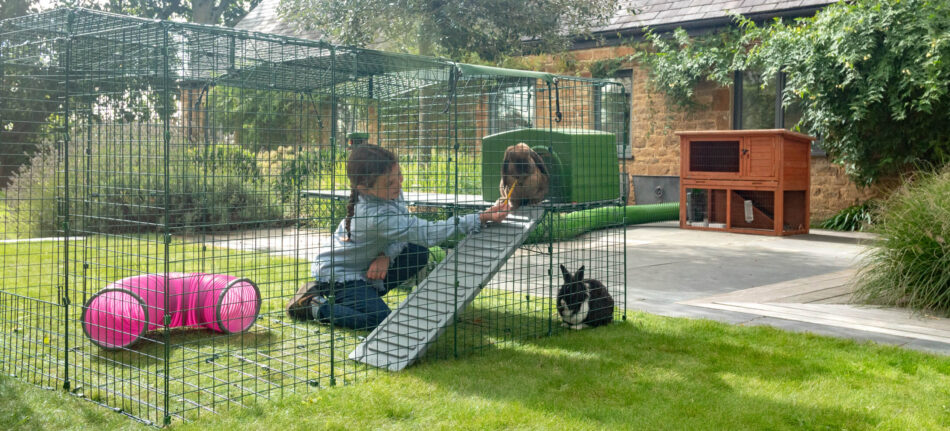 Evidence suggests that rabbits that bond with their owners live longer and happier lives. Sometimes it can feel like our furry friends are in a world of their own, but as long as you take your time and have patience, there are lots of ways of bonding with your bunny.
This article looks at ten fun and exciting ways to deepen your connection to your pet, whether the rabbit is already part of the family or you've just brought a new bunny home. 
1. Learn Your Pet's Personality
Like people, all rabbits have distinctive personalities and unique habits. If you have decided to buy a baby rabbit, you may find that they're very shy at first, but over time they will come out of their shell and begin to reveal their personality. We have a very useful article about Learning to Read your Rabbit's Body Language, a great resource for identifying what makes rabbit tick. The article outlines the many different sounds your rabbit can make, as well as how its posture can give you clues to what your pet is thinking.
2. Create A Shared Space
It's natural for your rabbit to feel nervous or even defensive if you interact with them by reaching into their hutch – after all, this space is their home, and all of their instincts tell them to protect it from potential predators. If you want to spend time bonding with your rabbit, try setting up a play area or run large enough for you to sit inside with the rabbit. This way, you can start interacting with your pet on neutral ground.
Rabbits feel comfortable when they have something over their heads, so don't feel bad if the first few times they hide under any covered area you have set up. 
3. Fill Your Shared Space With Toys
There are many fun things you can place around your rabbit's play area or run, including Zippi rabbit tunnels and tubes, chew treats, shelters and platforms, hanging toys and a hay basket.
Once you have a shared space set up with toys and other gear, try sitting in there with your rabbit for half an hour every day without reaching out to touch your pet. This way, your rabbit will learn to feel comfortable in your company and begin to trust you. It is likely that after a few days of this close contact, your rabbit will approach you without fear and begin to show some curiosity. It's natural for your rabbit to have a gentle nibble when you first meet – don't worry, it's not a bite!
4. Give Your Rabbit New Experiences
Although rabbits are creatures of habit, it's still good for them if new things are introduced into their lives now and then. Your rabbit will learn to associate you with these new fun experiences, which will deepen your bond. Try occasionally changing the layout of their hutch or investing in a fun new toy for them to play with – you could even make toys for them out of simple household objects like empty kitchen rolls.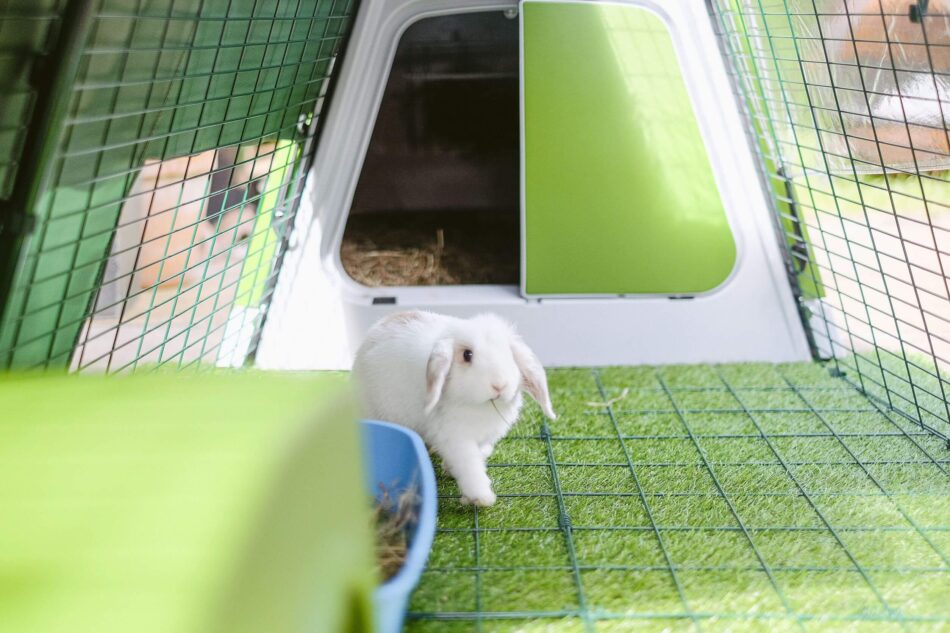 5. Offer Healthy Treats
Rabbits can teach us a lot when it comes to healthy treats. They don't like sweet things or junk food, and the most unhealthy thing you can give them is actually carrot or apple (as these are relatively high in sugar)! Offering your pet healthy treats can help you bond, as they help your rabbit realise you mean well. The rabbit will cautiously approach and take a nibble, and you're a step closer to breaking down those barriers and properly bonding.
6. Pet your Rabbit
Once your rabbit is comfortable around you and doesn't run away when you approach with your hand extended, it could be time to start stroking them. Physical contact with your pet is one of the most natural ways to form a bond, and although you may find at first that the rabbit doesn't seem too keen to be stroked, this is totally normal, and nothing to worry about. It may take a few weeks before you have your rabbit sitting comfortably in your lap.
The most considerate way to approach your rabbit is to reach out with your hand low down, just to the side of their head. This way, they can see that it's you who is petting them. Rabbits are naturally terrified of birds attacking from above and often run away when approached from a height (and a human standing on two legs is, as far as the rabbit is concerned, a height!). Rabbits also have a blind spot right in front of their noses – something common to most plant-eating animals – so you should also avoid approaching nervous rabbits directly from the front. 
7. Teaching Rabbit Tricks
Once your rabbit is playing with you regularly, you can start teaching them some simple tricks! This can begin with reinforcing natural behaviour such as walking through a tunnel, with a treat waiting for them at the far end. Or, it could be something more complex such as teaching your rabbit to spin or do a roll. We have an article all about teaching your rabbit tricks if you want to go deeper down this fascinating rabbit hole! 
8. Copying Your Rabbit
One slightly more unusual way of bonding with your rabbit is to behave in ways they would expect to see in other rabbits. This could include pretending to clean yourself the way a rabbit does, or having a little bit of your own food when you see them nibbling at theirs. Just make sure your rabbit sees you doing this, as the whole point is to make them see you as more rabbit-like! This may not be necessary if you already have a trusting relationship with your rabbit. 
9. Choosing The Right Time To Play With Your Rabbit
As you begin to get to know your rabbit well, you will see that they have certain times of day when they are more or less active. It is natural for your rabbit to spend large amounts of time sleeping, and they are very habit-forming animals. Try taking note of when they are most active so that you can choose that as the optimum time to play – this avoids frustrating your rabbit by interrupting their nap with a trip to the playpen!
10. Learning To Hold Your Rabbit Safely
When your rabbit is fully bonded with you, they might let you pick them up and carry them around. If you are lucky enough to have a docile rabbit that lets you do this, always remember to hold them in the way that is most comfortable for them. Support your rabbit's hindquarters in the same way you would support a human baby's head. Hold them only firmly enough to keep them in your grasp – there is no need to hold them tight, as they are unlikely to jump to the floor.
---
Rabbits are gentle souls, so you need to be gentle in return. Be patient, give them time, and they'll soon come to look on you as a true friend and companion.
This entry was posted in Pets
---