What Fresh Produce Should I feed my Rabbit?
First, before we get into the best produce to feed your rabbit, let's talk about what is the best feeder for your rabbit. Rather than scattering all the food on the ground, the best way to feed your rabbit is to serve the fresh veg and leafy greens in a dispenser. This gives the rabbits something more interesting to interact with. This a healthy way of providing fresh food, as it avoids contact with dirt on the ground and prevents rotting leaves or vegetables being trampled into the ground. It also reduces food wastage and keeps pests away.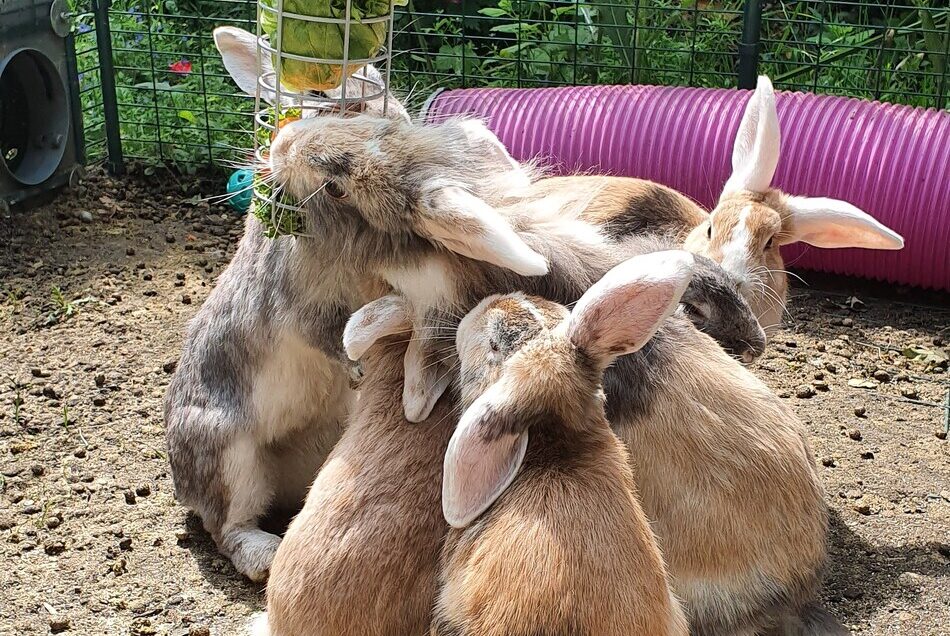 A dispenser that attaches neatly to the rabbit's run, such as Omlet's Caddi Rabbit Treat Holder is perfect, doubling as a hay feeder. Finding food in a treat holder engages a rabbit's brain, too, as they actively forage and rummage around for food rather than just hovering up whatever they find on the floor.
What can I feed my bunny?
The list of fruits and vegetables in a rabbit's diet is long and includes many of the standard items available in grocery shops and supermarkets. All fruit and veg should be washed before serving, and if you can source organic food, all the better. Feed your rabbit its fruit as a treat rather a staple, and the focus should always be on the veggies.
The problem with fruit is that it's high in sugar, and sugar doesn't feature heavily in a wild rabbit's diet, with the exception of a few berries and windfalls nibbled at the end of Summer and shouldn't be part of their daily diet. Your bunny may be domesticated, but it's a wild rabbit at heart in terms of health and dietary needs.
Apples, blackberries, grapes, pears, plums, raspberries and strawberries are safe for rabbits, but should only be fed in small amounts – just one-eighth of an apple or pear per rabbit, for example, and just two soft fruits. These should not be offered more than twice a week.
What vegetables can I feed my rabbit?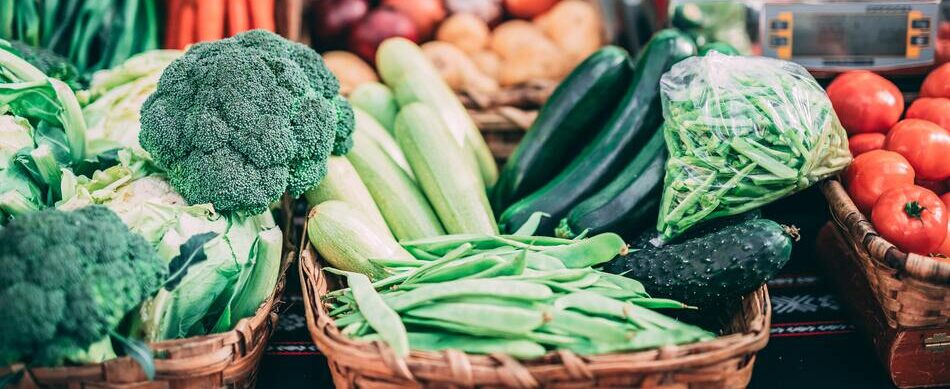 Photo by Iñigo De la Maza on Unsplash
The list of good veg that rabbits eat includes:
Asparagus

Basil

Broccoli

Brussel Sprouts

Cabbage – Red, Savoy and Kale

Carrots and carrot tops (only as a rare treat, though)

Cauliflower leaves and stalks

Celery

Chicory

Courgette

Cucumber

Lettuce (stick to Romaine varieties, as other types can be watery and may cause diarrhea)

Parsley (just once a week)

Parsnip

Radish

Rocket

Spinach (just once a week)

Sweet peppers (green and yellow are best, as the red ones are quite sugary; and never feed them chili peppers!)

Turnips

Tomato (only as a rare treat, as they have a high sugar content)

Watercress (just once a week)
Vegetables that are poisonous for rabbits
Too much oxalic acid, which occurs naturally in leafy vegetables, can poison a rabbit and cause kidney damage. However, the amounts found in some rabbit foods, including parsley, watercress and spinach, are not high enough to cause harm, and rabbits can eat them as long as these foods are restricted to just once a week.
Starch and sugar are the main things to avoid. These cause digestive problems by changing the pH balance in the rabbit's digestive system, and in extreme cases they can result in gastrointestinal disease. Foods that cause problems when fed to excess are grains (e.g. wheat, barley and oats), legumes (beans and peas) and all fruits (they're all high in sugar).
Rabbits should avoid the following altogether:
Aubergines

Avocados

Chives

Garlic

Onion

Potatoes and potato tops

Rhubarb (fruit and leaves)

Tomato leaves
No Carrots?!
Rabbits are so closely associated with carrots that it's hard to accept that the veg might not actually be that good for them. From Peter Rabbit to Bugs Bunny, fictional rabbits love carrots, and real bunnies love them too. However, carrots contain a lot of sugar and calories but lack the good fibre found in more bunny-friendly fresh foods. A carrot-heavy diet can cause constipation in rabbits, and make sugar levels rise dangerously.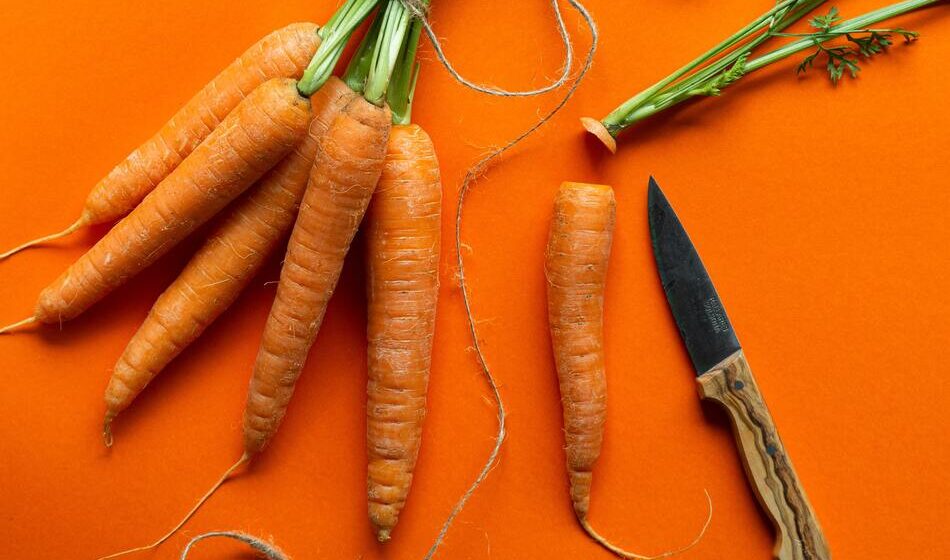 Photo by Oriol Portell on Unsplash
Carrots should therefore be treated like fruit – fine as an occasional treat, but only fed in moderation.
Safe herbs and plants suitable for rabbits
Wild rabbits eat a wide variety of plants, and even wood and bark. However, unless you're confident about which wild plants are safe for rabbits to eat, it's best to stick to these common species, to avoid digestive problems or serious illness:
Bindweed

Blackberry, raspberry and strawberry leaves (these are good for poorly digestive systems)

Chickweed

Clover

Cow parsnip

Dandelion (but not too many, as it is a laxative)

Geranium (wild varieties)

Golden rod

Goose grass

Grass (juicy stalks, rather than cuttings from the lawnmower: garden clippings may contain toxic plants)

Ground elder (NOT elder tree or shrub)

Hazel

Knapweed

Plantain

Rose leaves, petals and wood

Shepherd's purse

Sow thistle

Yarrow

Willow leaves and wood in fresh-cut twig form
It is very important that the wild greens you feed your rabbits should not have been sprayed with pesticides, weed-killers or fertilizers. These are toxic, and some can be fatal to rabbits and other pets.
What vitamins and minerals do rabbits need?
Rabbits need a healthy mix of vitamins and minerals, and these will generally be provided by a healthy
pellet food and a good supply of hay. Rabbits need lots of vitamin A, but they get all they need from the hay. The hay also provides them with all the vitamin D and calcium they need.
Unlike many other animals, rabbits are able to make their own vitamin C, so that is not a dietary issue.
Rabbits eat a wide variety of foods – that's one of the many great things about them, so it's easy to vary their diets. You can 'rotate' which greens you are feeding them, and you can retain items such as carrot or apple for treat-based training. As long as their diet is based on a good pellet feed and plenty of hay – and as long as you avoid the toxic foods mentioned above – you will have healthy and happy rabbits.
This entry was posted in Rabbits
---