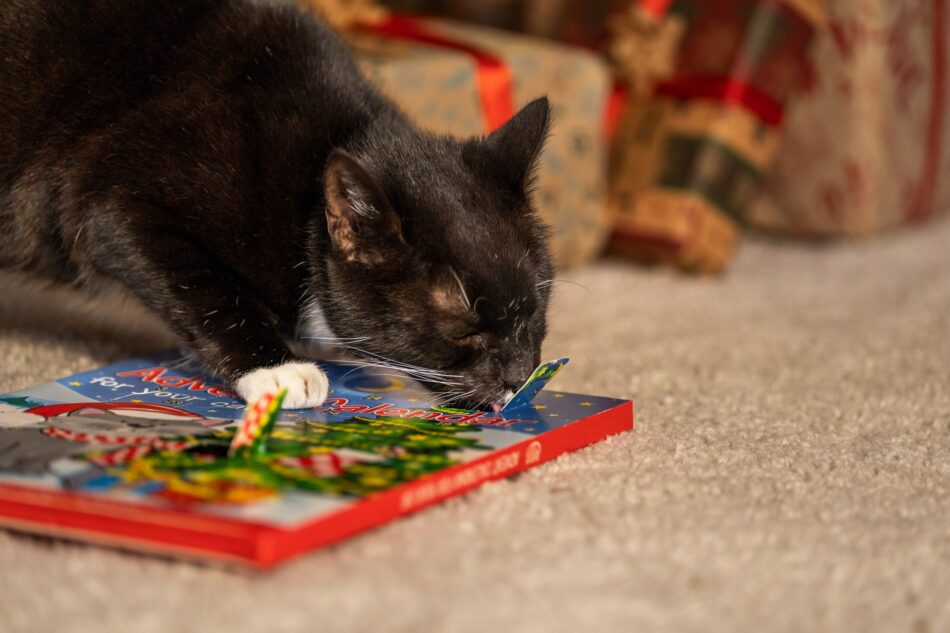 Christmas is right around the corner and so is the enjoyment of time with family and furry friends alike! Since the holidays and food go hand in hand, it would only seem fitting that sharing some extra sweet morsels with your favorite feline would be festive and fun!
But do cats like ham or hot rolls? Can you give your furry friend a sweet taste of the Christmas pies? Before you go giving your kitty any Christmas nibbles, make sure you know which foods are safe to share and which foods could pose a big danger to them. We've compiled a list of the do's and don'ts so you can be sure your cat stays safe this Christmas.
What should a cat's diet consist of?
In order to know what not to feed your feline, you first need to know what your cat can eat! Cats are obligate carnivores, meaning their diet is made up primarily of animal protein with some plant matter too. They rely on the nutrients available in meats to get the vitamins and fats their bodies need to live a long and healthy life.
As a cat owner, you know just how picky your feline can be! So making sure they get a high-protein and well-balanced diet is essential. The food your cat should be dining on in their cat bowl should be roughly 50% protein, 35% fats, and 15% carbohydrates. What kitty could resist that kind of kibble?
Should cats eat more around the holidays?
It goes without saying that Christmas is the time of year when indulging in delicious treats is not necessarily frowned upon! But is feeding your cat some festive treats ok to do, too? The short answer is yes, but in very limited bits and only with safe foods.
When the temperatures start to drop outside, cats naturally use more energy to try and maintain their core body temperature. But for indoor cats who experience a regulated home temperature, this instinct to increase their appetite need not apply like it does for outdoor cats! Your indoor kitty may seem to be more hungry because their body is instinctively responding to the change in weather. But the truth is, their diet doesn't need to change unless their environment does.
So what does this mean for your furry friend who is giving clear signals around the Christmas tree that hunger is in the air? By knowing how the change in seasons affects your cat and by being keenly aware of their specific food behaviors, you can adjust your small treats accordingly this Christmas season. Just remember to keep the treats small, simple, and safe!
Not safe foods for cats
With the aroma of holiday treats wafting through the kitchen, your cat is sure to be on the hunt for some extra bits to nibble on this Christmas. But as we've uncovered, not all foods are safe for your kitty to eat and, in fact, some can be extremely harmful to them if ingested. So in order to keep your cat safe, here are some foods to avoid letting them eat at all.
SPICES:

Garlic and spice make everything nice, right? Not for cats, they don't! Some of the most harmful ingredients for cats to eat are actually spices that are found in many holiday dishes. Garlic, onion, chives, or any other spice that is a member of the allium family are very dangerous for cats to eat. These tasty additives have compounds that can cause cats to have severe vomiting and diarrhea. So when giving your cat a nibble of Christmas meat, make sure it is unseasoned!
CHOCOLATE:

When the holiday season is in full swing, the coziness of warm fires and hot chocolate are felt all around! But for your cat, chocolate is anything but a cozy treat. The sugary sweet treats of chocolate are harmful to cats as they contain caffeine and theobromine, both of which are toxic to cats and can cause kidney failure. 
So in order to keep your cat safe this Christmas, keep the advent calendars, candy bowls, and any sugary treats out of reach and away from curious and climbing kitties!
DAIRY PRODUCTS:

Santa's milk is ok for your kitty to sip, right? Not so much! Most people don't realize it, but the majority of cats are actually lactose intolerant. Yes, it's true that almost any cat will happily lick up the frothy white yumminess of milk if given the chance, but this "little treat" can actually cause stomach cramps for your furry friend. So best to stick to water when treating your cat to a drink this Christmas!
Safe foods for cats
While there are certainly limitations on what morsels you can treat your cat to this holiday, all is not lost! Keeping your cat's diet consistent and well-balanced throughout the year is important, but if you want to feed them small bits of festive food this holiday, here is a list of some safe options!
PLAIN TURKEY:

Your cat can certainly have a nibble of the star of the Christmas table! When dishing out their small portion, just be sure it is unseasoned, fully cooked, and has absolutely no bones in it. No one wants an emergency vet visit on Christmas.
PLAIN SALMON:

What goes better with a cat on Christmas than a slice of salmon? If your holiday celebration includes the dish of seven fishes, then including your cat is ok! Salmon is a perfect fish choice to share sparingly with your cat as it is loaded with protein and omega fatty 3 acids that are super beneficial for their brains and bodies. Just be sure to give in moderation as once a cat tastes the goodness of plain, fully cooked salmon, they may not want to eat anything else!

RAW VEGGIES:

It's true that cats are predominantly carnivores, but over time and through domestication, their diet has adapted to include small amounts of vegetables as well. When it comes to giving any pet carrots, brussel sprouts, pumpkin, or broccoli, you must make sure they are uncooked and unseasoned so as not to hurt their digestion. 
An Omlet cat Christmas
At Omlet, we believe cats are part of the family, so pets should enjoy the holidays, too! But for some cats, having a safe Christmas means retreating to a space all their own so they can avoid any harmful foods altogether. 
That's why we created the Maya Indoor Cat House as a great option for any cat who seeks a secluded sanctuary that is cozy and cuddly. Christmas is all about giving! So give a small bite or two of the safe foods to your cat this Christmas and then let them do what they do best – relax in a cat nap! Meowy Christmas!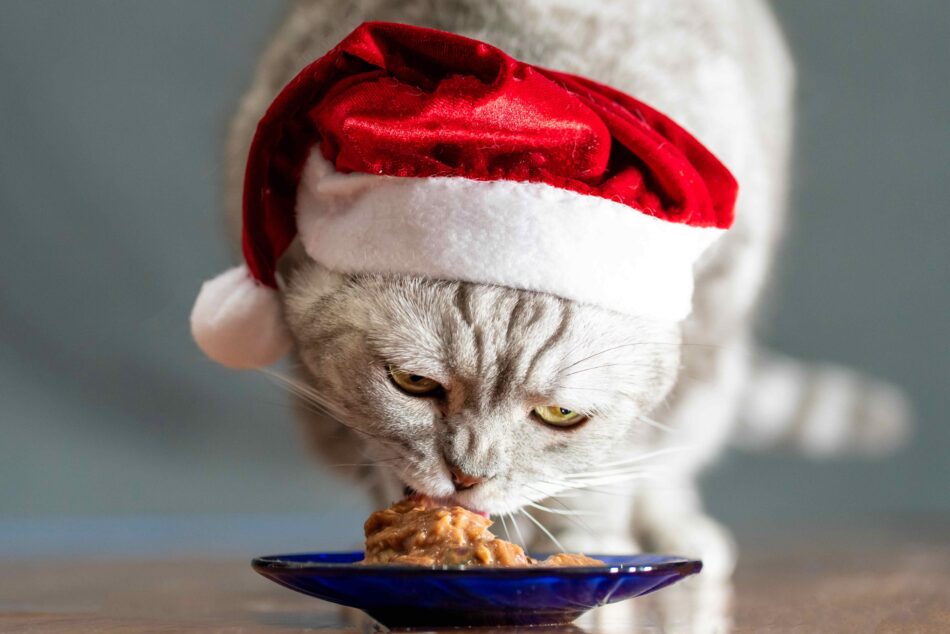 No comments yet - Leave a comment
This entry was posted in Cats
---