The Ultimate Dog Christmas Guide

'Tis the season to deck the halls, trim the tree, and spoil your four-legged friends! If you're anything like us, your holiday gift list includes tail-wagging wonders that will make any dog owner (and their dog!) delighted this Christmas!
That's why we created the ultimate guide of tips and products to make this holiday season the most magical time of the year for you and your dog!
Take photos together
Getting the perfect pet pic can be challenging, but we have some helpful tips that will ensure a print-worthy picture is made!
The best way to be sure you and your dog are framed in the photo together is to set the timer on your phone to capture the pic or ask a friend to snap a shot for you. If you are feeling very festive, you can hire a professional photographer to take a family portrait with your doggy. 
The sky is your limit when it comes to ideas for this shoot. Maybe you want to get a photo of your dog and family out on a walk together. If your pup doesn't capture well in a movement shot, you can also try posing in front of the Christmas tree. 
And when it comes to outfits, matching Christmas jammies are not mandatory, but definitely encouraged!
Send out Christmas cards
Now that you have that perfect "pup in the picture" photo, print some copies to send out to family and friends as Christmas cards. Do you have any kids? If so, get them to decorate the cards with glitter and stickers to really personalize the message. 
And don't forget to let your dog sign the card with a cute paw print on the back. This will no doubt get the best spot on the mantelpiece for anyone who receives one!
Dress them up in holiday outfits
Before your guests arrive for that holiday party, get the whole family into the festive mood with some holiday outfits. If your dog is happy to get dressed up, too, there are few things cuter than a pup in a bow tie or some antlers!
And if your dog is not a party kind of pup, no worries! Instead, dress them in a festive coat or jacket that can add some extra warmth on the darkest nights of the year. Just make sure any dog clothing is loose-fitting and not too tight so your pup can stay happy and comfortable.
Go for a walk to look at lights
One of the best parts of Christmas is all the lights to look at! Inevitably, there is always someone in the neighborhood who goes crazy with the Christmas lights! 
So take your dog for a long walk and check out the decorations. Most dogs will be fascinated by all the bright blinking lights and holiday flair! Don't forget to dress your dog in warm weather coats or booties so they can warmly enjoy the cold weather walk!
Visit a Christmas market
If your town, or neighboring one, hosts a Christmas Market, your dog is in luck! Since most Christmas Markets are held outdoors, they are the perfect holiday place to experience with your dog. As long as your dog is a well-behaved and quiet pup who can confidently be in a crowded situation! 
Enjoy some delicious mulled wine and listen to carol singers as you and your dog stroll the scenery. Your dog will love the sights and smells (and the exercise!), but be sure you bring some dog friendly treats with you to distract them if they get too excited. 
Watch a Christmas movie
There are few things better than curling up in front of the fire to watch those Christmas movies you've already seen about a million times. 
Make movie time a family affair this holiday season by having your favorite furry friend snuggle by your side as you watch. Just lay a soft dog blanket next to you on the couch and you will have your dog snoozing their way through any one of your favorite Christmas classics!
Bake dog treats
We all know that the holidays can be a time for extra indulgence in Christmas sweets and treats. And while you should not change the way you're feeding your dog just because it's Christmas, it might be nice to give them a special homemade treat so they can feel festive with food, too!
Why not make these healthy Apple and Cinnamon Dog Cookies. These delicious, dog-friendly ingredient cookies make the perfect stocking stuffer or after dinner treat!
Give gifts
If your dog has been a good boy or girl all year, they most certainly deserve a present (or two!) under the tree. We have plenty of beds, blankets, and fun toys for the furry friend in your life in our Christmas shop!
Want to give your dog the gift of comfort this holiday season? The Topology Dog Bed designed by Omlet is any dog's dream bed with its high-quality memory foam mattress that delivers the ultimate in comfort! And the best part? The toppers for the bed can easily zip off and be cleaned in the washing machine! The Topology really is the gift that keeps on giving!
If your dog likes to snuggle anywhere, anytime, then consider getting them a Sheepskin Blanket designed by Omlet for Christmas. This warm and cozy blanket can become the ultimate nap nest for any dog whether at home, in the car, or on vacation.
And with your holiday time off from work this Christmas, make the most of that extra time home with your dog! Give your good pup the gift of some durable and plush dog toys that will provide endless hours of playtime fun!
Make sure they stay safe
Christmas truly is a wonderful time of year, but it does involve some things that can pose a danger to dogs. From foods that aren't safe to eat to routines that can be regulated, you want to make sure you keep everyone accident free and safe this Christmas.  
In order to be sure the holidays don't become too hectic for your furry friend, read our blog post about how to keep your pets safe during Christmas. 
Holiday happiness can be found in many ways this Christmas, but none more fulfilling than celebrating the joy of the season with your dog! With food, fun and festive celebrations, you and your furry friend will be soaking in the wonder of this magical holiday by the tree! That's why we created the Omlet Christmas Gifts For Dogs to make sure you have everything your dog deserves!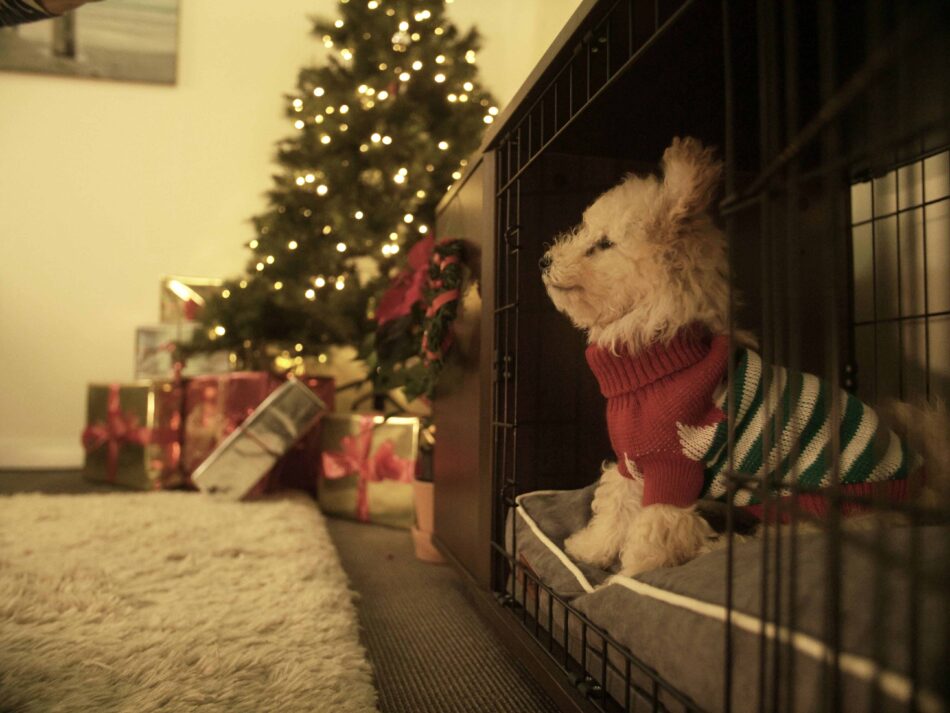 This entry was posted in Christmas
---