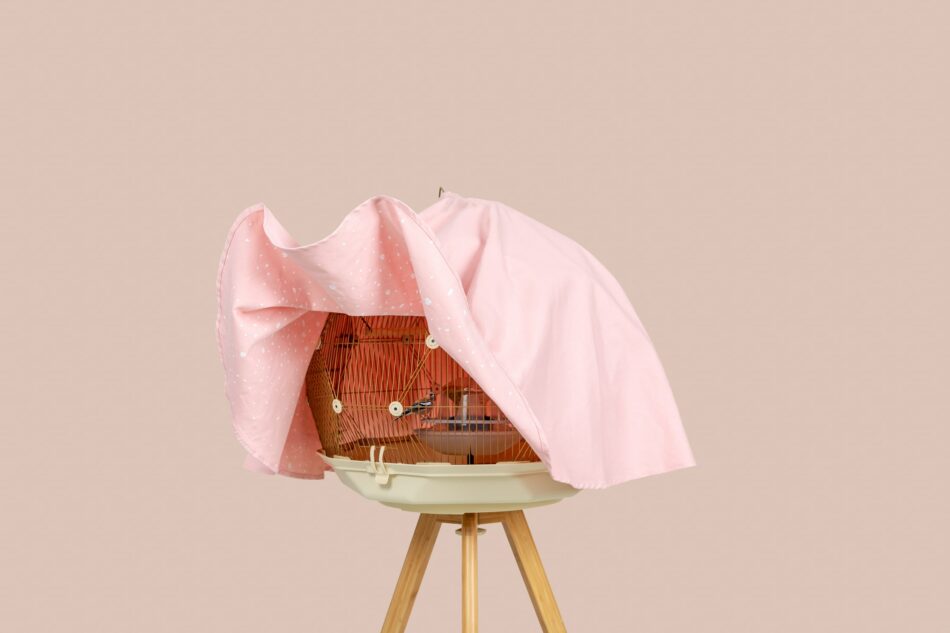 Looking to refresh your parakeet's home this spring? The warmer weather, longer days, and budding flora and fauna often inspire families to declutter, organize, and spruce up their homes. And, as part of the family, you can include your parakeet in your home improvements. While pet birds benefit from a tidy, well-planned environment year-round, Omlet can help you refresh your parakeet's home along with your own.
New season, new home
After being pent-up all winter, we all want to stretch our metaphorical wings – and your bird will be ready to stretch their literal ones. The Omlet Geo Bird Cage offers 44% more space than traditional small bird cage designs, giving your parakeet ample space to take flight.
Our artfully designed small bird cage takes an elegant approach when it comes to displaying your parakeet. The unique design not only allows more space, but was created to look great in any room. Use additional small bird perches that add character to your bird's home, and choose from different wire and base colors to match your home's aesthetic. 
But it's not just for looks – the Geo Bird Cage was also designed for practicality. We've created this low-maintenance cage to be easy for you to clean, and to prevent accidental messes from your small feathered friends. The Geo's thoughtfully centrally located feeder and waterer has been thoughtfully designed to reduce spills and waste. An optional solid bamboo stand can elevate your Geo Bird Cage to new heights – offering new vantage and focal points for both your bird and your room.  
Try cage covers 
Give your bird their beauty rest when you add an optional cover. Parakeets sleep best when it's dark, but spring brings more daylight hours that can interrupt their sleep schedules. Since they're diurnal (meaning they sleep at night and are active during the day) and need 10-12 hours of sleep each night, a cage cover can help coax them into slumber even when it's still light out. 
Specifically designed to fit the Geo cage, our Geo Bird Cage Night Cover in blossom pink is the perfect color for a seasonal spring palette. Or, try our Geo Bird Cage Cover in midnight blue for a darker hue if that's more in line with your style. Both colors allow for more restful sleep by providing cage coverage from the top down, while keeping the bottom open and airy for proper ventilation.
Add new cage accessories
Birds are highly intelligent creatures, and your parakeets are no exception. And, as with all intelligent animals, parakeets thrive in an enriching environment. Investing in new toys is a great way to keep your bird's cage fresh and engaging. Omlet's Geo Bird Cage Accessories add flair and fascination to your bird's enclosure, offering hours of boredom-busting activities. 
Keep your birds healthy and happy by providing them with an enclosure that fosters their natural behaviors. Spruce up your parakeet's space this spring with mirrors and perches to stimulate their critical thinking and add variety to their routine. Or, add a bird bath to appeal to your bird's love of bathing. 
Refresh your bird's home with a spring clean
For optimal cleanliness, you'll want to deep-clean your bird's cage at least once a week. But, if you have more than one bird, you may find yourself needing to clean their cage more often. Thankfully, the Geo Bird Cage is easy to clean in minutes – letting you spend more time with your birds and less time cleaning up after them. 
Our included feeder has an enclosed base to catch seeds that are dropped during feeding, reducing the amount of wasted seed littering the bottom of the cage. The bottom itself is easily removed and can be hand washed or sprayed with a bird-safe sanitizing solution and wiped clean. Optional paper liners make cleaning even faster – simply remove the paper lining and replace with a new one for a quick and easy clean in between deep cleans. 
Entering a new season with Omlet
Maybe you're a seasoned parakeet owner, or are considering welcoming one into your family this season. Spring brings lots of changes, and is the perfect time to switch up your bird's routine or to embark on a new bird-owning journey. From products to help your birds catch more shut-eye during the longer days, to cages that make bird ownership easier and more enjoyable than ever, Omlet has what you need to deepen the bond between you and your bird. See why thousands of people choose Omlet for their pet's needs, and share in the wonder that our products bring to pets and their families. 
No comments yet - Leave a comment
This entry was posted in Birds
---