Gift Guide – For The Chicken Keeper

If you have a chicken keeping loved one who's notoriously difficult to buy for, something for their chickens will probably be very well received. Take a look at our gift guide below and find something for every budget.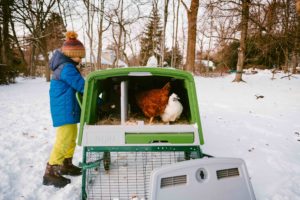 Eglu Cube – For someone very close to you this is an amazing gift that will surely go down a treat on Christmas morning. Whether they've been wanting to start keeping chickens for as long as you can remember, or perhaps already have a wooden coop which they can often be heard complaining about; the Eglu Cube is the dream upgrade for any chicken keeper. Suitable for up to 6 medium-sized chickens, the Eglu Cube is super quick and easy to clean. The house features twin wall insulation to keep inside the coop warm in winter and cool in summer, and draft-free ventilation to keep fresh air moving through the coop without exposing your chickens to a cool breeze. The secure run is predator resistant and gives chickens a safe place to scratch about when they aren't able to free-range, and can be accessorised with run covers, perches, hanging feeders and more! Choose from a purple or leaf green house, available from $679.
---
Do they already have a Cube? These accessories are a great addition to their coop. 
The Automatic Chicken Coop Door makes life just that little bit easier, especially in winter, and will go down a treat with tech lovers! The door can be programmed to open and close automatically by a certain time of day, so that chicken keepers can relax in the knowledge that their chickens are roosting in the safety of their coop even if the owners are stuck at work. With the light setting the door can be set to open at dawn and close at dusk, so the humans can have a well deserved lie in while the chickens start their busy day. The Autodoor can also be fitted to any wooden coop or run so makes a great gift for any proud chicken owner. 
You can now get the Autodoor with a the Omlet Poppy and Pendant Peck Toys in our Stay Buys! Was $213.98, now only $201.49. Buy here!
The Eglu wheels are a practical present for Omlet chicken keepers who want to easily move their Eglu around the garden. If they already have wheels, run handles can make it easier to grip the run for moving, especially during the colder temperatures. 
Unfortunately the end of the year doesn't mean the end of winter, and all chicken keepers will appreciate some covers to put on the run, in preparation for the rainy months ahead. Not only will covers keep the girls dry and out of the draft, they will also prevent the lawn from turning into a mud bath. Choose the heavy duty covers for ultimate protection from wet weather, the clear covers to allow for sunlight and shelter, or the Combi covers for the best of both worlds. 
---
Little gifts for any chicken keeper
The Ultimate Hentertainment Bundle, made up of a 1m Chicken Perch, Poppy Peck Toy, Caddi Treat Holder and Chicken Swing, contains absolutely everything a new chicken keeper would need to keep their chickens from getting bored. This eggcellent hentertainment package is now only $71.95 (before $86.95) in our Christmas Star Buys! 
The new Limited Edition Hivis Chicken Jacket, designed to look like a traditional Christmas Jumper, will ensure chickens are safe and seen when crossing the road this December, while keeping hens super cosy – perfect for the festive season.
Treats – We have plenty of boredom busting treats, perfect as stocking fillers for all chicken keepers.
Egg skelter – For chicken keepers and keen bakers, this lovely kitchen eggcessory will go down a treat. As well as looking good, it is also incredibly practical and will help ensure eggs are used in date order! Shop the colour range here.

This entry was posted in Chickens
---