Will My Rabbits Be Ok Outside in the Winter?
We often get questions from new rabbit owners about how to care for rabbits in the winter and asking if their pet rabbits will be happier inside during winter. We've put together the advice we normally give in this blog, so that everyone can make their own decision about whether bringing the rabbit into the house or keeping your pet outside is the best option for you.
Can rabbits live outside during the winter months?
But will they be happier inside?
How cold is too cold for rabbits?
What can I do to help my rabbits in winter?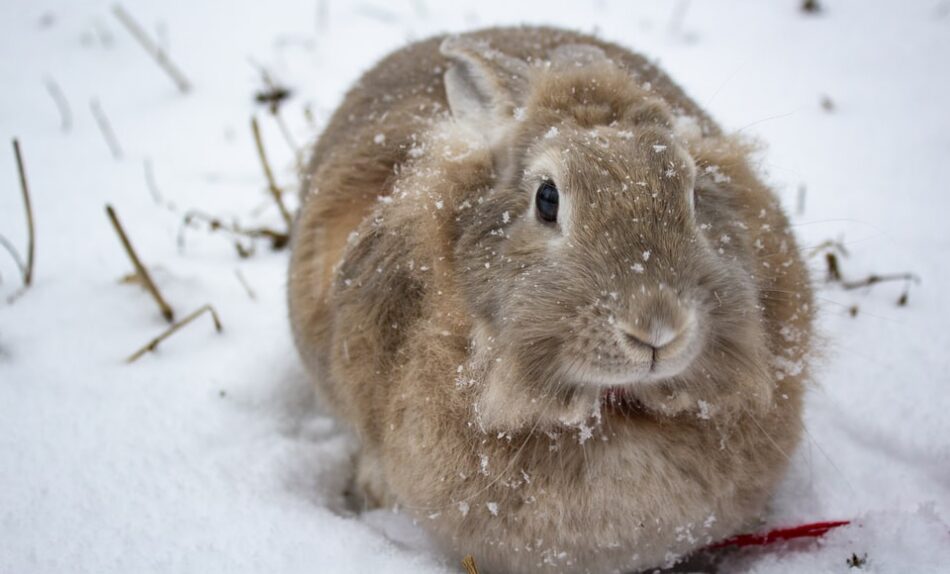 Can rabbits live outside during the winter months?
Yes, as long as your pet rabbits are healthy and have a hutch that will keep them warm and dry, letting your bunnies stay outdoors for the winter months shouldn't be a problem.
Both wild and pet rabbits cope relatively well with colder temperatures (they actually struggle a lot more with heat), as long as they have a dry and sheltered area where they can hide in cold weather. For wild rabbits, this is their underground warrens, and for your pet bunny it will be a well designed hutch and run.
It's important that you make sure that your rabbits' home has got everything they need to keep warm and dry while it is still nice and warm outside. If the hutch is damaged in any way you will want to have time to fix it, or to get a completely new house for your bunnies, before it gets too cold.
The Eglu Go Rabbit Hutch with insulated walls will protect your rabbits from the wind and rain, and keep them warm even when the weather gets really bad. The draft free ventilation makes sure fresh air moves around the hutch, without making it damp or cold.
But will they be happier inside?
Not necessarily. Indoor rabbits will need to adjust to their new home, and if it's the first time they are taken indoors, this can be a bit distressing to start with. You will need to provide them with a safe area where the temperature won't fluctuate massively they will get enough exercise and mental stimulation throughout winter.
The important thing when it comes to keeping rabbits in winter, whether you decide to stick with the outdoor hutch or let them come inside the house, is to make a decision and stick to it.
When summer is over and the temperatures start dropping, the rabbits will grow a thicker winter coat and fur pads on their feet. This will gradually get thicker as the months go by. The coat is great at keeping the rabbit warm outdoors, but once the rabbit is fully prepared for winter, you will have lost your window of opportunity to move them indoors.
A rabbit with winter fur should not be taken indoors unless absolutely necessary. Rabbits can't sweat, and the sudden heat will quickly raise the rabbit's body temperature to dangerous levels. In serious cases, this temperature shock can be fatal, so make sure you make a decision about where the rabbits live, and keep them there permanently.
How cold is too cold for rabbits?
It's difficult to say a specific temperature at which you should start worrying about the wellbeing of your bunnies. If it has gradually got colder over a longer period of time, your pets will have thickened their coat, and will be fine in temperatures as cold as -10. It's more problematic if the temperature suddenly drops, as the rabbit will not have had enough time to get used to the cold.
If you're worried, consider the option of moving the hutch into a shed or garage. Rather than moving the bunnies indoors straight away, you can keep them covered and sheltered for a bit before you decide if they can go back out into the garden, or if they need to move inside permanently.
If you let the rabbit live in a warmer area, he or she will within a few days start shedding its thick fur, and after about a week you will not be able to move them out into freezing temperatures again. This is another reason it's important to choose a course of action and stick to it.
Any animal in distress should be taken straight to the vet to get help and advice. The main worry for a pet rabbit living outside in cold weather conditions is hypothermia and pneumonia. To prevent these owners must check on their pet regularly and make sure their home is safe, warm enough and free from damp areas.
What can I do to help my rabbits in winter?
This advice applies if you keep rabbits in an outdoor rabbit hutch and run. If you're moving your pets inside you won't have to worry too much about protecting them from bad weather.
• Exercise
The rabbits still need to run and exercise as much as they do in summer, but make sure you're also giving them the opportunity to go inside the hutch and rest if they need. The Eglu Go Hutch with run connected to a Zippi tunnel with additional runs and play pens lets the animals run between different areas as and when they like. Moving about will help your rabbit stay warm, and will keep them physically and mentally stimulated. Provide a few extra toys, tunnels and hidey-holes that they can run between.
• Position and cover
Move your outdoor rabbit hutch to a sheltered area of the garden, facing away from the prevailing wind and rain.
During the day, cover the roof of the run with a clear cover that will prevent your rabbits getting wet and damp, while still letting the light in.
• Bedding
Provide plenty of extra bedding in the hutch, and put an extra layer of newspaper and straw at the base of the hutch if you're worried moisture and cold air will get into the hutch that way.
Regularly check the hutch and make sure your pets have plenty of dry, warming bedding. Blankets or hot water bottles are not a good idea as the rabbits are likely to chew them, but you can put a microwavable heat pad in with the hay that will provide extra warmth to your pet.
• Food, water and treats
If they are living outside, your pet rabbits need to eat more in the winter to stay well. Digesting food will heat their bodies and help them keep warm.
We advise giving your rabbits more food gradually as the weather gets colder. Check if anything has been left at the end of the day, then you are giving them too much. Give them plenty of treats, both healthy vegetables like broccoli and cabbage, and shop bought chew treats that will wear down their teeth. Always make sure they have a good amount of hay in the hutch, as hay should make up a high percentage of your bunny's diet.
Check your rabbit's water bottle regularly to make sure the water is fresh and hasn't frozen. It may be good to have two bottles, so you can swap them every time you go outside to see your animals.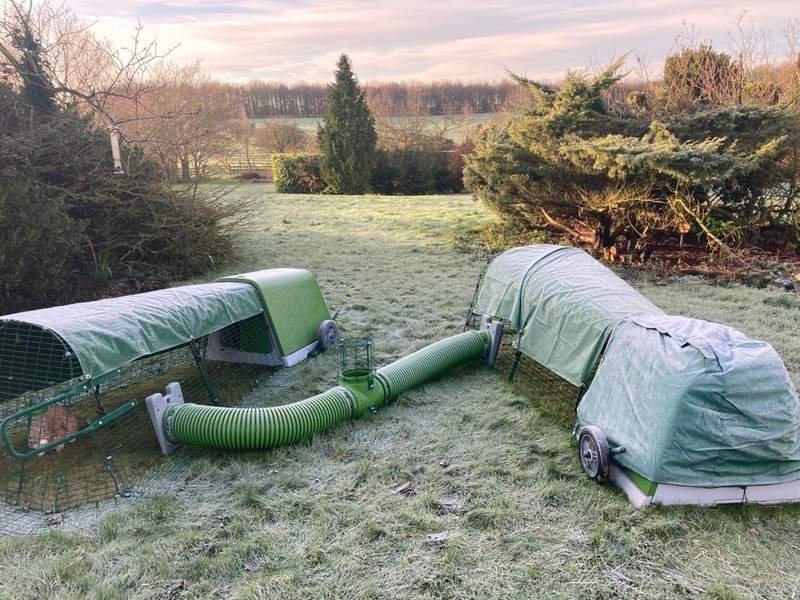 This entry was posted in Rabbits
---