Keeping Your Cat Out of the Christmas Tree
Cats love trees, they love things that hang and dangle, and they love shiny objects. With this said it's not difficult to understand how your beautifully decorated Christmas Tree will seem like a wonderful playground to your furry friend. But a toppled tree will not only make a lot of mess, but it can also hurt your cat, so it's best to do everything you can to keep your curious cat away from your holiday evergreen. Here are our best tips: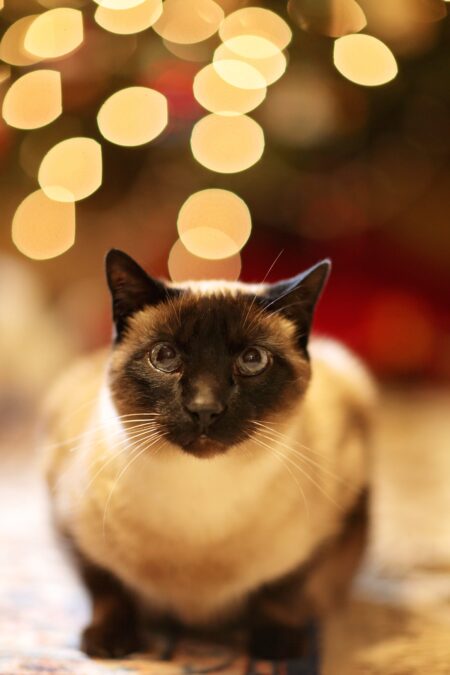 Choose the right tree and the right position
If you're having a real tree, choose one with sharp needles, like a Scotch Pine, that the cat will want to keep their paws far away from. Hoover up the fallen pine needles every day, as they can cause serious pain if they get stuck between paw pads. 
Place the tree somewhere away from bookcases, sofas and other furniture that the cats might use as a platform to pounce from. 
Secure the tree
To make sure the tree doesn't topple over and fall if the cats were to get hold of it, make sure you choose a stand with a wide base that can take some potential swinging. Depending on your set up, you might also be able to tie a piece of strong fishing line to the top of the tree and connect it to the ceiling. 
Don't tempt fate
When you're at work, or in bed, close the door to the room with the tree to stop the cat from playing with it. Ideally you will be able to give the cat access to the rest of the house, but if you have to lock them in a room, make sure it's big enough for them and that they have everything they need.
Go top heavy on the ornaments
Try not to place too many ornaments at the bottom of the tree where you cat can reach, especially not ones that are precious to you, or that would automatically break if they fell off. One idea is to get ornaments that make noises, like bells, and place them on the lower half of the tree. Not only will this potentially stop your cat from going further up the tree, but you will also hear when the cat has approached and can interfere before any damage is done. 
You can also secure ornaments by using wire hangers, or plier ones that you can clamp around the branch. These will be more difficult for your cat to pull off. 
Things cats don't like
Cats hate the scent of oranges, so to discourage them from approaching the tree, you can put orange peels around the base. You can also wrap tin foil around the trunk of the tree. Cats don't like the sensation of putting their paws on it or the crinkling noise it makes. This works better if you have a kitten or a younger cat, but it's worth trying. 
Secure the electrics
Some cats will nibble on the cables to the lights, which can hurt them or become potential fire hazards. Consider investing in pet-proof cord protectors, use duct tape to secure the cables to the floor or the wall, or use battery powered lights without long cables. 
Skip the tinsel
Don't use tinsel if you have a cat in the house. Tinsel is extremely attractive to cats, and they will pull it down and spread it all over the house. If ingested, it can also cause the cat serious injuries, so it's best avoided.
This entry was posted in Cats
---