Dog-Friendly Beaches to Vacation This Summer
The temperatures are rising, the days are longer, and the itch to travel is strong. That can mean only one thing – summer is officially here!  
Beach vacations are one of the top destinations this time of year for both two-legged and four-legged visitors who are longing for the salty air breeze and cool, crisp splashes in the ocean surf. While many beaches across the US coastlines allow your furry companion to visit, some places are more welcoming than others.
Whether you are wanting to go south into Florida, up to the northeast for cooler summer nights, or out west to dip your toes into the Pacific Ocean, there are many amazing beach destinations for all the members of your family. Here is a list of some of the top dog-friendly beaches to visit this summer.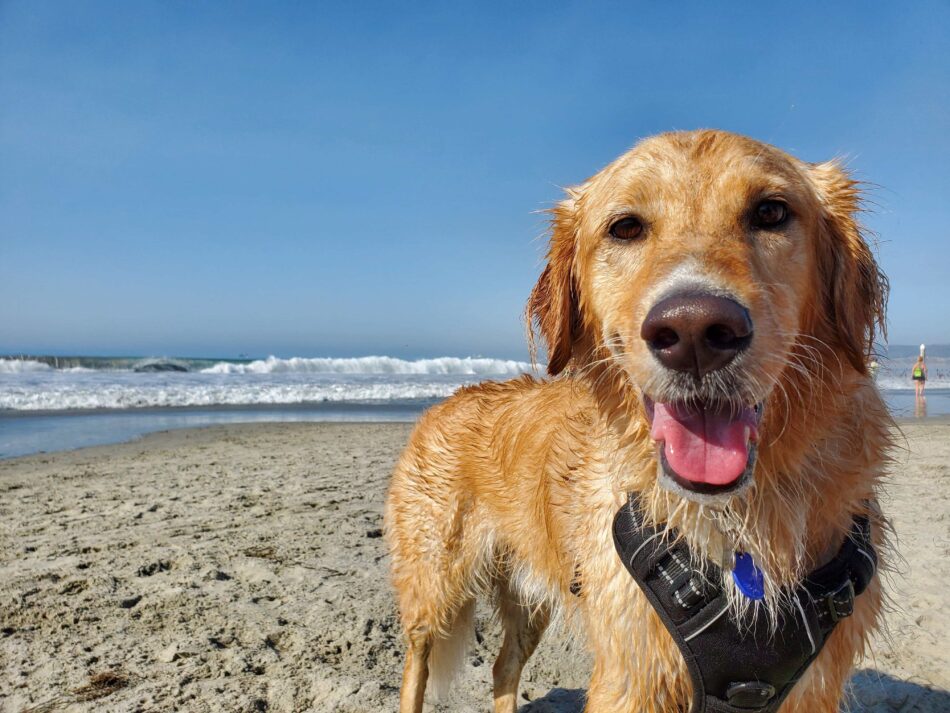 Oak Island, NC
Imagine running along the salty beaches of the Atlantic Ocean while the sun is starting to rise over the water. Your dog is splashing in the surf and barking out sounds of pure joy as his paws sink into the same soft sand as you. That is what it feels like to vacation in Oak Island! Part of the Brunswick Islands, Oak Island is a small, quaint town in southeast North Carolina. This dog-friendly city hosts hundreds of furry guests each year with its plethora of pet-friendly vacation rentals. You and your dog will have a fetching time enjoying sweeping views of many appointed beaches in the area – just be sure to read up on the leash regulations prior to your visit as required on-leash hours vary depending on location. Looking for other furtastic things to do with fido while at the beach? Head over to the Salty Dog dog park where your four-legged friend can mingle with other local and vacationing canines alike. This beach is a doggie must!
Huntington Dog Beach, CA
Is it paw-ssible to find a beach that is all about the paws? Absolutely! Welcome to Huntington Dog Beach in California. Located south of Los Angeles along the coastline of the Pacific Coast Highway, Huntington Dog Beach is a pup paradise vacation spot. This "ultimutt" beach destination is managed by a non-profit group of local dog-loving residents and boasts year-round, leash-free stretches of beach that are open to dogs of all shapes and sizes. Huntington Dog Beach is also the hot doggie spot for many dog-centric events each year. Does your pup like to surf? Grab some pupcorn and be sure to catch the Salty Pup surfing competition that Huntington hosts annually. Since the Pacific waters stay cooler year-round, your dog can cool off while running in the waves – be sure to pack the Kong Squeak Air Ball to maximize the fun for fido. Huntington Beach has consistently been voted as one of California's dog-friendliest cities so it's a guaranteed good time vacation for all!
Dog Beach, Ft. Myers, FL
Another pawsome vacation spot that caters to dogs and their owners is the famous Dog Beach in Ft. Myers, Florida. You will become your dog's most pup-ular human by bringing them to play in these calm waters of the Back Bay on this off-leash stretch of white sand. Known for its laid-back atmosphere and doggone good weather, Dog Beach was specifically designated as a county park just for dogs and is a howl-worthy time for furry friends of all sizes. Because the summer temperatures tend to get hotter in southern Florida, be sure to pack Omlet's Memory Foam Cooling Mat for Dogs to help your pup cool down faster. This easy to travel with mat doesn't require any refrigeration or plugs – it uses the heat from fido's body to activate the cooling effects! After a day of fun in the sun, picture walking on the streets of this surfside beach town which are paved with dog-friendly watering holes. Nothing like a cold beverage to end a good day while your canine relaxes and refreshes with a big bowl of water. 
Block Island, RI
Does your dog like to swim? If so, then Block Island, Rhode Island is the perfect beach vacation spot to visit this summer. Located 12 miles off the coast of mainland Rhode Island, Block Island is only accessible by ferry boat. But don't fret, canines ride for free on this paw-ty boat that offers beautiful views of the northeastern part of the country. Here, you and your four-legged friend can enjoy twenty-five miles of swimming, hiking, or just simply relaxing in the cooler waters and surf. After exploring this remote destination, it will be a wonder whose tail will be wagging more with joy. Remember, your vacation is a time to get away from the dog-eat-dog world for a bit, so be sure to stop in for a bite at The Oar restaurant to enjoy some delicious, local seafood. And always have Omlet's Fruitables Skinny Mini Dog Treats on hand so your pup can enjoy the dining experience as well!
Galveston, TX
Paws-itively one of the best beach destinations to vacation this summer is along the shorelines of south Texas in Galveston. With 32 miles of dog-friendly beaches and dozens of vacation rentals that welcome man's best-friend, Galveston is not just for humans. At the top of the list for this beach locale is a visit to Kempner Park which offers plenty of shade to wade in the warm waters of the Gulf. You know your pup can doggie paddle, but what about paddleboard? Be sure to check out SUP Gulf Coast to start teaching your old (or young!) dog new tricks. That's right – this dog-loving company provides life jackets and lessons for both two-legged and four-legged visitors. At the end of the day, enjoy a delicious meal at one of the many local restaurants that welcomes all pooches to relax on the porch. 
No matter where your summer vacations take you this year, be confident in knowing there is a long list of beaches that not only welcome your four-legged family members but cater to them as well! One of the best ways to explore new places and experience new adventures is to plan a trip with your dog. After all, it's called the Dog Days of Summer for a reason! 
This entry was posted in Dogs
---