How to choose an animal for your 4-H project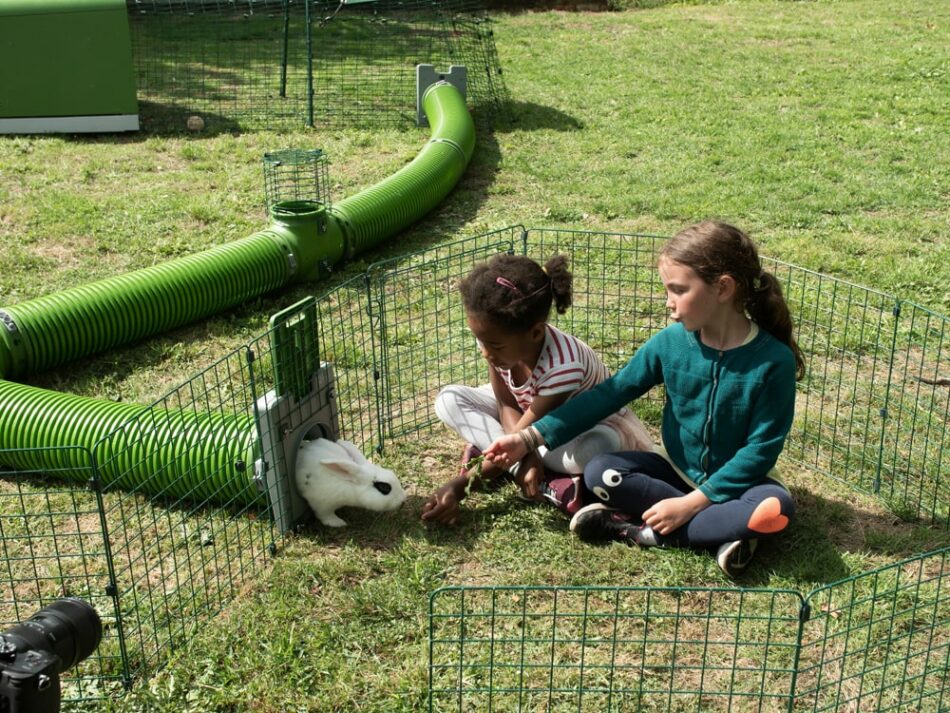 Did you know that you can raise an animal for your 4-H project? Not only that, but you can raise your 4-H project animal out in the country, or right in the middle of the city! With Omlet, raising a small animal for your 4-H project is easy and enjoyable. 
The National 4-H Council has many different opportunities for projects, and raising animals is part of most local 4-H groups. We'll help you get started with your new 4-H project by helping you decide which animal would be the best fit for you. And, we'll talk about how to care for your 4-H project animal, how to get ready for show day, and what to expect along the way.
What is 4-H? 
4-H stands for: "head, heart, hands, and health." These four aspects are what 4-H programs foster in kids ages 8-18 years old. From science, community outreach, agriculture, to healthy living programs, there's something for everyone! 
Projects for 4-H are chosen on an individual basis. These projects are completed over the course of several months, and are usually shown at an exhibition or county fair. If you've been to a county fair or stock show, you've probably seen 4-H exhibitors displaying their projects. Projects like art, leather working, welding, and livestock or small animals are commonly shown at these events. 
Find your local 4-H group to see what types of projects your area supports. Most local 4-H groups will have animal projects as an option. Most animal projects are considered "livestock" under the category of agriculture, but many animals can be raised as a 4-H project. If you live in a city or are short on space, you may be particularly interested in small animals like rabbits, cavies (guinea pigs) or even chickens. 
Choosing an animal for your 4-H project 
Before deciding on your project, you'll need to become a member of your local 4-H group and see which animal projects they support. Your group leader can help you choose the best animal for your project, and how and when to show them. Animal exhibitions usually take place at county fairs, stock shows, and group or association-sponsored shows. Show schedules are usually published well in advance, and can help you decide which animal you'd like to raise, and how soon you'll need to get started. 
Rabbits, guinea pigs, and chickens are great projects for children of all ages. They're all easy to handle and care for, and come in a variety of breeds to choose from. These small animals don't need much space, and can teach valuable animal husbandry skills to kids of all ages. 
Raising your animals for your project is part of the work (and fun!) of being part of a 4-H group. Most animals need to be purchased as young as possible so that you have time to bond and fully raise your project. Rabbits, guinea pigs, and chickens all mature quickly, 
Caring for your 4-H project animal
Whichever animal you choose for your 4-H project, they'll need housing and proper care to thrive. It's important to set up their housing and purchase their feed and accessories before bringing them home. We've outlined some basic care needs for rabbits, guinea pigs, and chickens to help you decide which animal project is the best fit for you. 
Caring for rabbits 
Taking care of a rabbit is a big responsibility, but with the right products can be easy and enjoyable. Bunnies bond with their owners, are fun to show, and there are a variety of rabbit breeds to choose from. To successfully keep a rabbit for your project, you'll need: 
It's important that your rabbit has enough room to run and build muscle. Body composition is one of the criteria that your rabbit will be judged on, so keeping them fit is essential. Some breeds may also require mild to moderate grooming. All rabbits will need their nails trimmed routinely and given chew toys (preferably those made from apple wood) to help keep their continuously-growing teeth filed down. Handling your rabbit daily will help prepare them for their routine grooming sessions and for the show table. 
 Caring for guinea pigs 
Taking care of guinea pigs is similar to caring for a rabbit. The exception is that while rabbits can thrive being kept by themselves, guinea pigs do best in pairs. To avoid unwanted litters, make sure to get two guinea pigs of the same gender! You may not necessarily show both of them, but it's best to get your pair while they are young so that they can bond and mature together. 
To care for guinea pigs, you'll need: 
Like rabbits, some guinea pig breeds will require grooming beyond regular nail trims. Handle your guinea pigs daily and help them get used to being placed on a table for showing. Omlet's Guinea Pig Platforms are a great tool for getting your cavies used to being on a table-like surface. 
Caring for chickens 
Taking care of chickens is surprisingly easy once you understand their basic needs. Even though they're commonly associated with farms, chickens can actually thrive in urban settings too. Since chickens aren't common backyard pets in cities, make sure you check with your city zoning office to get permission to house chickens, and if there are housing requirements for your flock. 
Chickens need: 
There are many different breeds of chickens to choose from. If you choose laying hens to show, you'll get to benefit from fresh eggs once they're old enough to start laying. It's important to remember that chickens are flock animals by nature, so you'll want to keep a minimum of 2-3 birds at a time. 
Breed-specific care 
Each breed has their own standards by which they will be graded on by a judge. Their coat or feather coloring and patterns, body composition, conformation, overall health, and size will all be taken into account. It's also important to choose your project animals from reputable breeders. 
Some flaws in breed standards will be grounds for disqualification or score docking. While mixed breeds make excellent pets, only purebred animals are allowed to be shown. Once you've selected the breed of rabbit, guinea pig or chicken that you'd like to show, familiarize yourself with the breed standard so that you can select quality animals. You may want to ask your 4-H leader or other seasoned-show person to go with you when you pick out your young animal. 
Preparing for your show 
You'll have your project animals for months before showing them, which gives you time to prepare both yourself and your animals for show day. Your 4-H group will likely have meetings that are held regularly to support you throughout your journey. Some meetings may require you to bring your animal along with you so that your leader can check their progress. 
Rabbits, guinea pigs, and chickens will all be weighed on show day, so it's important to weigh them at home to make sure they're getting proper nutrition. Keep a record of each weighing session to share with your 4-H leader so that they can help you determine if your animals are over or underweight. 
For the majority of the show, your rabbit, guinea pig, or chicken will be placed in a wire cage until it's time for the judge to handle them. Practice having your animal stay in the same cage that you will use to transport them to the show a few times each week to get them used to being confined outside of their hutch and run. 
When it's your rabbit, guinea pig, or chicken's turn, the judge will remove them from their wire cage and handle them. They will place them on a table, feel their muscles and fur or feathers, and look at their overall appearance. Ask your 4-H leader to help you with proper table placement and how to hold your animals the same way the judge will. A well-mannered, trained 4-H animal stands out to a judge! 
What to expect after the show 
You may have offers from potential buyers for your rabbit, guinea pig, or chicken after a show – especially if they've won a ribbon! It's completely up to you if you'd like to sell your project animal, or if you'd like to continue on with their show career. Some people sell their animals at a show in order to try a different breed or type of animal for their next project. Others may decide that they want to keep their project animals as family pets, or as breeding stock for future projects. 
If you don't have offers for your animals at the show, that's okay too. You can still decide to sell them later, or keep them as family pets. Take notes from the judge to review and see if the marks are something your animal can overcome through nutrition or exercise. If your animal was disqualified for not having breed-standard coloring or build, then they should be retired as a beloved family pet. 
No matter the results, you should feel immense pride after completing your first show! Lots of time and effort goes into taking care of animals – whether they be show animals or family pets. Some of the great opportunities 4-H has to offer are teaching children responsibility, hard work, and dedication. And, sometimes not winning a ribbon is one of the greatest learning opportunities of all. 
Omlet and your 4-H animal project 
Omlet has housing solutions for your 4-H animal projects. By having easy-to-clean hutches and coops, you can keep your animals' home clean and comfortable in minutes, saving you valuable time to train and work with your rabbit, guinea pigs, or chickens. Choose from our line of enriching products to build both your relationship with your 4-H project animals and their muscles: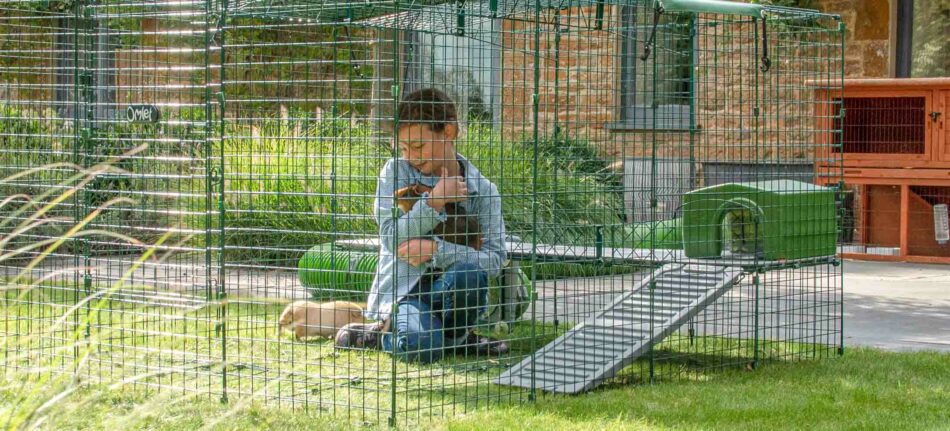 This entry was posted in Chickens
---