Keeping rabbits for beginners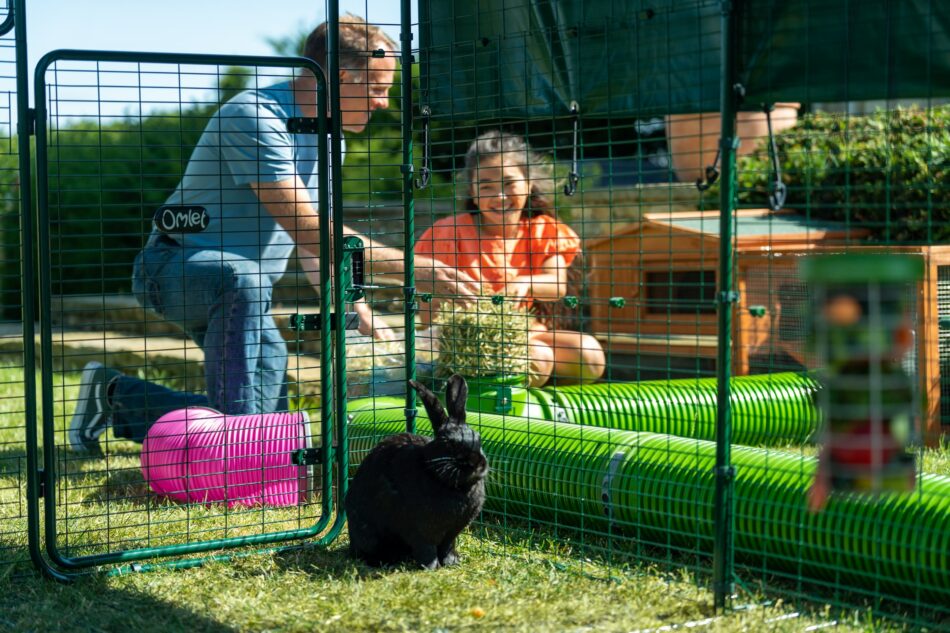 Keeping rabbits for beginners doesn't have to be intimidating. In fact, these gentle animals are perfect for first-time pet owners due to their relatively easy care. With the right rabbit setup and research, you'll be bonded with your bunny in no time. 
Which rabbit breed?
There are many breeds of rabbits available as pets. They vary widely in appearance, size, and temperament. Some require more maintenance than others, mostly because of their long coats and heat or cold tolerance. 
For example, Lion Heads have long coats in need of regular brushing to prevent mats from forming. They also aren't as heat tolerant as other breeds due to their excess hair.  On the other hand, breeds like the Californian are very heat tolerant and have short haircoats that don't require grooming. 
Rabbits may have erect or "lop" (long, floppy) ears. The anatomy of their ears doesn't affect them much, except in the case of breeds like English Lops, as they are prized for their very long ears. These large, long-eared rabbits may be more prone to stepping on their ears in enclosures that are too small for them. 
The breeds considered to be best for beginner bunny keepers include: 
The type and age of the rabbit you choose is largely a matter of personal preference. Most breeds have the same basic care needs, but be sure to research the breeds you're considering thoroughly before making a final decision. 
You'll also want to decide if you'd like to start with a young bunny or an adult. Rabbits of all ages need to be handled regularly in order to bond with their new owners, but young rabbits may forge this bond faster than adult bunnies that have had previous owners. Like other pets, bunnies have their own individual personalities that may not be apparent right away. Give your rabbit time to adjust to their new home, and you'll soon see their personality shine through. 
How many rabbits should I get?
Rabbits are social animals that thrive off of bonds with each other. It's always advised to keep at least two rabbits together to avoid a lonely bunny. In the wild, rabbits live in large groups called "colonies" and all live together in a network of tunnels and burrows called a "warren." Colonies can consist of just two or three rabbits, or in the dozens. 
Domesticated rabbits share many of the same characteristics as their wild cousins, so the need for companionship runs deep. Decide how many rabbits you'd like to keep together, which will determine how much space they'll need to be comfortable. To avoid accidental litters, only keep neutered males with females, or stick to females only. If you plan to keep more than one male, they should all be neutered to prevent territorial displays. 
Your new rabbits' home
Omlet has created the perfect home for pet rabbits. The Eglu Go Plastic Rabbit Hutch is designed to meet all of your bunnies' needs, as well as yours. Our easy-to-clean design keeps your rabbits fresh and clean and makes caring for your bunnies easier than ever. 
Our plastic rabbit hutches have revolutionized rabbit-keeping. Gone are the days of rotting, moldy, smelly wooden rabbit hutches. With an Eglu Rabbit Hutch, you'll never have to worry about maintaining the ideal environment for your bunnies. 
Since rabbits need as much space as possible to keep fit and active, we've come up with several solutions that are conducive to any outdoor area. The attached run of the Eglu Rabbit Hutch can be extended up to 12 feet long, or your rabbit can explore new areas of your yard with an Outdoor Rabbit Run. Place your rabbit's hutch inside of one of these rabbit runs, or connect the attached hutch run to the secondary run with our one-of-a-kind Zippi Rabbit Tunnel System. Designed to mimic tunnels and burrows in the wild, your rabbits will have their own backyard warren to keep them safe and happy all year round.
All of our rabbit products are predator-resistant, and feature optional anti-dig floor mesh to help prevent your bunnies from tunneling out. Optional handles and wheels can also be added to your rabbits' hutch to move them around to fresh patches of grass, or shady areas of your yard. 
New rabbit checklist
All pet rabbits need the same basic care and supplies. To complete your new rabbit checklist, be sure to have: 
A

quality rabbit hutch

to keep them comfortable and secure 

High-quality feed, ideally pellets comprised mainly of timothy hay 

Free-choice timothy hay 

Fresh water available at all times 

Chew toys to trim their ever-growing teeth 

A good veterinarian that's familiar with rabbits 
Bunnies thrive best when they're given enrichment opportunities. Our outdoor rabbit runs combined with Zippi rabbit tunnels will help keep your rabbits' minds and bodies active. Add weather protection to your rabbits' run so that they can enjoy time out of their hutch – rain or shine.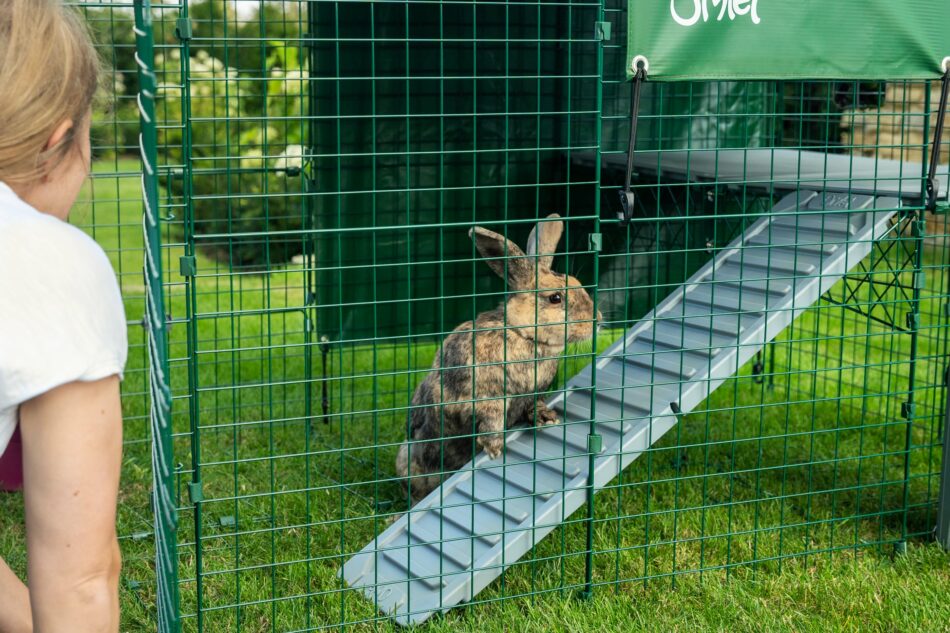 3 tips for beginning rabbit keepers 
Excited to get started on your rabbit-keeping journey? Below are the top tips to help ensure success from the start. 
Conduct rabbit research 
Before bringing your bunny home, you'll want to research the breeds you're interested in keeping, along with their enclosure and dietary needs. Some breeds require more space than others, while some breeds have different protein requirements in their diet. It's always recommended to find your rabbits through a reputable breeder. Breeders are excellent resources for first-time bunny keepers and can help you with the specifics of the breed you've chosen. 
Establish a rabbit routine 
Your routine with your rabbits will be unique to you as an owner, but a realistic schedule should look something like this: 
Morning: 
Fill food bowl with pellets 

Refill hay feeder 

Refresh water bottle 
Afternoon:
Playtime 

Refill water if needed 
Evening: 
Clean hutch and refresh bedding 
If your rabbit has a long coat in need of grooming, you'll need to make time to brush them a few times each week. Check your rabbits' toenails monthly to see if they need a trim. Keep in mind that bunnies that have access to fresh earth will wear their nails down faster through play and digging than those kept in wire cages. If your bunny needs a nail trim, be sure you're comfortable doing so on your own. Otherwise, your veterinarian can trim their nails for a modest fee.  
Bond with your bunny 
To have the best relationship with your rabbit, you'll need to spend time with them each day. Once you get to know them, you'll be able to understand your bunny's body language. Handle your rabbits often to get them comfortable with you, and offer treats to reinforce desired behavior. Fresh fruits and vegetables are great rewards for training, as well as nutritious additions to your rabbit's diet. Serve them in a Caddi Rabbit Treat Holder to keep your rabbit occupied in your absence. 
Talk to your rabbits every time you interact with them to get them accustomed to your voice. Your bunny may be nervous the first few days in their new home, but with patience and care, you'll earn their trust. Happy rabbits have clean, safe hutches, a well-balanced diet, and plenty of room to run around in. And, as any rabbit keeper will tell you, a happy rabbit is a joy to be around. 
Omlet and your rabbit-keeping journey
Omlet's rabbit products have been designed to keep rabbits and their owners happy — no matter where they are on their journey together. From seasoned rabbit owners, to complete beginners, our rabbit hutches, Zippi tunnel system, and outdoor rabbit runs bring joy to bunnies and their humans alike. You can rest easy knowing that your rabbits are living their best lives in their Omlet setup, and enjoy being a rabbit keeper with our easy-to-clean, zero-maintenance rabbit products. 
This entry was posted in Rabbits
---