Daily chicken care
Daily chicken care can be an enjoyable activity. More of a hobby than a chore, caring for your flock should be something you look forward to every day. Chickens are relatively low-maintenance animals, but like all pets, require daily care to live their best lives. 
Wondering what a day in the life of a chicken keeper looks like? We've compiled sample schedules that showcase how Omlet makes tending to your flock easy and enjoyable. 
Morning chicken-keeping care
What if you could clean your chicken coop in the same amount of time that it takes you to prepare your morning cup of coffee or tea? With the Eglu Cube Chicken Coop by Omlet, you can! Your flock's morning care routine couldn't be easier or more efficient than with the Eglu Cube. Not only is our chicken coop easy to clean, but the included feeders and waterers hold plenty of sustenance for your flock to get them through the day. 
Imagine if you will, a typical morning chicken care routine for a keeper with an Eglu Cube…
Your day may start around 8:00 am. You'll want to let your hens out to seize the day and open up their nesting partition door once they've vacated the coop. 

Then it's time to

clean the chicken coop out

, but since you've got a sophisticated, easy-to-clean coop, it's no problem. You'll remove the droppings tray, and dump it in your compost pile or garbage.  

You'll then want to spray or wipe the droppings tray and removable roosting rack clean if needed. 

Time to refresh the bedding in the tray, and replace the now-clean components back into the Cube. 

Finally, you'll just need to top off your flock's

feeders and waterers

for the day. 
These tasks only take minutes for you to finish – likely before your coffee pot or tea kettle is done with your morning pick-me-up.
Afternoon chicken-keeping care
Your mid-day chicken check-in can be quick and easy. Hens usually lay eggs during the late morning and early afternoon hours, so mid-late afternoon is prime time for collecting cackleberries. The Eglu Cube has a convenient access door on the side that opens directly into the nesting area for quick egg-collecting. 
Afternoon is also the perfect time to watch your hens in action. If you provide them with an assortment of chicken toys and accessories, you'll be able to observe them play, peck, and perch throughout the day. Our customizable PoleTree Chicken Perch is perfect for your hens to catch a view of the world from an elevated place, or to take a quick nap in the afternoon sunshine. 
When you head out to check for eggs, consider taking your flock a snack in the Caddi Chicken Treat Holder. This unique treat dispenser elevates snacktime and is great for keeping the floor of your flock's run clean and tidy. Serve up fresh veggies or leafy greens to supply your chickens with enrichment and nutrition.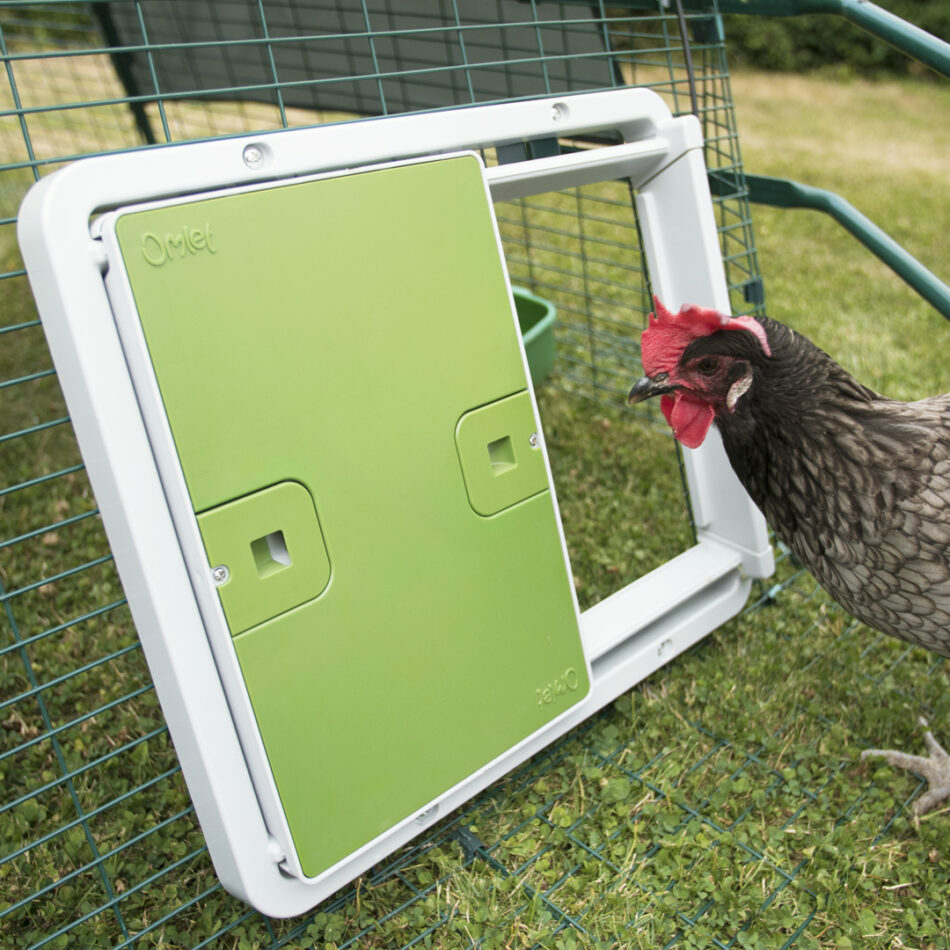 Evening chicken-keeping care
When daylight dwindles, it's time to wrap up your flock's day. For maximum safety, close the door to the coop overnight. If you aren't home to tuck your hens in, consider adding an Automatic Chicken Coop Door. 
The Autodoor in action:
The Autodoor can be programmed with the clock or the sun to keep your flock on schedule – with or without you being home. 

Sophisticated safety sensors prevent the Autodoor from closing on any hens that are crossing or sitting on the threshold of the Eglu Cube. 

The sideways opening mechanism increases flock safety by making it difficult for predators to pry the door open. 
Imagine how simple your evening routine would be with an Eglu Cube:  
You'll close your hens in at dusk, or just after dark. If you're using an Autodoor, you may just take a nice evening walk and check to make sure all of your hens made it in for bedtime. 

As a matter of personal preference, you may want to slide the nesting area partition door closed to prevent hens from roosting in it overnight. 

Finally, you'll probably want to collect and store your flock's leftovers to reduce raids from rodents. 
And just like that, your flock is tucked into their comfy coop for another night of restful sleep. 
Housing your hens in an Eglu Cube keeps them safe not just overnight, but during storms and predator attacks as well. But just how sturdy are Eglu Cubes? Strong enough to withstand attacks from a bear, hurricanes, tornadoes, and falling trees. Sleep easy at night knowing your flock is being fully protected when they're secured in their Eglu Cube. 
Omlet and chicken care
Omlet's chicken-keeping experts have made tending to flocks easier than ever. Not only are our products safe and durable, but they're easy to clean and a joy to use. Lighten your workload and treat your hens when you add an Eglu Cube, Autodoor, and PoleTree to your chickens' setup.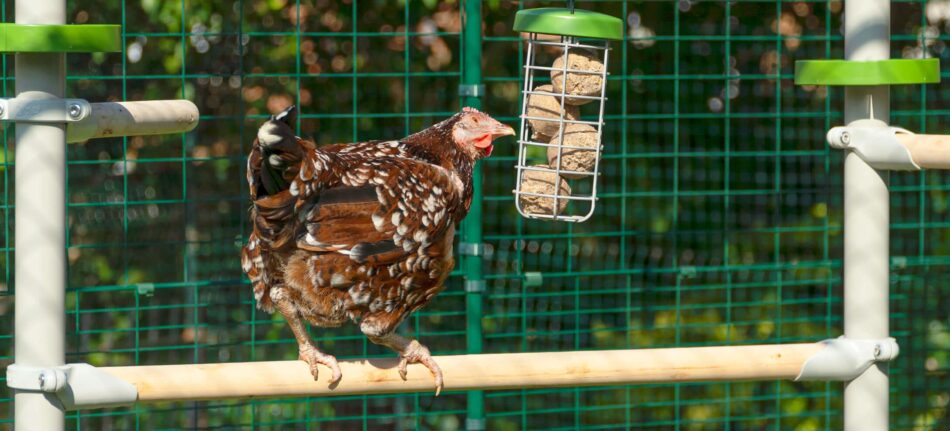 This entry was posted in Chickens
---