Eglu Cube chicken coops are strong
The Eglu Cube chicken coop is built to last – whatever gets thrown at it. The durable, twin-wall chicken house and heavy duty, steel weld mesh is strong enough to protect your chickens from hurricanes, tornadoes, bears, bobcats and more. These case studies are just some of the many stories from happy chicken keepers around the world. 
---
This Eglu Cube survived a hurricane!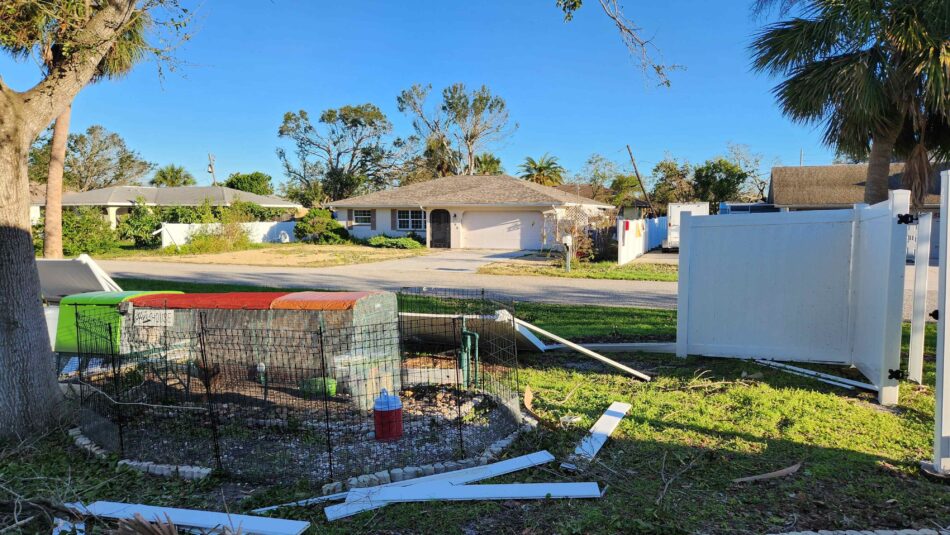 All parts for the Eglu Cubes are available as spares so if anything gets damaged you can easily repair it. Contact our friendly customer service team by email or phone, and they'll be happy to help.
The Eglu Cube chicken coop holds firm against strong winds and hurricanes, and is easy to tie down or move into a sheltered area. After Hurricane Ian hit Florida at 150 miles per hour, Jeremy was astonished to see his Eglu Cube still standing, unmarked in the thick of the aftermath. 
"Our Eglu (unbelievably) survived Hurricane Ian. We are 3/4 of a mile from the Gulf of Mexico near where the hurricane made landfall. Venice is badly damaged. Our neighbourhood, in particular, took a very big hit.
Our entire back yard was destroyed. The fence is a complete loss. Several large (30+ foot) pine trees fell down, including one into the neighbour's roof and one that snapped the power pole in half. But the Eglu did not have a single scratch. We moved the chickens back in right away."
Jeremy – Florida, USA.
This Eglu Cube survived a bear attack!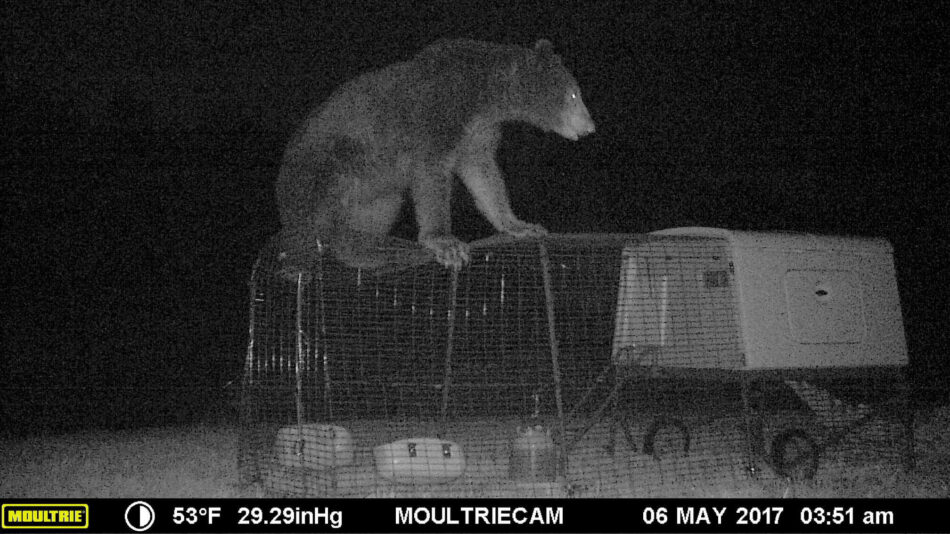 When you live in a rural area, with black bears for neighbours, it's understandable to be worried about your chickens. But Tom's Eglu Cube quite-rightly earned his trust when a 300 pound bear was unsuccessful in its attempt to break and enter his chicken coop in Virginia. 
"We live in an area with black bears, coyotes, foxes, and other predators. Over the weekend our Eglu was attacked by a 300 pound black bear and despite the wire roof being smushed with its weight, the Eglu remained intact and no chickens were harmed. We most likely will need an electric fence but we were impressed with the coop being able to withstand the assault. Very impressed! Also, with 2 young children the Eglu is easy to clean and maintain – minimal maintenance required and our boys able to open and close the doors. Outstanding! The best coop we could have with our rural area and lifestyle"
Tom – Virginia, USA.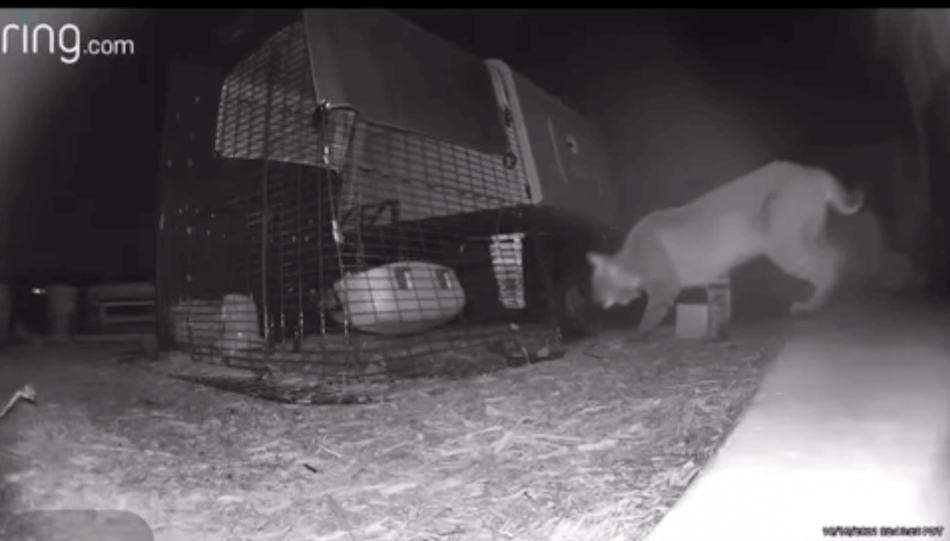 Over in California, Tracy and her sweet silkies also had an unwelcome visitor in the form of a large bobcat. But thanks to the Eglu Cube, Tracy enjoys peace of mind knowing her girls are safe and sound.
"We are the Lloyds, and we live in San Diego, CA. We have four silkies – Elsa, Nugget, Ickey, and Shuffle. They are the cutest and sweetest, little bunch. They like to stick together, and scratch for bugs, worms, and other treats.
The predator in the video is a bobcat, but we also have coyotes, owls, hawks, and more. Our house backs to a canyon, and we have frequent visits from various predators. We have so many visits, that I do not allow my poodles to go outside in the backyard unless they are next to us, and we are actively watching them, but I'm confident the hens are safe in their coop. 
We purchased an Eglu Cube because we love our silkies, and we wanted to keep them safe. Although we still have a motion-sensor camera to monitor, the silkies have been happy and safe!"
Tracy – California, USA.
This Eglu Cube survived a fallen tree!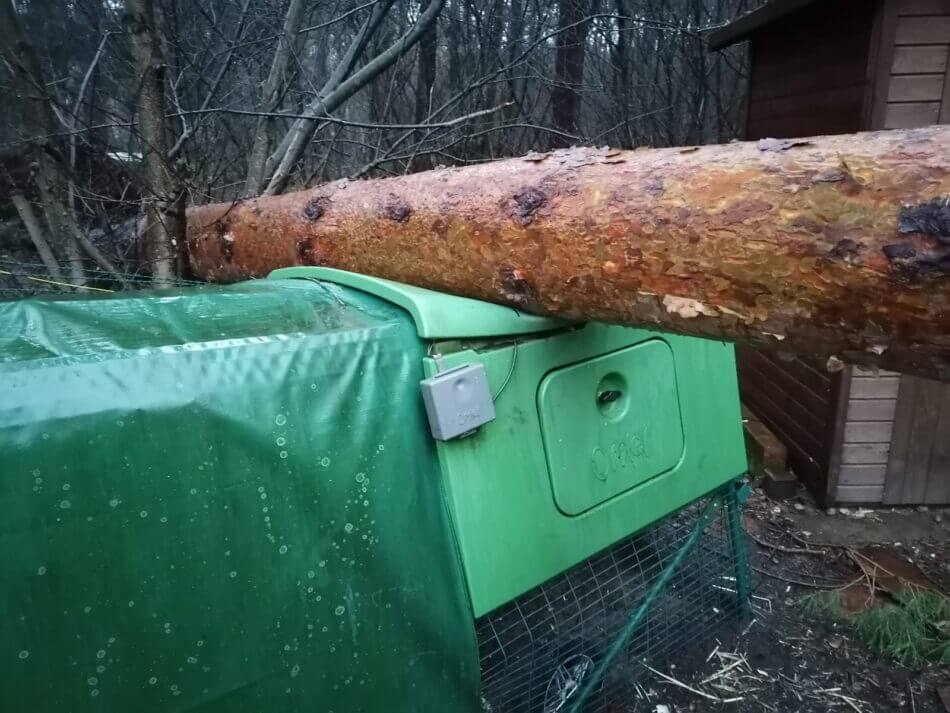 Thanks to the thick, twin wall house and steel frame, the Eglu Cube chicken coop is unaffected by the roughest of storms and its path of destruction. Anna from Germany saw for herself when a fallen pine tree squared up to the Eglu Cube.
Man, did we have a few stormy days! Everywhere in the neighborhood, trees were falling left, right and centre, and one of them on the edge of our premises, exactly where our Eglu Cube chicken coop is!
The giant pine tree fell across our Cube, but when we came out to check on the hens we couldn't believe our eyes. The tree was resting right on top of the Eglu, but it hadn't been damaged at all. As soon as the Autodoor opened, the chickens walked out and started to scratch around as if nothing had happened, and we could collect fresh eggs that same afternoon. 
After some serious chainsaw work we were able to investigate the Cube, finding that only one roof panel was damaged, but we could even bend that back a bit. Unbelievable!"
Anna – Germany

Months after replacing her rotten wooden coop, Ashleigh was relieved to find her hens unharmed after severe storms had blown down a large tree, crushing her fence, but stopped in its tracks by the reliable Eglu Cube chicken coop. 
"We've had storms overnight and went to let the chickens out this morning to find a large tree had come down from the bush behind the house and had landed on our fence and chicken coop. The fence couldn't withstand the impact, but the Eglu Cube did. We replaced our old wooden coop with the Omlet one a few months ago as the wooden coop was rotting in our humid mountain air, and we're so glad we did. Not only is it so easy to clean, I don't think our chickens would have survived the tree falling on the coop. The coop does need some repairs as the run and coop itself have buckled, but I still can't believe how strong it is."
Ashleigh – New South Wales, Australia.
Tornado – yep, this Eglu Cube survived one!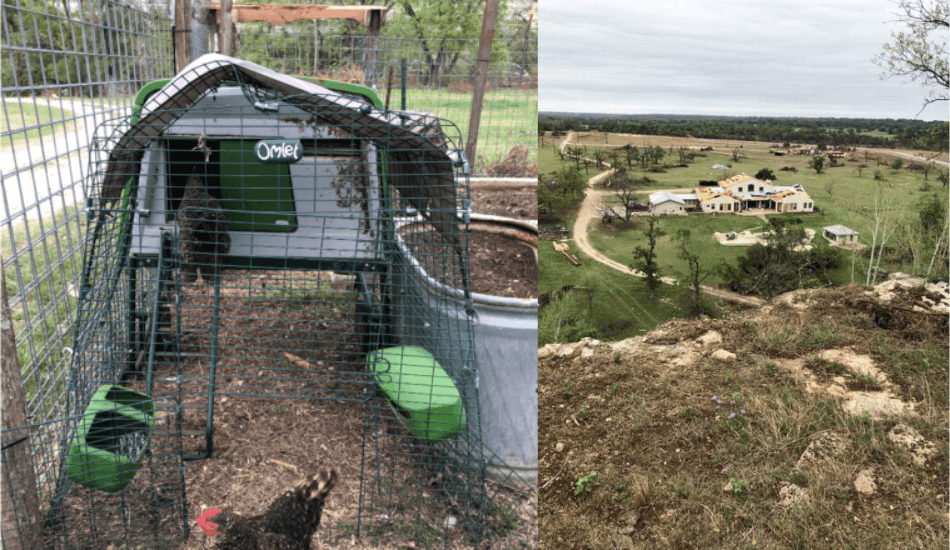 Despite needing a good clean and a reshape, Lori's Eglu Cubes survived a direct hit from a severe tornado in Texas, and her hens were unharmed – though a little shaken by the whole thing.
"We sustained a direct hit from a F3 (almost F4) tornado in April. Much of our ranch was destroyed (hay barn completely gone, barndominium, horse stalls and woodshop required demo to slab, house currently unliveable). We lost two cows and many trees. But, we survived in our tornado room with our dogs and our 2 Omlet Cubes and all of our chickens survived. One Cube was completely upside down and the other was trapped by fallen tree limbs and debris. The chickens were trapped by our hawk netting that collapsed with the tree limbs; actually fortutios and I think they would have been blown away – ah, the story they could tell! We were able to turn the one coop upright and get them all in one for that first night. Yes, 12 wet hens can fit in an Eglu Cube!
While the run and skirting are bent up, and I had to remove a few pieces of skirting, they are still functional. The back door on one sustained a hit that broke a small piece of plastic that makes the handle a little loose, but still functional. The Autodoors still work, one of the shade covers survived, as did the food and water bowls! Other than being scratched up, very dirty and with misshapen runs, they are fine! They have since had a thorough washing and if you didn't look at the bent run, you'd never know anything happened! Thanks for making such a great product!"
Lori – Texas, USA.
Eglu Cube – 1, Mountain lion – 0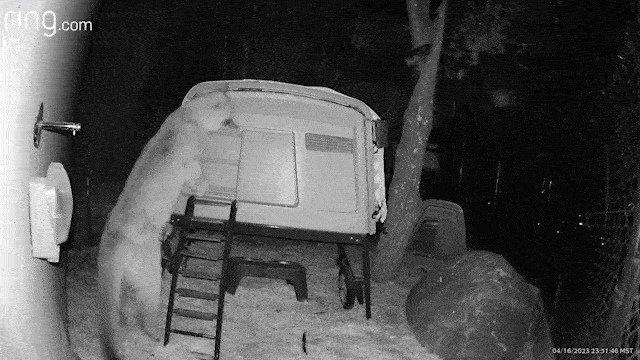 Pesky predators are no match for the Eglu Cube. Watch how this crafty mountain lion in Arizona made several attempts of sneaking their way into the Eglu Cube. But with its unique indestructible and anti-predator design, even the biggest of cats are left baffled by this coop.
Dug Rothrock – Arizona, USA.
This Eglu Cube saved hens from the flames
Disaster struck Erin from Arkansas when their backyard went up in flames. Fortunately, their hens were tucked safely away from the fire in their Eglu Cube chicken coop, which was able to withstand the terrifying event. Whilst the coop has been left with visual reminders of the blaze, Erins's chickens survived thanks to the hard-wearing materials of the Eglu Cube.
Erin – Arkansas, USA.
---
So, how strong is the Eglu Cube chicken coop? From wild weather to wild predators, you and your chickens can rest easy with the Eglu Cube chicken coop, designed by Omlet and trusted by thousands of chicken keepers. 
Got an amazing story to tell? If your Eglu has saved your hens from stormy weather or unwelcome visitors, please email us at blog@omlet.us.
This entry was posted in Chickens
---