World Record Cats
Your feline may be furtastic in every way, but can it jump the length of a giraffe's neck? Or purr as loud as a vacuum cleaner? Earlier this month we explored the extraordinary canines who are world record dogs and now it's the kitty's turn to show off. Prepare to be wowed by these incredible cats and the Guinness World Records they hold. 
Longest cat
Up first is Mymains Stewart Gilligan who holds the Guinness World Record as the longest cat. Coming in at a lengthy 48 in, this Maine Coon cat, who you can call Stewie for short, was as long as most 7 year old children. Hailing from Reno, NV, Stewie was a certified therapy animal whose owner, Robin Hendrickson, took her 4ft friend everywhere.
Taking care of all that hair on a cat this length will require proper health and hygiene. And if your feline is as long as Stewie, you may need a bigger bathtub!
Shortest cat
From longest to shortest, the world record holder for being purrfectly pint size is one of the world's smallest cat breeds. Lilieput is a female munchkin cat from Napa, CA who stands 5.25 in. tall from floor to shoulder! To better understand this small stature, a US dollar bill is 6 in. long so Lilieput was shorter than that!
Christel Young, a professional pet sitter, adopted this pocket-sized puss as a stray. Initially, she said people referred to Lilieput as a "weirdo" because of her appearance. However, after receiving the Guinness World Record in 2013, those comments turned from cruel to kind. Who doesn't love a tiny kitty?
Longest jump by a cat
Most cats land on their feet when they jump, but what if they are jumping the length of a king-sized mattress? The Guinness World Record for the longest jump by a cat was awarded in 2018 to Waffle the Warrior Cat with a whopping 7ft jump! And here's the kicker – Waffle was 10 years old when he made this leap into the record books!
If you want your feline to beat this long feat, you will need to get a good indoor climbing cat tree for added practice. You can customize the Omlet cat tower to over 14ft tall so maybe your kitty can give Waffle a run for his catnip!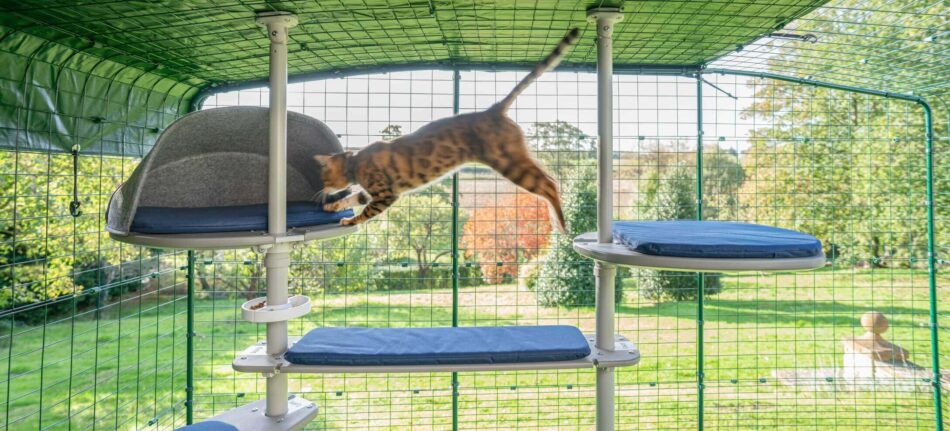 Cat with loudest purr
In 2015, Merlin, a rescue kitty from the United Kingdom, received the world record for the loudest purr – 67.8 decibels loud! To better understand in comparison, this mega-loud mouser can purr at the same level as a washing machine or vacuum cleaner. Owner Tracy Westwood said people often ask her "what's that noise in the background?" when she is on the phone – only to find out it's just her thundering tabby!
Most toes on a cat
The average cat has a total of 18 toes – 5 on each front paw, and 4 on both back paws. If you have visited Key West, you may have met some of the famous Hemingway cats who are unique with 6 toes on each paw.  
But the world record holder for the most toes on a cat belongs to a 28 fingered – or toed – feline from Canada. Jake, a ginger tabby cat, was awarded this toe-tally pawsome world record in 2002 for having 7 toes on each paw!  High seven, Jake!
Oldest cat ever to live
The Guinness World Record for the oldest cat ever to live goes to Creme Puff, a tabby cat from Texas. Born in 1967, this world record cat lived to be 38 years and 3 days old before passing away in 2005. That's 168 years in human equivalence! 
Owner, Jake Perry, said he kept his mature mouser healthy for so long by feeding her a diet of dry cat food, broccoli, eggs, and an eyedropper of red wine every two days! While this supposedly worked for Creme Puff, we aren't surprised to hear that this type of diet has no veterinary backing. AKA – don't try this at home, kids!
Longest cat whiskers
We know that whiskers play many important roles in a feline's life, but does their length matter? For Missi the Maine Coon cat from Finland that answer is "yes"! This kitty not only holds the record for the longest cat whiskers at 7.5 in. long, but might also have the longest name, too! Missi is short for Fullmoon's Miss American Pie – a suitable name for a notable record indeed!
Most tricks by a cat in one minute
If you thought teaching tricks to pets was reserved only for dogs, think again! In 2017, Didga the talented tabby set this world record by successfully completing 24 tricks with her owner, Robert Dollwet, in just 60 seconds.  
This purr-fect kitty can not only sit, shake and rollover on command, but she can also jump over a stick while riding on a skateboard! Hailing from Australia, Didga (short for Didgeridoo), apparently loves to perform these impressive tricks for her favourite treat – raw kangaroo mince.
Longest domestic cat tail
Cygnus, the silver Maine Coon cat from Farmington Hills, MI, took home the Guinness World Record for longest tail on a domestic cat in 2017. Measuring a staggering 17.58 in. long, his tail was actually longer than his body length! Can you imagine walking around with a tail longer than you?
As rare as it is to have one cat world record holder, Cygnus shared his home, and the spotlight, with another record breaker! That's right, owners Will and Lauren Powers, also owned Arcturus – the tallest cat record holder who measured 20 in. tall.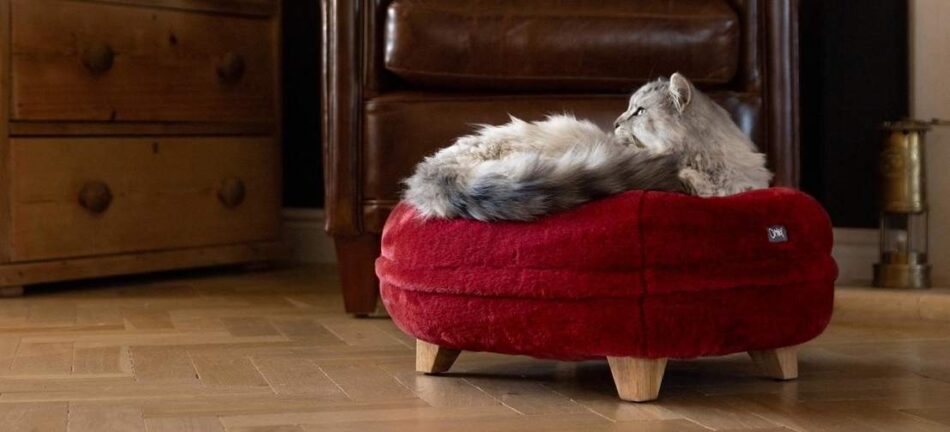 Largest domestic cat in the world
We saved the biggest, or best, for last! Ludo, a Maine Coon cat from the United Kingdom, holds the record for the largest domestic cat in the world with his 3ft 10.6 in length and 34 lb. body weight! To put that in perspective, Ludo weighed as much as a standard cinder block! 
Owner Kelsey Gill knew early on that her favourite feline was pretty fantastic when he weighed in at 20.5 lbs before his first birthday! If you think your pretty kitty is a contender for this type of record, then a large outdoor cat enclosure would be perfect for them. This robust kitty play area is super spacious for cats of all sizes to roam easily!  
We hope you enjoyed reading about these furtastic felines and their impressive Guinness World Records! For more information about cats of all kinds, be sure to check out the Omlet Cat Guide.
This entry was posted in Cats
---