World Record Dogs
Have you got the world's cutest dog? Well, probably according to you! But does your furry friend hold any world records? We're talking extraordinary pooches whose remarkable features and talents have landed them a place in the Guinness World Records! It's time to find out some fascinating facts about these amazing dogs and the dog world records they hold.
Tallest dog in the world
First up, we have the tallest dog in the world. This world record is currently held by Zeus – a Great Dane from Bedford, Texas. At 3 feet 10 inches tall, this hound needs plenty of food to fuel his supersized frame, specifically 12 cups of it a day!
If you're interested in finding out more about the world's largest dog breeds, including Great Danes, take a read of the Omlet Dog Breed Guide. And if you decide that one of these is the perfect fit for your family, then you too could be in with the chance of holding this dog world record one day! Alternatively, take a read of our 5 Ways To Figure Out What Dog Breed Is for You blog!
Shortest dog in the world
The shortest dog on the other hand, is Miracle Milly from Dorado, Puerto Rico. This pocket-sized pooch stands at 9.65 cm (3.8 in) tall, weighing in at only around 1lb (half a kilogram).
Miracle Milly is a Chihuahua, so considered a toy dog breed. But what these dogs lack in height, they sure make up for with their large personalities! Milly's owner Vanesa Semler can vouch for this, claiming that her teeny tiny pup even "knows how to pose"!
Fastest 30m on a scooter by a dog
If you thought that scooters were only for humans, think again! Norman the Scooter Dog hilariously won this title in 2013 when he travelled 30 metres on a scooter in 20.77 seconds. Since then, world record dog Norman the Briard has become an international superstar, featuring on reality TV shows, documentaries, and having his own social media following! If your dog isn't quite as adventurous as this hound, but loves to play, Omlet has a wide range of Dog Toys to suit the abilities of any four-legged friend.
Largest dog litter 
In 2004, Tia the Neapolitan Mastiff from the United Kingdom gave birth to 24 puppies via a Caesarean section. To put that into perspective, the average dog litter size for this breed is between 6-12. As it stands, this dog world record is yet to be beaten. This being said, in 2019, a similar new world record for the largest dog litter born naturally was achieved by Mary Jane, a Great Dane and American Bulldog cross, also from the United Kingdom.
Longest dog tail
Now we have the longest dog tail! Keon from Westerlo, Belgium has a tail that measures 76.8 cm (30.2 in)! The gentle giant is an Irish Wolfhound, who achieved this dog world record in 2017 after having his tail professionally measured by his vet.
Highest jumping dog
The world record for highest jump by a dog is currently held by the very talented Feather, a greyhound from Maryland, who can jump 191.7cm. Greyhounds are known for being remarkably agile, but even by breed standard, a jump of this height is still incredibly impressive! You can find out more about this breed on the Omlet Greyhound Dogs breed guide.
Longest living dog 
You might consider your furry friend to be elderly once they reach double digits, but have you ever heard of a dog living on into their late twenties? Well, Bluey the Australian cattle-dog did just that by surviving until 29 years old! Born in 1910, Bluey lived a life working amongst cattle and sheep until he peacefully passed away in 1939.
Most tennis balls in a dog's mouth
Think your dog likes to play fetch? How about with 6 balls at a time? This amazing dog world record is currently held by Finley, who can hold 6 tennis balls in his mouth at once! Finley the Golden Retriever from New York first showed his love for tennis balls as a puppy and hasn't stopped since! 
We hoped that you were amazed by these Guinness World Records and what our furry friends really are capable of! For more information on everything dogs, visit the Omlet Dog Guide pages.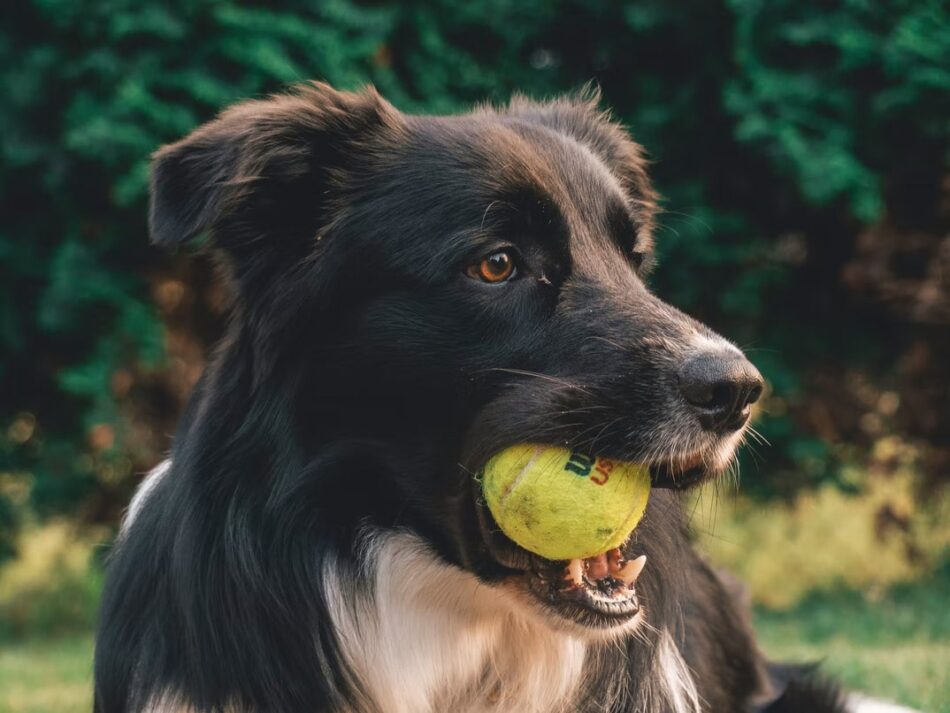 This entry was posted in Dogs
---