New Rabbit Checklist
Bringing home any pet is an exciting time for the whole family. But just like any other animal, rabbits require your full dedication and the right tools to make sure that they get off to a great start and live happy and fulfilled lives! So, to help you out, here is our new rabbit checklist, so that you can cross off everything you'll be needing for your new furry addition.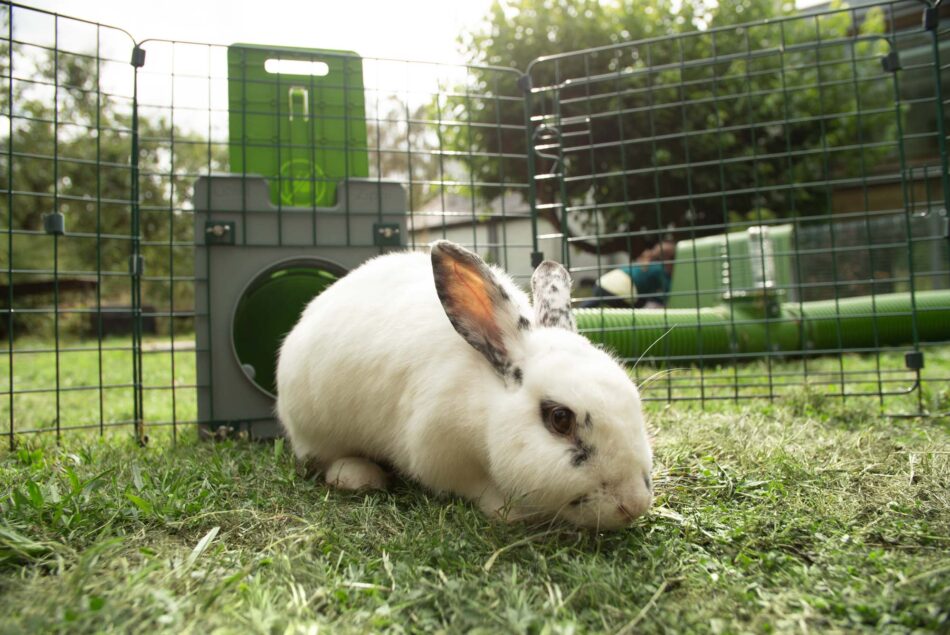 Hay/Bedding – A Must for Your New Rabbit Checklist
A great place to begin before getting your new pet rabbit is by making sure you have plenty of rabbit hay/bedding. Not only is fresh hay an important part of a rabbit's diet, but they also require plenty for their bedding.  Omlet's own Eglu Go Rabbit Hutch also ensures that your new pet gets the comfiest night's sleep!
Hay is also ideal for encouraging a rabbit's natural instinct to forage, whereby in the wild, they would search for wild food sources. Foraging also helps to keep rabbits mentally stimulated. You'll find that a rabbit who is only fed pellets from their food dish, as opposed to a balanced diet including hay, can end up eating too quickly, which can, in turn, make them unwell. Furthermore, a balanced diet for your rabbits will keep their teeth in good condition as well!
Rabbit Food and Bowls
A rabbit's diet should consist of dry food, fresh food, and hay. Offering nutritious and balanced options is key so that you can pick the right food to suit the needs of your new pet rabbit.
Most rabbits love fruit and vegetables, so it's a good idea to include these in their diet too. While you might associate rabbits with gnawing away at carrots, this type of vegetable can actually cause constipation in rabbits and make sugar levels rise dangerously if over consumed. The Caddi Rabbit Treat Holder is the perfect way to feed your rabbits fruit and veggies. Not only will it provide your bunny with entertainment but will benefit you too by improving run cleanliness and reducing food waste. So, if you plan on feeding your rabbit with nature's very own treats, make sure to read our previous blog Which Fruit and Vegetables Can I Feed my Rabbit? where you can find a list of the fruits and vegetables that are suitable for your furry friend to be fed.
As well as food and an unlimited supply of fresh water, you should also make sure that your rabbit has a food dish alongside either a water bottle or water bowl. Some owners opt to use a bottle over a bowl, but this really is your decision to make. While bowls can easily get knocked over and wet your rabbit's bedding, they are more of a natural way for a rabbit to drink. This being said, a water bottle reduces water waste and is usually better than a bowl when it comes to keeping your rabbit's water supply at the same temperature.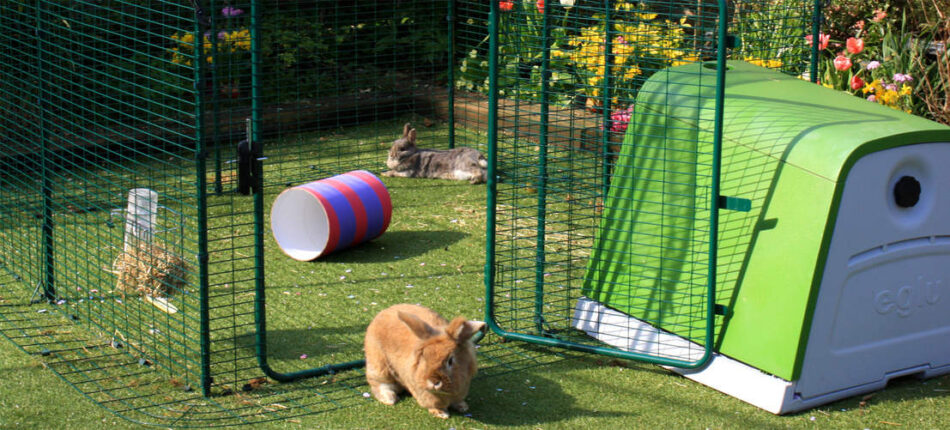 Rabbit Treats
While rabbits need to be fed a healthy diet, the occasional treat won't go amiss! Treats are a great way of rewarding your rabbit. Your new pet rabbit will also absolutely love a little afternoon snack from their doting owner.
A Rabbit Hutch That'll Last
Your new rabbit will of course need somewhere to live! Add the Eglu Go Rabbit Hutch to your new rabbit checklist – ideal for any prospective rabbit owner and will keep your bunnies safe from the outside elements and any predators. Even better, the Eglu Go Rabbit Hutch comes with a hay rack, feed bowl and water bottle, making keeping rabbits hassle-free! Furthermore, the Eglu Go Rabbit Hutch has a removable bedding tray, which means you won't have to purchase a removable litter box for cleaning up after your pet.
If you opt to have a house rabbit, you'll need to make sure that wherever they stay, they are in a bunny proofed room. You'll find it helpful to read our guide on How To Rabbit-Proof Your House for some more information on this topic.
New Rabbit Checklist Essential: A Safe and Secure Run!
As well as your rabbits having a hutch or home to live in, they'll also require a safe and secure run to provide them with some extra freedom and time for hopping around, so this definitely should not be missed off of your new rabbit checklist! One of the leading causes as to why rabbits dig, therefore potentially escaping from their run, is because of boredom. We wrote about this topic on our previous blog Rabbits and Digging if you'd like to find out more information on this area.
Fortunately, the Omlet Walk in Rabbit Run not only offers plenty of room for your rabbit to hop to its heart's content but will also keep them secure and safe from any other pets or predators. The run has a stable style door, which means that the top and bottom of the door open independently so that you can throw in some treats for your rabbits without the worry of them making an escape! Alternatively, you can create the ultimate rabbit adventure playground with the Omlet Zippi Rabbit Playpen, which can connect to their run and hutch for more space.
Within your rabbit's run, you'll want to provide them with plenty of stimulation. Omlet has everything you need to keep your rabbits bouncing around with joy, from the Zippi Playtunnel designed to mimic a rabbit burrow in the wild, to Zippi Rabbit Platforms, that will provide you rabbit new places to explore!
Rabbit Toys
Something else to tick off your new rabbit checklist is toys! Just like our other pets, rabbits need to play, which means they'll need plenty of toys to enrich their environment and keep their minds ticking! The Omlet Zippi Rabbit Tunnel System connects your rabbit's run to their hutch but also doubles as a fantastic toy that your rabbit will love. You can also opt for hanging toys that can be attached to your rabbit's run.
Somewhere to Hide
Your new rabbit will also need somewhere to hide. Although it might sound odd, rabbits actually have a natural instinct to hide in order to stay protected. In the wild, this is done so that they can keep safe from predators such as foxes. Hiding is also a rabbit's natural response to fear, if they feel stressed, are in pain, are unwell, or just want a break from social contact! Omlet's Rabbit Zippi Shelter is ideal for rabbits to carry out this behavior, providing them with a safe space where they can retreat to relax.
Nail Clippers
A rabbit's nails should not go neglected, so you'll need to make sure you have nail clippers at the ready! In fact, nail clipping is an essential part of rabbit care, and you'll need to do so approximately once every two months due to the remarkably quick rate they grow at.
While nail clipping isn't too long of a process, if you're not confident doing so, you can always make a visit to the vet, and they will be able to give you a helping hand.
New Rabbit Checklist Conclusion
So, whether you're getting a new baby bunny or rescuing an adult rabbit, hopefully, you will now be prepared for what is to come when your new pet arrives home!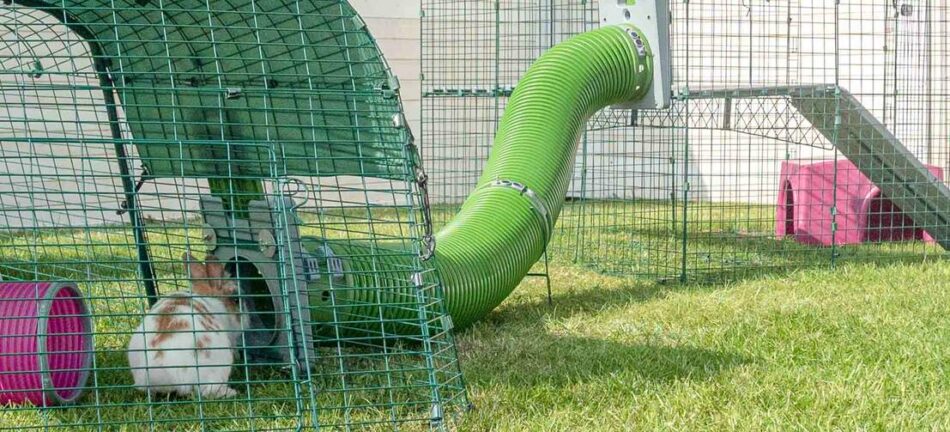 This entry was posted in Rabbits
---