Your rabbits' perfect summer setup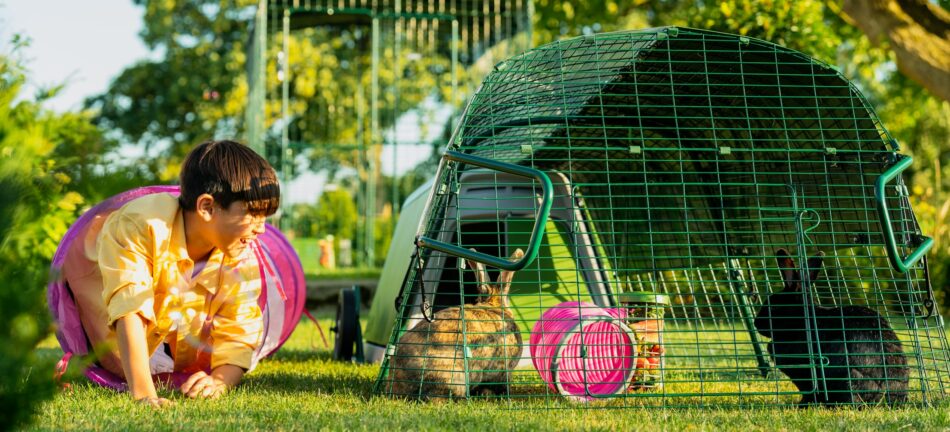 Creating your rabbits' perfect summer setup goes beyond just making sure they have cool water and frozen treats. Rabbits can actually enjoy being outdoors during the hottest months of the year when they have the right hutch and accessories. Find out how Omlet helps your rabbits not only weather the summer heat, but thrive in it. 
Rabbits and summer
Rabbits are amazingly resilient in most weather conditions. In the wild, rabbits don't have the luxury of spending time in climate-controlled settings. But can their domesticated cousins thrive outdoors when temperatures rise? 
There are many things you can do to help your rabbits keep cool in the summer. Many owners try to mitigate the risk of heatstroke in their bunnies by providing frozen water bottles and other treats, but the reality is that these round-the-clock tasks aren't always practical or sustainable. 
What rabbits really need is the right setup to thrive during the summer months. By having the right rabbit hutch, run, and accessories, you can greatly reduce the amount of time spent freezing bottles, brushing your bunnies, or worrying about flystrike in your rabbits. 
Eglu Go rabbit hutch
A great rabbit hutch is one that is well-ventilated, easy to clean, and can be moved if necessary. Conventional wooden rabbit hutches don't fulfill these requirements, bringing stress to both rabbits and their owners. 
The Eglu Go rabbit hutch is the solution for every rabbit and owner. The twin-insulated walls keep the internal temperature of the hutch lower on even the warmest days, and the ample ventilation allows air to circulate freely without compromising heat barriers. And, with optional rabbit hutch wheels and handles, you can easily move your bunnies to shadier spaces throughout the day.  
Best of all, the easy-to-clean plastic of the Eglu Go ensures that keeping your rabbits' home fresh is never a dreaded chore. In just a few minutes a day, your bunnies will have a comfortable, clean abode that won't attract flies or other pests — unlike traditional wooden hutches.
Zippi rabbit run
Rabbits thrive in space – so giving them as much as possible is vital for their health and happiness. That's why Omlet created Zippi Rabbit Runs and Playpens. 
Our pens make it easy for you to spend time with your rabbits inside of their run. With plenty of space to add dig boxes, play tunnels, or other rabbit run accessories, you and your rabbits will never feel the boredom that the dog days of summer bring. And, with the addition of rabbit run covers, you can instantly create shady spaces.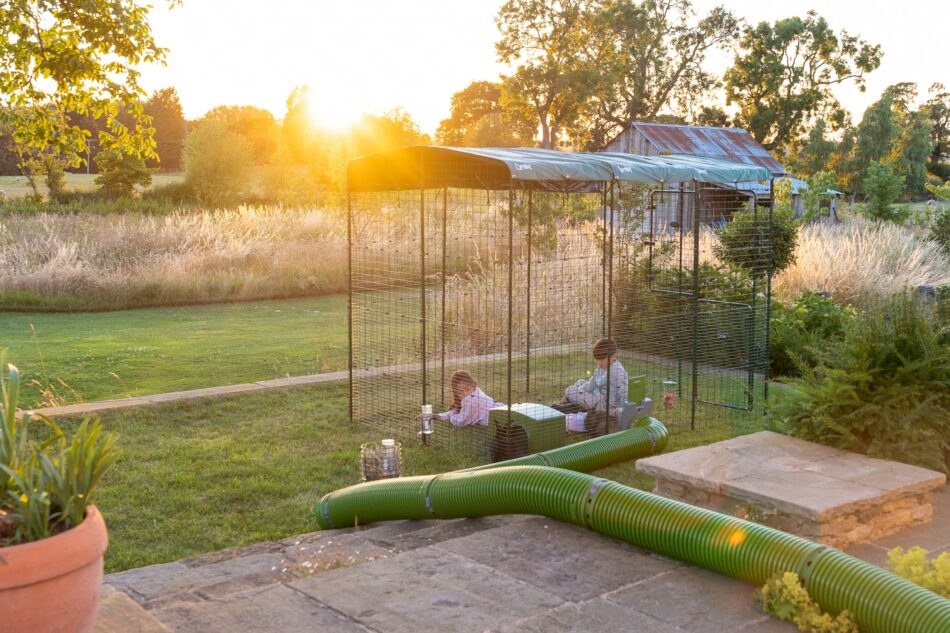 Zippi Platforms
Building a pen to enjoy with your bunnies will build your bond as well. With our Zippi Rabbit Platforms, you can add both functionality and shade to your rabbits' run. By giving them an elevated space, you'll be able to interact with them on a whole new level, and your bunnies will be able to enjoy shade beneath the platforms.  
Use your rabbits' Zippi Platforms for training, treating, or to best utilize their run space. No matter how you use Platforms with your rabbits, they'll benefit from the added element and exercise opportunities. 
Zippi Tunnel System
In the wild, rabbits use burrows for many things – including keeping cool. To help foster this behavior in domestic rabbits, we've developed the Zippi Rabbit Tunnel System. This fully customizable tunnel system can connect any rabbit hutch or run to other playpens or spaces. Each tunnel has cooling vents to allow airflow while your rabbits scurry along their routes – keeping them shaded and cool. 
The more tunnels you link together, the more space your rabbits have to expel energy or relax in the shade that the Zippi tunnels have to offer. Make your bunnies' burrows as extensive or straightforward as you'd like, and watch them take to your backyard like they would a warren in the wild. 
Zippi Rabbit Shelter
For added solace from the sun, adding Zippi Rabbit Shelters to your rabbits' run provides opportunities to escape the rays. These multipurpose hideouts are perfect for summer and winter, or to help easily stressed bunnies relax away from outside stimuli. And, with two entrances, multiple rabbits can easily share their space. 
Omlet and your rabbits
Rabbits can enjoy every season outside when they're provided with everything they need to keep them comfortable and safe. At Omlet, we've designed our Zippi Rabbit Runs and Playpens, Zippi Rabbit Platforms, and Zippi Rabbit Shelters to not only provide enrichment, but to create a more natural environment for your bunnies to thrive in. Bring it all together with our Zippi Tunnel System, and your rabbits can enjoy their Eglu Go rabbit hutch outdoors all year round. 
This entry was posted in Rabbits
---