How to use platforms with your rabbits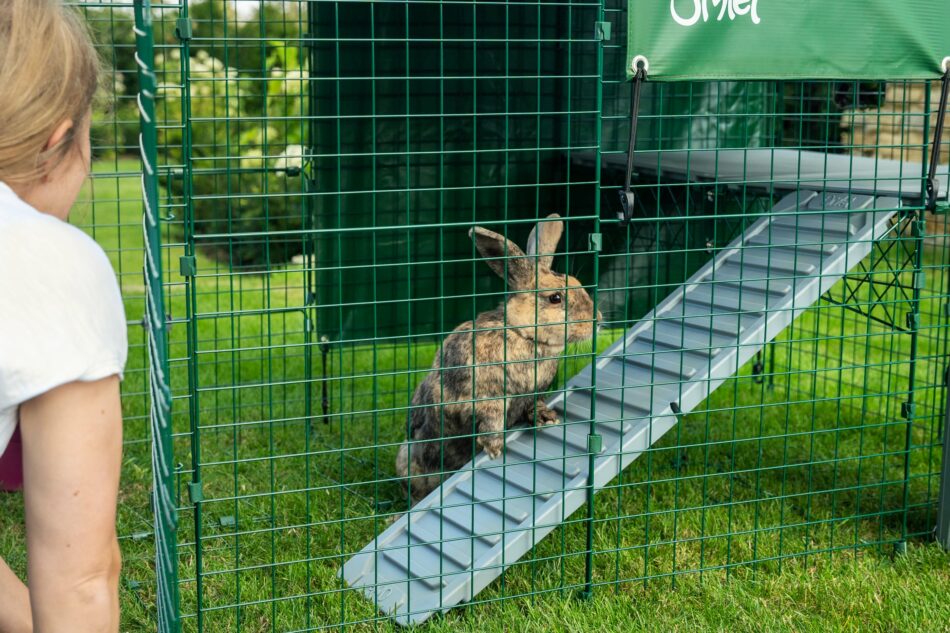 Compared to a one-level play area, having an additional floor height in your rabbits' enclosure boosts exercise opportunities, helping your rabbit activate muscles that they would use in their natural environment to climb up and down underground mazes and burrows. Jumping on and off a platform helps to keep muscles and bones strong, which is why platforms are recommended as an essential rabbit accessory by vets and pet charities. So how do you use Omlet's Zippi Platforms with your rabbits?
What are the Zippi Platforms from Omlet?
The Zippi Rabbit Runs and Platforms from Omlet are designed to offer a modular system that you can adapt at any time. The platforms fit securely to the Zippi rabbit enclosure, so they feel safe underfoot and are waterproof so they're easy to clean with just a garden hose and pet-safe disinfectant. Start small, and add more extensions and platforms at any time to build an amazing play area for your rabbits.
How can I give my rabbits more space?
Platforms are also an easy way of giving your rabbits more space to move around and explore. By positioning a platform in your rabbit's enclosure, you can make better use of the height to give an even bigger area for toys and exercise. The platform gives a look out for rabbits to examine their environment from a height, plus a more exhilarating way to exercise. The area beneath feels safe for rabbits to relax and graze on hay, or if they need to shelter from bad weather.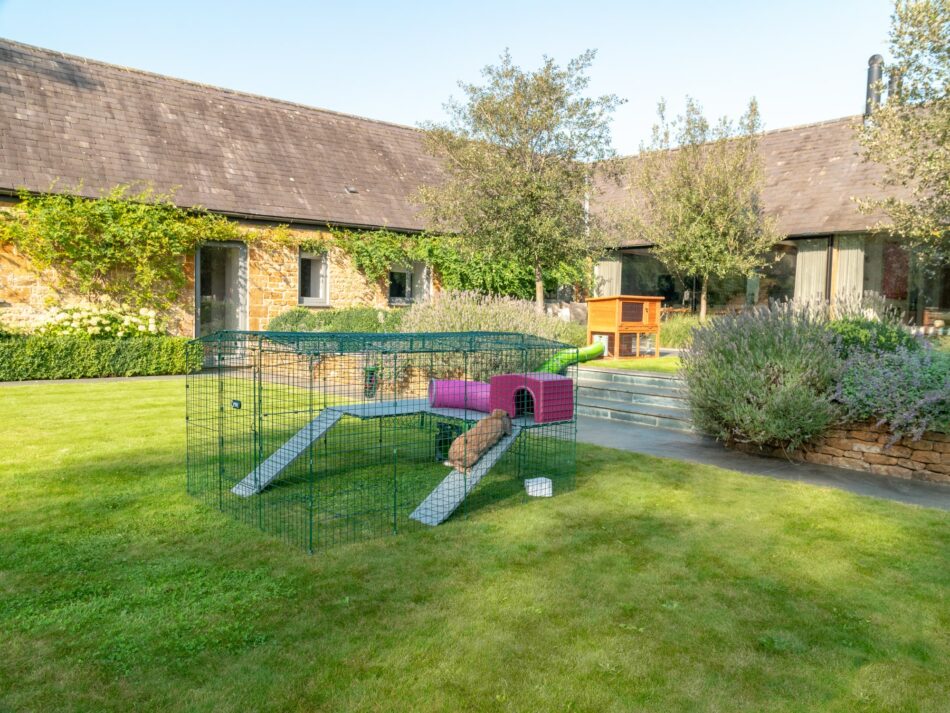 5 ways to use the Zippi Rabbit Platforms
Need some inspiration on how you can use platforms with your pet? Take a look at our ideas below to create a fun and safe area for your rabbits to exercise.
1. Take shelter to new heights
The Zippi Platforms offer shelter below for bad weather days, but your rabbits can still make the most of the second level in their enclosure during wind and rain, with the Zippi Shelters and Play Tunnels.
With a 3-panel wide rabbit platform, you can even position a Zippi Shelter at either end and connect them together with a Play Tunnel. Or position one Shelter on the platform and one below. Don't forget to pop some hay inside the Shelter on the platform so your rabbits can nibble away on a snack while they wait for the storm to pass.
2. L-shape suite
The Zippi Corner Platform for rabbits with a multi-panel platform pack can be used to create an L shaped mezzanine area with 2 ramps. Depending on the length and width of your Zippi enclosure you can either position both ramps in the same direction or create a slight spiral effect.
Here we have used a Corner Platform for rabbits, attached to a Zippi Platforms 3-panel pack, in a 3 x 3 double-height Zippi Run.
3. Down and straight back up!
In a longer Zippi run, around 4 or 5 panels in length, you can position Zippi Platforms opposite each other so your rabbits can run straight down one ramp, and back up another for a loop-the-loop circuit. Don't forget the Zippi Platforms are strong and sturdy so your rabbit will feel safe to jump and hop up and down the ramp.
4. Lunch on the balcony, sir?
Position Caddi Treat Holders to hang over the platforms so your rabbits can enjoy their lunch with a garden view. Mix up the ingredients in the slow-release feeder to keep rabbits excited, and ensure a 5-star rating for your new bunny bar! These feed toys can also be used as a hay rack to keep the floor of your rabbits' house or play area clean.
5. Zippi Tunnel to the first floor
Combine the Zippi Platforms with our popular Zippi Rabbit Tunnel System by positioning your Zippi Tunnel entrance up on the platform level. This means your rabbits can hop up and down the Zippi Tunnel to get from one enclosure to their platforms, down the ramp and into another Zippi Run.
You can use the Zippi Platforms with a Zippi Tunnel Twin Pack with Hutch to Run Connection Kit and Zippi Tunnel Supports to connect a Zippi Run and an Eglu Go Hutch Run. Alternatively, you can connect the tunnels to your wooden rabbit house to another enclosure.
Omlet and your rabbits' home
As a rabbit owner, it's your responsibility to provide your rabbits with everything they need, and that includes a safe enclosure, where they can play, exercise, eat, and clean themselves. Providing a range of toys for play and exercise will help keep your rabbit happy and healthy, and with Omlet's Zippi Platforms along with the Zippi Rabbit Tunnel System and Eglu Go rabbit hutch you can do just that, with a playground they'll love.
This entry was posted in Rabbits
---