What Should Rabbits Eat?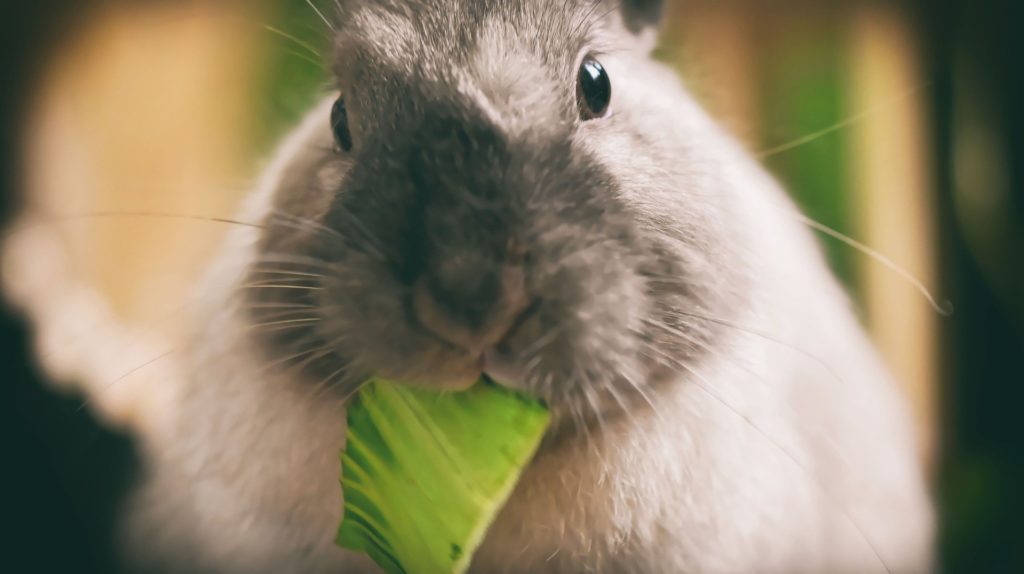 All rabbits, whether they live in burrows in the wild or in a comfy hutch and are kept as pets, are herbivores. This means that they exclusively eat things that come from plants, mainly grasses, seeds and vegetables. 
The largest cause of illness in pet rabbits can be traced back to dangerous or wrongly proportioned feeding. Apart from life threatening gastrointestinal diseases, a poor diet can also cause teeth problems and weakened immune system, so it's very important that you learn how to feed your pet properly. 
HAY
A wild rabbit's diet will consist almost exclusively of grass that they find on and around their warrens. As grass contains very little nutrition, they need to eat large amounts to survive, and spend most of their days looking for and munching fresh grass. Pet rabbits won't be able to eat this much in a day, so their diets must be supplemented with dry food, vegetables and hay to get the calories, vitamins and minerals they need to stay happy and healthy.
A good rabbit diet should consist of about 80% good quality hay, and they should always have an unlimited amount available to them. They hay does not only give the rabbits the nutrients they need, it also helps them wear down their constantly growing teeth. It's not enough to just make sure the rabbits always have access to hay; you must also limit other types of food, as they will often be prioritised at the expense of hay intake.
FEED
The most common types of feed for pet rabbits are pellets and food mixes. Pellets are always the better option here, as it has a higher fiber content (at least 18%, ideally 20-25%) and is not as high in fat and unhealthy carbohydrates, like sugar. Pellets also prevent selective feeding, as the nutrients are evenly spread in each pellet, so that you can be sure all your rabbits get the same food. 
Only feed a small amount of pellets every day. As mentioned earlier, a rabbit that is fed too much other yummy things will prioritise these over the very important hay. 
GREENS
Fresh greens are a great source of nutrients for rabbits, and the different chewing motions will help with wearing teeth down. Try to give your pet a wide variety of greens throughout the week, and aim for three different types per day. Some good examples include grass, clover, dandelion leaves, leaves from fruit trees, carrot tops and parsley. Spinach, chard, cabbage and sprouts are also nutritious, but must be given in moderation. In general, introduce new vegetables slowly, and look out for any signs of an upset stomach. 
Make sure that the greens you feed your rabbits stay fresh by putting them in a treat holder, like the Caddi. This makes feeding your rabbits easy and hygenic, while also providing your pets with a fun and interactive experience of foraging their treats.
TREATS
Other vegetables, fruits and berries can be fed in small amounts every now and then. Avoid any "human food" containing sugar or salt, as well as nuts and seeds. It's tempting to spoil your pet, but if it's not done in moderation, your rabbit might end up obese and ill.

It's also important to note that some fruit and vegetables are dangerous or even toxic to rabbits, and must be avoided at all times. Before you try something new, make sure you check that it is okay for rabbits. 
CAECOTROPHES
In order to get the most nutrients out of the food they eat, a rabbit will produce small, dark, grape-like balls, different from the normal pellets, that they eat straight from their bum. It may seem strange to us, but it's very important that they eat these extremely nutritious snacks. 
If you notice lots of these caecotrophes scattered around the hutch, or if they are getting stuck in the fur around the rabbit's bottom, it's a sign that the rabbit's diet is too rich. Try cutting down on pellets and add more hay, and contact your vet if the problem persists.
This entry was posted in Rabbits
---