Summery Pavlova Recipe
There's much debate surrounding the origin of the Pavlova, however from our research the majority of articles believe the dessert began its journey in New Zealand. Nicknamed after the Russian ballerina Anna Pavlova, the people of NZ welcomed her with her very own dessert in the 1920s, although Australia still claim they invented this sweet treat. Whoever invented it, we're just grateful somebody did! Check out our favourite pav recipe below.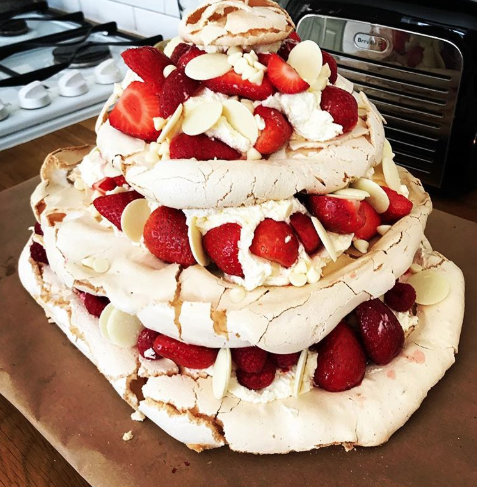 Ingredients
MERINGUE
6 large free-range egg whites
300g caster sugar
Pinch of sea salt
PAVLOVA
450 g fresh strawberries and raspberries
250 ml double cream
150 ml natural yoghurt
2 tablespoons caster sugar
1 vanilla pod or 1tsp of vanilla bean paste
a few sprigs of fresh mint
a handful of white chocolate buttons
Method
Preheat the oven to 150°C/300°F/gas 2. Put your egg whites into a mixing bowl and whisk them at a medium speed until they start to form nice firm peaks.

With your mixer still running, gradually add the sugar and a pinch of sea salt. Turn the mixer up to the highest setting and whisk for 7 to 8 minutes more until the meringue is white, glossy and smooth. If it feels grainy, whisk for a little bit longer, being careful not to let the meringue collapse.You should be able to tip the bowl upside down without the meringue mix falling out.

Line two baking trays with baking paper. Separate the meringue mixture evenly between them and shape each mixture into a circle about 20cm in diameter.

Put both trays into the oven and bake for 1 hour until the meringues look slightly golden and are fluffy in the middle.

Cut the large strawberries and leave the smaller ones whole. Mix them with the raspberries. Or alternatively you could top your pavlova with other fruit, such as passion fruit and pineapple, for a tropical twist. We also like adding white chocolate buttons for even more of a treat.

Whip the cream with the sugar until it forms soft peaks, then stir in the yoghurt. Halve the vanilla pod length ways, scrape out the seeds and fold them into the mixture.

Spoon half the cream mixture on top of one of the meringue halves and smooth it out. Sprinkle half of your berries evenly around the cream mixture. Layer the other meringue on top and press down gently to stick them together.

Spread the remaining cream mixture over the top layer and sprinkle the remaining berries on top. Pick a few small mint leaves, scatter over and now it's ready to serve to your guests or cover and refrigerate ready to serve later.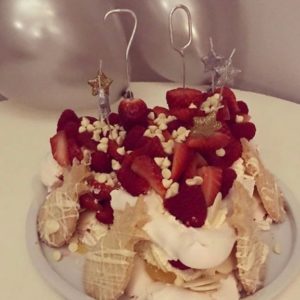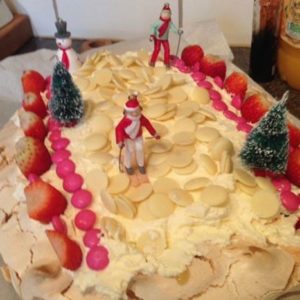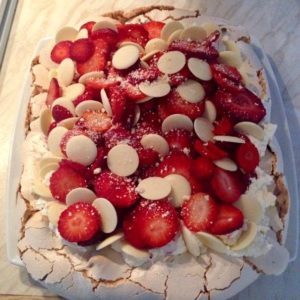 This entry was posted in Recipes
---