Chocolate Celebration Cake
What's on your Christmas list when it comes to cake? Easy, healthy, indulgent, gluten free, no added fat? Using eggs and veg from the garden, this recipe ticks every box…
---
Ingredients:
100 g good-quality dark chocolate
250 g grated raw beetroot
4 large free-range eggs
100 g ground almonds
150 g golden caster sugar
2 tablespoon good-quality cocoa powder
2 tsp mixed spice
1 teaspoon baking powder (gluten free if required)
Decorations of your choice: icing sugar, chocolate shavings, almond slivers, etc.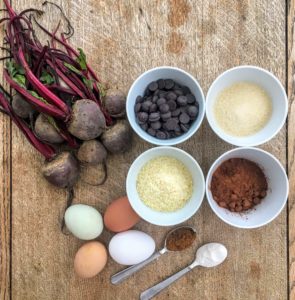 Method:
1) Preheat the oven to 180c and line a 20cm round cake tin with baking parchment.
2) Melt the chocolate in bowl over hot water.
2) In a large bowl, mix together the eggs, almond, sugar, cocoa powder, mixed spice and baking powder.
3) Fold in the melted chocolate, followed by the grated beetroot.
4) Pour mixture into the prepared tin and bake for 40 minutes, it's cooked throughout when a clean metal skewer inserted into the middle of the cake comes out clean.
5) Allow to cool and decorate as you choose!
Enjoy!
This entry was posted in Recipes
---