The OMLET Easter Cake
-The Best Things In Life Are Sweet-
The OMLET (Omelette) Cake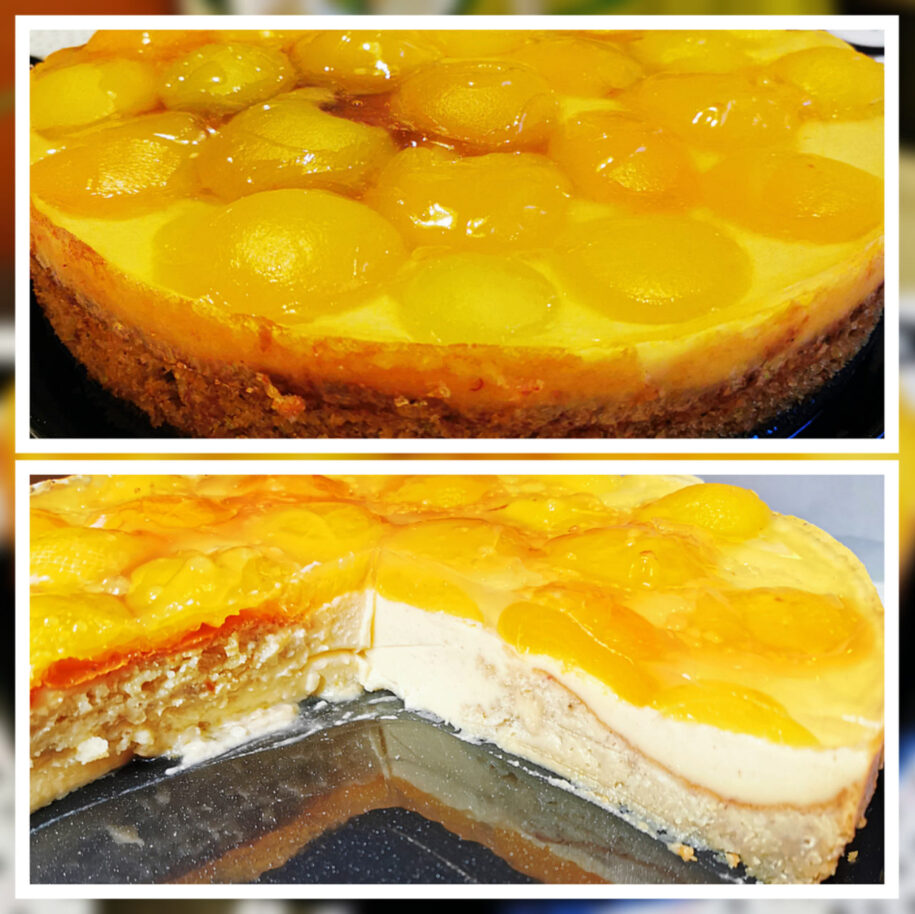 Ingredients for the cake batter (for a 9 inch round cake tin):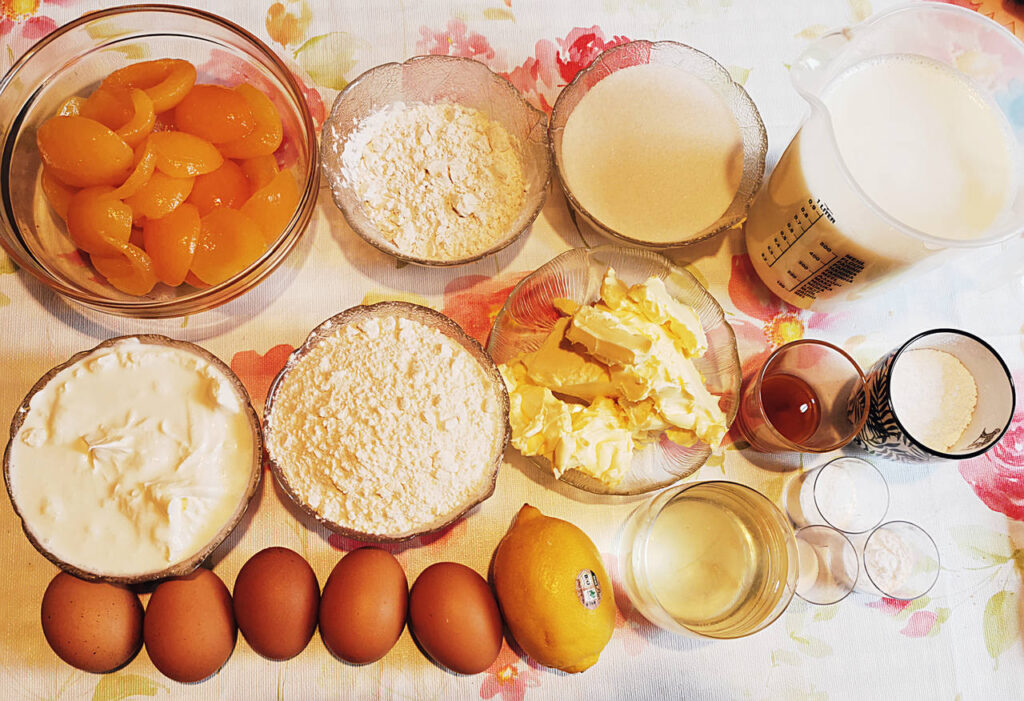 900 ml milk*

250 g sugar

250 g butter/margarine

4 tbsp lemon juice

5 eggs*

250 g flour

1 packet baking powder

a pinch of salt

1 package of clear cake glaze*

1 can apricots halves (850 g drained net weight)

1 can apricots halves (425 g drained net weight)
Ingredients for pudding cream:
100 ml milk*

2 packets vanilla pudding powder

80 g sugar

1 packet vanilla sugar

2 cups sour cream*

For a plant-based or vegan option:
As a milk substitute you can use any non-dairy milk (e.g. almond or oat milk). As 1 egg substitute use 1/2 mashed banana (5 eggs = 2.5 bananas) or 70 g apple puree (5 eggs = 350 g). You can buy vegan sour cream or soy yogurt. Instead of the clear cake glaze you can use agar-agar powder.
Instructions
Grease a cake tin (9 in

). Preheat oven to 340 degrees Fahrenheit (convection oven).

Boil 900 ml milk in a saucepan. Mix in a bowl the remaining milk, 80 g sugar and vanilla pudding powder until smooth, stir into the boiling milk and cook well for 1 minute while stirring. Pour into a bowl and let cool, stirring several times.

Mix butter/margarine, 200 g sugar, 1 pinch of salt with the mixer until you reach a creamy texture. Mix in eggs one at a time. Mix flour and baking powder and stir in 2

tsp of lemon juice. Put the batter in a greased cake tin and bake on the middle shelf for 20 minutes.

In the meantime, drain the apricots well and collect the juice. Stir the pudding again, and now stir in the sour cream with a whisk. After the 20 minutes baking time, spread the pudding cream evenly on the batter. Cover the cake with apricots and bake for another 20-30 minutes. Let cool down.

Mix the icing powder, remaining sugar, 1/4 liter of apricot juice and remaining 2 tsp of lemon juice in a saucepan and bring to the boil while stirring. Now spread the glaze with a tablespoon over the apricot halves so that it looks like egg white. Allow to become firm.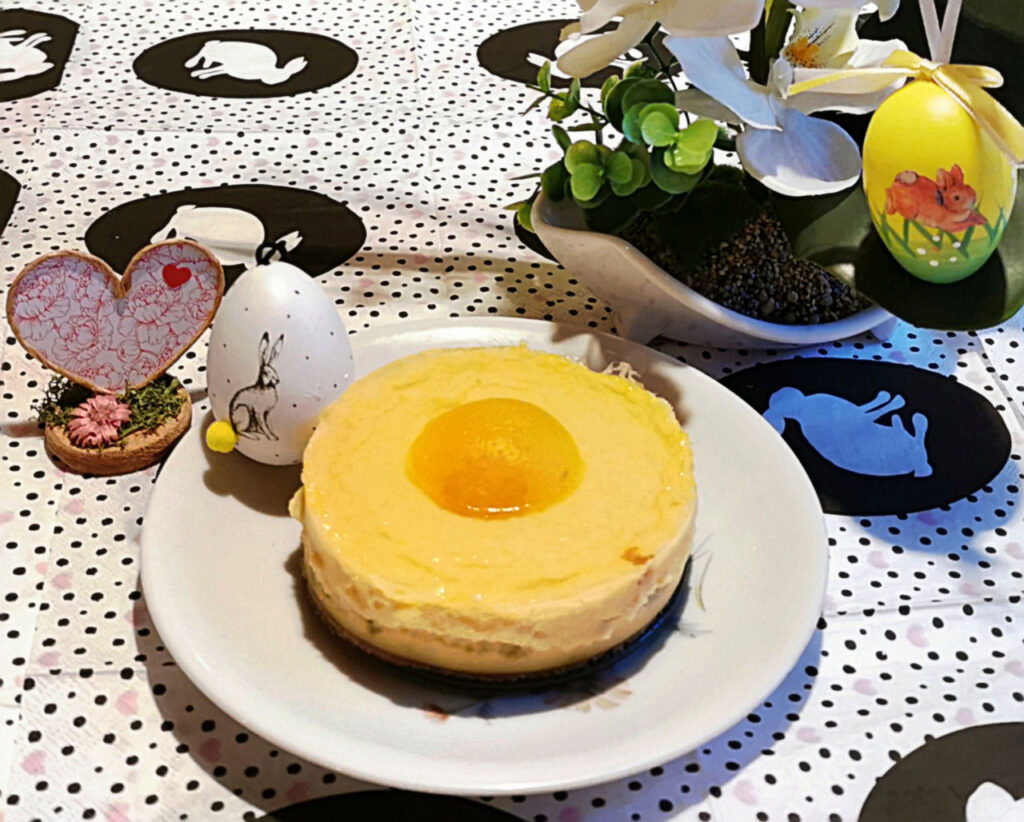 *You can use peaches instead of apricots as well.
If you want to bake the ultimate "Omlet"-cake with a 4 inch cake tin, use 1/2 of the ingredients and only one apricot halve on top of it.
If you prefer a more traditional Easter cake, here is a super delicious yet easy recipe:
Carrot-Marzipan-Cake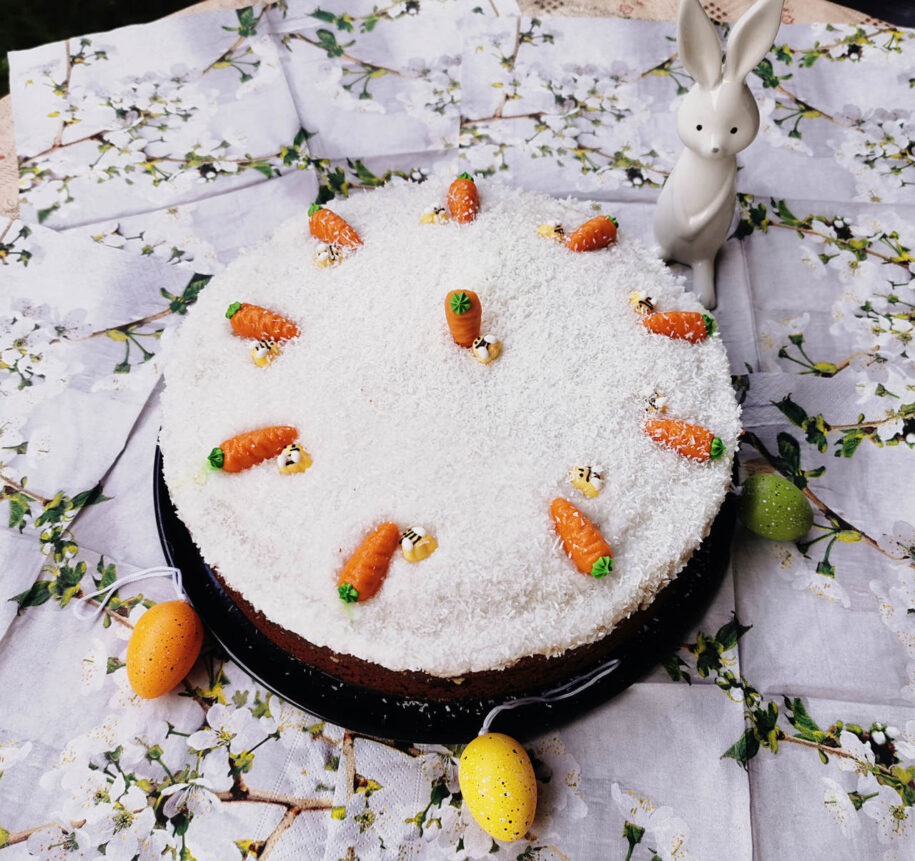 Ingredients for the cake batter:
350 g wheat or spelt flour

4 eggs*

400 g carrots

100 g ground hazelnuts

100 g ground almonds

200 g sugar

1 packet vanilla sugar

1/4 tsp vanilla extract

1 vanilla pod

1 tsp cinnamon

1 packet baking powder

1 tsp baking soda

200g marzipan

200 ml rapeseed or sunflower oil

200 ml milk*

juice of 1/2 lemon

extra portion love
Frosting:
70 g icing sugar

200 g coconut yogurt

30 g coconut paste

shot of lemon juice
optional: food coloring, e.g. green color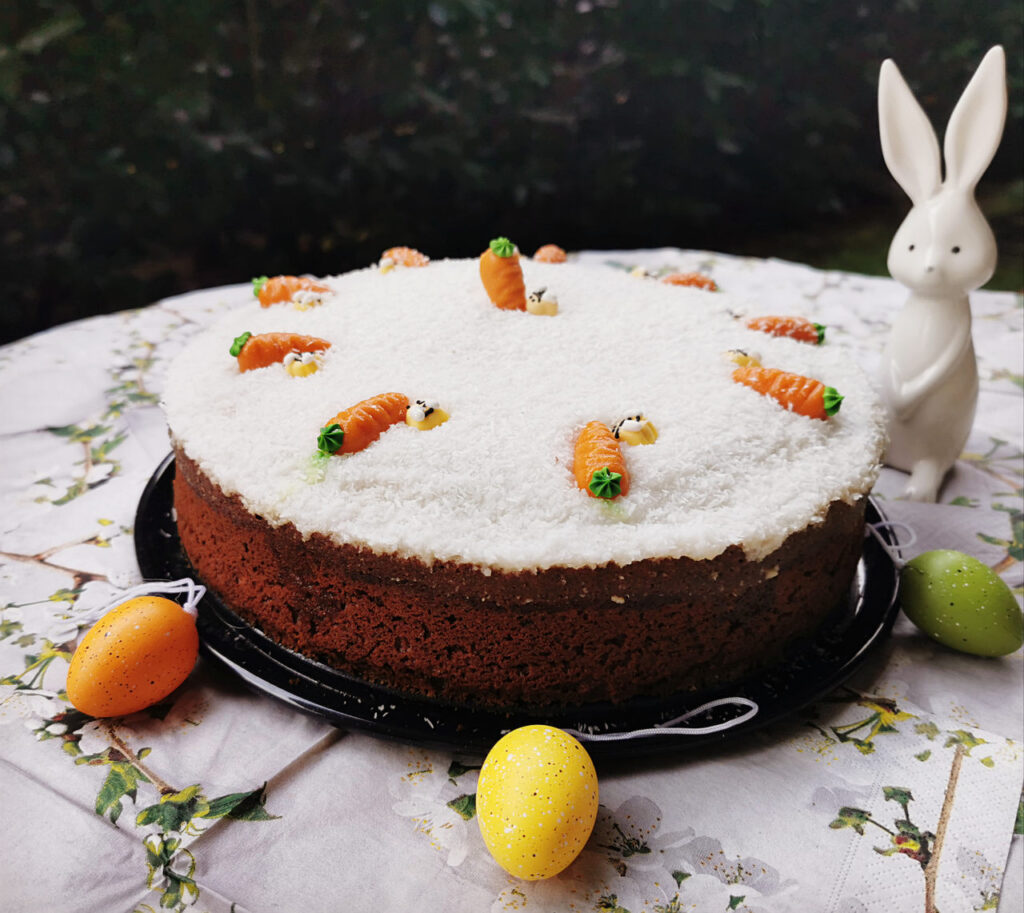 Decoration: e.g. Marzipan carrots, chopped pistachios, dried flowers, grated coconut

For a plant-based or vegan option:
Use 2 tsp baking soda and 2 tsp cider vinegar or alternatively banana/apple puree as egg substitute (1/2 mashed banana per egg; 70 g apple puree per egg).
As a milk substitute you can use e.g. almond milk or oat milk, or any other non-dairy milk you prefer.

Instructions
1. Grease a cake tin (about 9 in) or use baking paper. Preheat oven to 350 degrees fahrenheit (convection oven).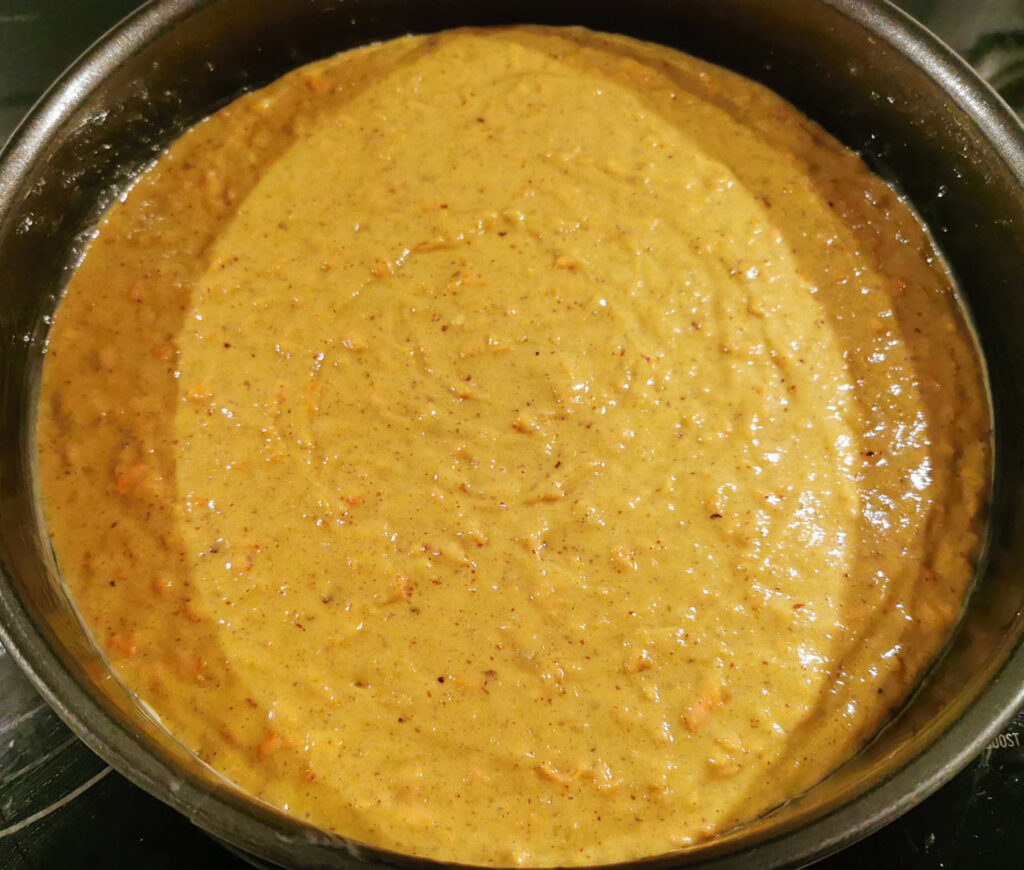 2. Mix dry ingredients (flour, hazelnuts/almonds, sugar, baking powder, baking soda, cinnamon) and the eggs in a bowl with a mixer. In a separate bowl, peel and grate carrots and mix them with the wet ingredients (vanilla extract, oil, milk, lemon juice).
3. Now slowly heat the marzipan in a saucepan, stirring repeatedly until it becomes a liquid mass. Mix the dry and wet ingredients together and gradually add the marzipan to the batter, mix well.
4. Pour the batter into the cake tin, smoothen it and bake it for about 50 minutes (use the tooth-pick test to make sure it is fully cooked).
5. Let the cake cool down and prepare the frosting in the meantime. Mix the sifted icing sugar with yogurt and coconut puree and season with more icing sugar and a shot of lemon juice. You can add food coloring to the frosting if you wish. Now spread the frosting on the cooled cake and decorate as desired, e.g. with marzipan carrots, chopped pistachios or dried flowers.
Enjoy!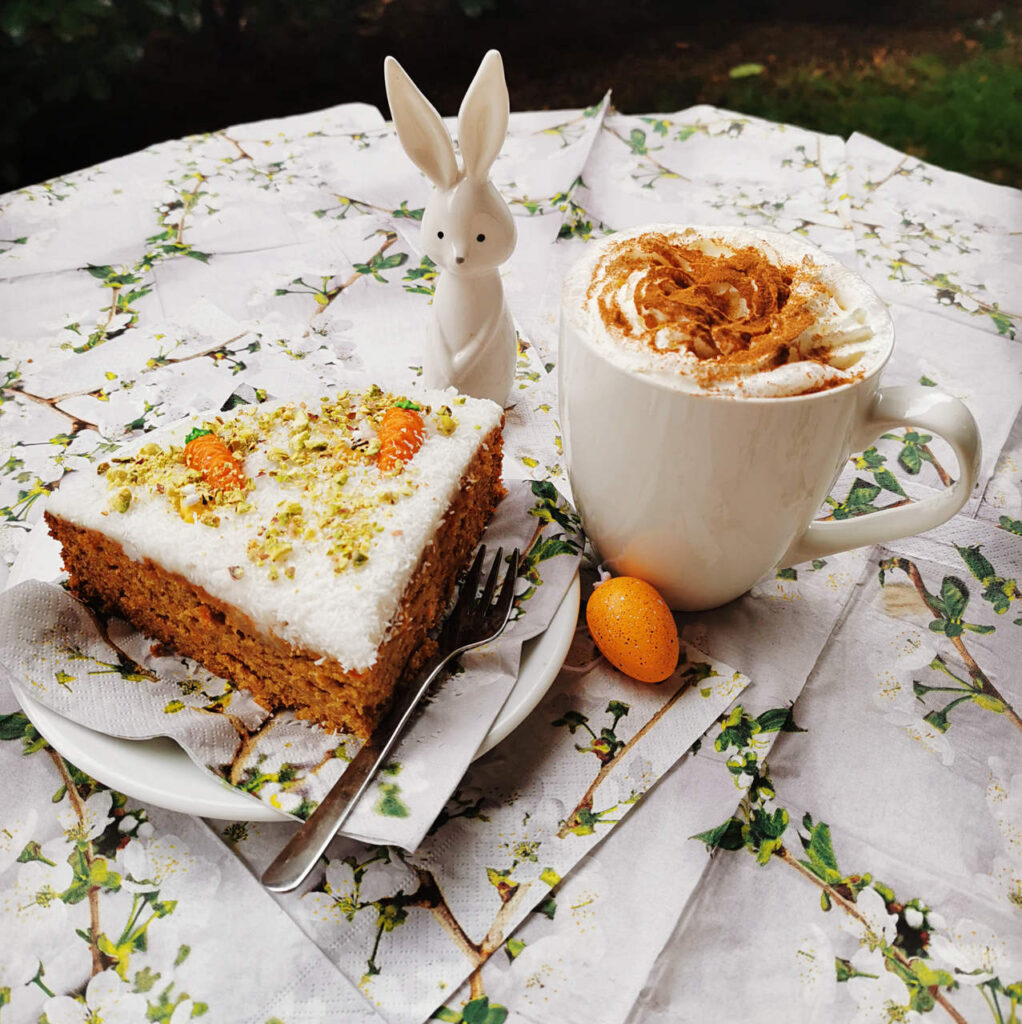 Bon Appétit

from the Omlet Team!
Tag us on social media (Instagram: @omletusa) with an image of your cake!
This entry was posted in Food
---