Fall Ginger Cupcakes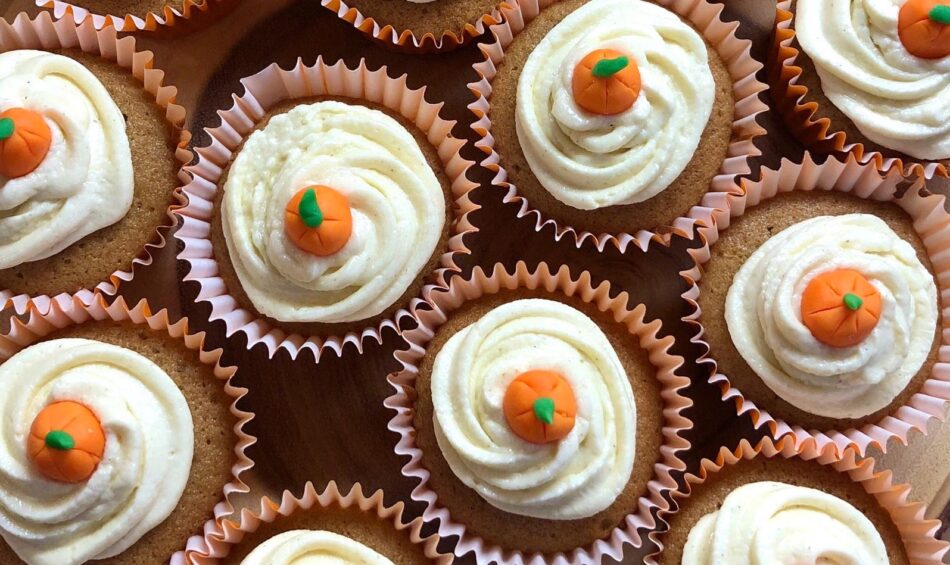 Not a fan of Pumpkin Spice? Fancy trying something simple, yet seasonal you can make with your girls' eggs? Try out these delicious ginger cupcakes, with a nod to Fall on top! 
To make 12 delicious ginger cupcakes, you will need…
12 cupcake liners (we have gone for orange to stay on theme!)

2/3 cup margarine or unsalted butter (softened)

2/3 cup light brown sugar

2/3 cup self raising flour

1 – 2 tsp ground ginger (to suit your taste)

2 large eggs

1 tbsp golden syrup
For the buttercream, you will need…
1 cup margarine of unsalted butter (softened)

2 cups icing sugar

½ – 1 tsp ground ginger (to your taste)
For the pumpkin decoration, you will need…
Ready to roll fondant icing sugar-paste – orange

Ready to roll fondant icing sugar-paste – green
---
Preheat the oven to 350 degrees Fahrenheit, and line a muffin tin with 12 cupcake liners.

To make your ginger cake mix, start by creaming together the butter and sugar in a mixing bowl. Sieve the self raising flour into the mixture with the ginger. We used 2 tsp of ground ginger but you can use less if you prefer a more subtle taste.

Lightly whisk the eggs in a bowl and add them to the mixture. Mix everything together carefully.

Once mixed add the golden syrup and give a final stir. 

Fill the 12 cupcake cases with the ginger cake mixture as evenly as possible.

Place in the oven for 15 – 20 minutes.

Leave to cool on a cooling rack before making the buttercream icing. 

For the buttercream icing, add a small amount of icing sugar to the butter at a time and cream together. Once smooth, add up to a tsp of ground ginger to the icing.

Put the icing in a piping bag. We used a large, star shape nozzle for the piping. Start in the middle and circle around leaving some space at the edge of the cake. Then spiral up on top and pull away to leave a peak. 

Once you have iced all 12 cupcakes, you can decorate however you wish! We decided to make little pumpkins out of ready to roll icing. Simply roll the orange icing into small balls, no more than a cm in diameter. Then use a sharp knife to carefully draw lines down the pumpkin. 

Roll a small amount of green icing a long strip then cut into tiny pieces to create the stalks. Press the stalk down lightly onto the pumpkin, and place on top of your cakes.
This entry was posted in Food
---