Activities for kids and pets to do together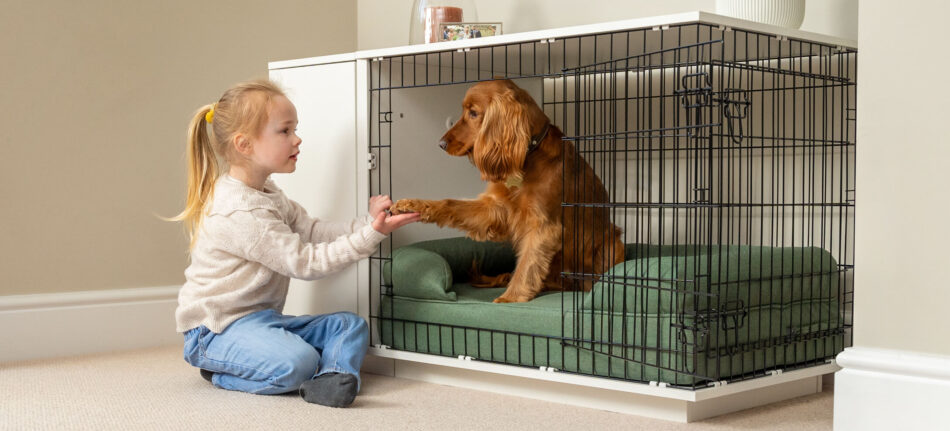 We all know that pets are not just animals, they're members of our family. So for the pet parents who are also human parents, why not foster an even stronger bond between your children and four-legged friends by engaging them in exciting activities that promote laughter, joy, and unforgettable memories? Get ready to unleash the fun with this treasure trove of ideas that will ignite imaginations and provide endless hours of entertainment of engaging activities for your kids and pets to do together.
Bake treats for your pets
Kids love to help in the kitchen! And when they know their culinary efforts will end in a delicious delight for their favorite furry family member, they'll be sure to raise their helping hands. Just make sure the recipe you choose for your pet is safe for them to eat, and abide by the same rule used with kids – treats are to be enjoyed on a limited basis. 
Have a hamster in the house? Grab some of your pantry staples to make these yummy honey homemade hamster treats. For a tail-wagging breakfast, let your kids break the eggs and blend the bananas to make dog-friendly pancakes. The best part of this activity is that every member of the family can taste the treats. 
Find new games to play with your cat
When the cat's away, the mice will play. But when kids and cats are together, play is even better! Most cats love to play games because it mimics their natural instincts to pounce and bat with their paws. So before allowing your child to play closely with any pet, make sure they understand how to handle them safely.
An interactive game of chase with feathers, cat toys, or scarves makes for a fun-filled time for both kids and cats alike. Want to take the fun outside? Let your littles roam free together in a safely enclosed Catio while chasing bubbles all around. And for the senior cats who may find the chase games too much, encourage your child to stretch alongside their favorite feline on a sturdy cat scratching post.
Teach your dog a new trick
They say you can't teach an old dog new tricks, but that's simply just not true. With the right encouragement, some patience, and lots of love, your dog can learn new things at any age in life. And what better way for your kids and canine to spend some quality time together than with a fun new trick?
Summer is a great time to let your kids get involved in teaching Fido how to fetch a stick or even learn a new command like "sit and shake". Make sure your child keeps plenty of dog treats in their pocket to give as a reward for the newly learned behavior. And because new tricks require lots of mental stimulation, make sure you have a comfortable and supportive dog bed where your furry friend can rest after all their hard work. By the time summer is over, your kids and dog will impress the whole family with all they have both learned.
Pocket money
Chores are a great way to teach your kids the importance of responsibility, but they're also a great way to let your child earn some spending cash. And learning the value of work at a young age will always pay off later. So in an effort to get your kids and pets more time together while also completing needed work around the house, why not have them clean out the chicken coop to earn a bit of extra pocket money? 
The Eglu chicken coops are so easy to clean that anyone tall enough to reach in and touch a hen will be able to get it spotless with ease. With a little bit of pet-safe disinfectant and water, your chickens' home will be sparkly clean and hygienically healthy in no time. Plus, what kid doesn't like to use a water hose? This simple chore of cleaning and collecting eggs not only allows your child more interaction with the hens, but it makes one less task for you to do. Win-win for everyone!

Homemade toys for rabbits
When it comes to fun for rabbits, Omlet has you covered. But if you're looking for activities for your child and rabbit to enjoy together, look no further than your own backyard. One of the best ways to get everyone outside and having fun is to go on a backyard scavenger hunt. Have your kids locate a willow tree and collect some twigs to weave into a ball or a wreath. Your rabbits will love playing with their new toys as well as nibbling on the nutritious wood, and your kids will feel accomplished in creating a new rabbit masterpiece.
But the floppy-eared fun doesn't stop there! If you've got an old towel or a ripped pair of jeans you're getting rid of you can make a rag doll for your rabbits. Have your kids use their creativity to make something beautiful. Even just tying a knot in the middle of a strip of sturdy fabric will provide hours of fun for rabbits to tear apart in their outdoor rabbit run. Just make sure to take it away before they've ruined it completely – you don't want them to ingest too much fabric.
Build an obstacle course for your hamster
Hamsters are the curious and energetic pets of the animal world. So engage both your child's and hamster's love of running, jumping, and climbing by helping your kids build an obstacle course for your hamster. Start by finding a safe area in your house where the hamster can be let out, away from open doors and other pets. You might want to build the course inside a playpen or create a barrier using books or other heavy objects. Just make sure they can't fall over and hurt the hamster.
Have a LEGO-loving kid in your house? Get them to use their brick-building creativity to make the outline of the obstacle course. LEGO pieces will also make great jumps and steps for your hamster to navigate. Use clean popsicle sticks to build a ladder or a ramp for the hamster to climb up on, and build tunnels and hiding places with toilet paper rolls and cardboard boxes. Glue them together to create a hamster maze within the obstacle course and have your kids hide treats to encourage your hamster to explore.
Photoshoot
Capturing the bond between children and their furry companions in photos creates cherished memories that can be treasured for years to come. During a photoshoot, kids and pets can engage in various poses and interactions that showcase their special relationship. This activity not only allows kids and pets to have fun together but also encourages their creativity and self-expression. It's also a great opportunity to teach children about patience, empathy, and respect for animals. Have fun with different locations and colorful outfits (if your pet obliges!) and make the photos as creative as you want. Here are our best tips for taking better photos of your pets.
Abstract paw art
If you have children, you likely have several crayon drawings hanging on your fridge. Why not add to the gallery with some abstract paw art made by your favorite furry child? Let your dog's creative juices flow by helping your child work with your pup to create a beautiful piece of art. 
Get some toxic-free, water-based paint and gently put your dog's paws in it. With the help of some dog treats, guide your dog to a blank canvas and let them walk all over it, creating an abstract paw-print painting. You can even have your kids get in on the fun by adding their handprints as well! Be sure to have water on hand to clean everyone's paws and best to do this activity outside to avoid the risk of paw prints on carpets and furniture.
Omlet brings kids and pets together
At Omlet, we know the bond between kids and their pets is a truly special one. Engaging in activities together not only strengthens their connection but also offers countless benefits for both of them. With our personal pet experience and ingenious expert designs, we create products for dogs, cats, chickens, rabbits, and more, that will bring out the best in everyone in the family. So try out one of these shared experiences with your kids and pets and create a lifelong friendship that will leave pawprints on their hearts forever.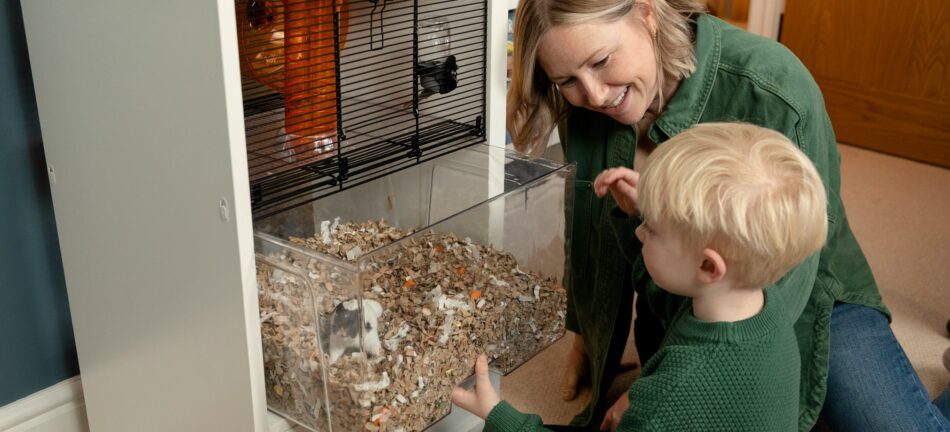 This entry was posted in Dogs
---