Use Your Girls' Eggs for This Gorgeous Homemade Pasta

Ingredients
Tipo 00 Flour
Eggs

Salt
Homemade pasta is one of the easiest recipes to remember as it's a 1:100 ratio. For every person you're cooking for you'll need 1 egg and 100g (3/4 cups) of pasta flour per serving, plus just a little bit of salt for seasoning – simple! This is how we at Omlet make it:
? Start by weighing out your flour and then tip it onto a clean surface so it forms a mound, sprinkle with a bit of salt, then make a large well in the middle of the mound and crack your eggs into it.
? With a fork start lightly whisking the eggs in the middle, slowly bringing the flour at the edges into the mix, keep going until you've got the majority of the flour mixed in. You may need to use your hands to work it in towards the end. Once the mixture is all together in a ball, start kneading the dough. It will feel quite rough and grainy to start with but as you work the dough more it should start to smooth out.
? Knead until the dough is elastic and stretchy. Be careful not to over knead it as your pasta will become tough and chewy. Once you're done kneading, cover or wrap your dough in a bowl or a beeswax wrap and then place in the fridge for half an hour.
? Once chilled, bring your dough out. Depending on how much you've made you may need to split it into more manageable chunks.
? Start rolling out a ball of your dough with a rolling pin and then with your pasta maker. Roll the dough through the machine on the widest setting, once through fold the dough in half and repeat. Then feed the dough through on a medium thickness and fold in half and feed it through again. Then move onto the thinnest setting and feed your dough through this setting twice, no need to fold it over this time. Your dough should be in a long lasagne style sheet, and thin enough that you can almost see your hand through it.
? Then turn your attention to the linguine and tagliatelle accessory on the pasta machine. You can use either of these for this type of pasta, it will just depend what sauce you're making and your personal preference. We used the tagliatelle cutter for this batch and it came out great!
? Once you have fed your pasta through the chosen cutter, then hang it on a drying rack, or you could use a clothes airer for about half an hour. You don't want the pasta to dry out too much. When it's ready either boil it in salted water for about 3 mins if you're ready to eat, or place in a Tupperware in the fridge or freezer ready for when you want to use it.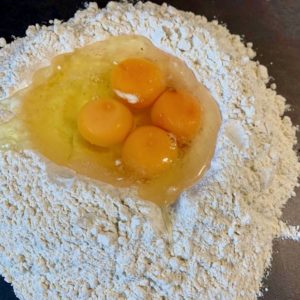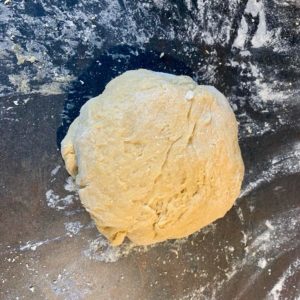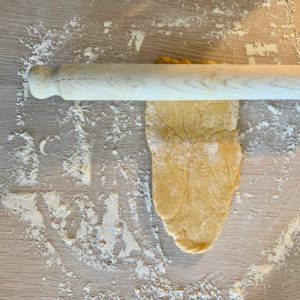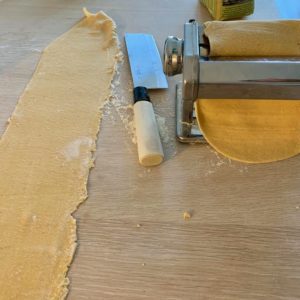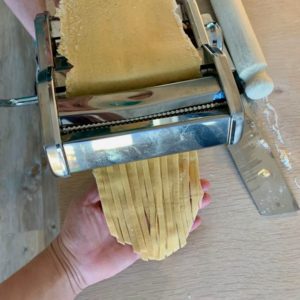 This entry was posted in Recipes
---