10 reasons to avoid wooden chicken coops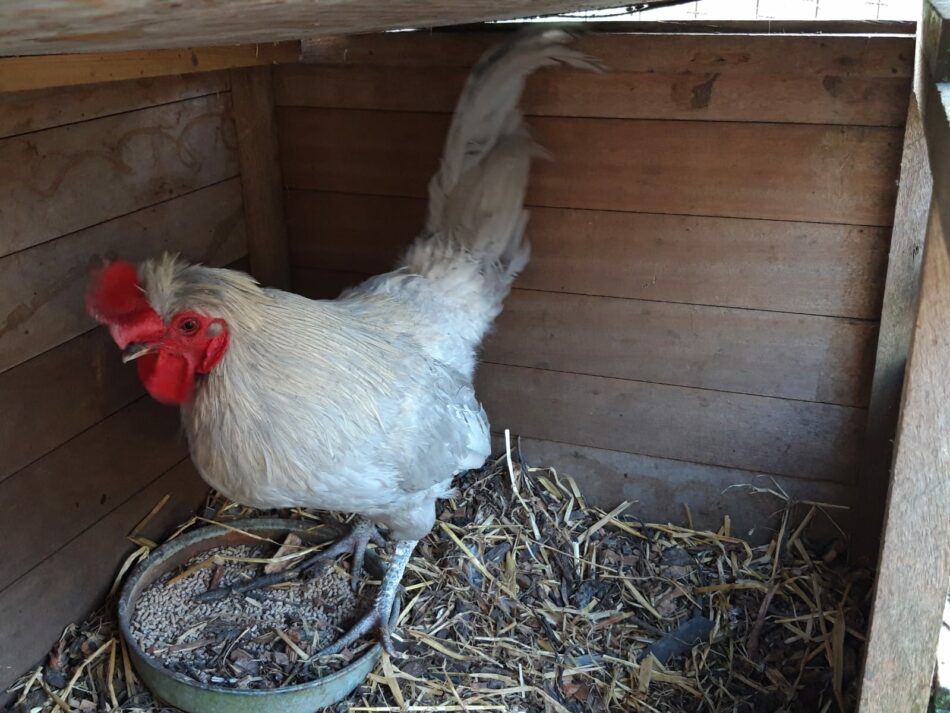 Wooden chicken coops have historically been the most common type of hen houses – but there are several reasons to avoid wooden chicken coops. Many types of wood are inexpensive and help lower the cost of a chicken coop. But, lower costs also mean lower quality. Over time, these cheaply made hen houses need replacing, which in turn costs you more money over the years. Thankfully, there's an alternative to rickety, cheap, and hard-to-maintain wooden chicken coops. Don't get caught in the vicious cycle of replacing worn-out wooden coops. Instead, invest in a plastic chicken coop that's built to last a lifetime. 
10 reasons to avoid wooden chicken coops
We've outlined the most common concerns when it comes to wooden chicken coops. And, when compared to plastic, there's a clear winner. 
1. Wooden chicken coops rot 
Not all chicken coops are created to last. Wooden chicken coops, while less expensive to purchase initially, will eventually rot. Wood is a natural material that's subject to the elements. Plastic chicken coops will never rot and don't decompose the way wooden chicken coops do. Omlet's chicken coops are designed to last a lifetime. 
2. Wooden chicken coops are hard to clean 
Have you ever scraped the inside of a wooden chicken coop with a putty knife or other flat-edged cleaning device? If you have, you're not likely to forget it easily! And if you haven't — you'll want to spare yourself the experience. Removing droppings and thoroughly cleaning a wooden chicken coop is a very difficult task. Wood will rot faster if cleaned with a pressure washer, and takes hours to dry after getting wet. 
Omlet's plastic chicken coops are incredibly easy to clean. All of the interior pieces can be removed for easy cleaning, and the entire chicken coop is designed to be pressure washed or wiped clean. Get a sparkling clean chicken coop in just minutes with very little drying time. 
3. Wooden chicken coops are costly to repair 
Wooden chicken coops start to deteriorate as soon as they are exposed to the elements. Their roofs will need shingles replaced, as will rotted or warped boards. Chicken wire or hardware cloth will come loose from staples anchored in flimsy wood and will need to be reinforced. A lot of routine maintenance goes into keeping a wooden chicken coop structurally sound. 
Plastic chicken coops require no maintenance or upkeep. Omlet's chicken coops are easy to assemble, and don't require replacement parts. 
4. Wooden chicken coops aren't predator-resistant 
Chicken predators are something that all flock raisers will encounter at some point. One of the most common and conniving of these predators is raccoons. Wooden chicken coops are no match for the crafty methods of these masked chicken bandits. Raccoons are notorious for reaching through openings, and gnawing or pushing their way into hen houses and chicken runs. 
While wood weakens over time, plastic chicken coops will hold up over the years — making them much more resilient. Raccoons in particular will exploit any weak spots in your chicken coop or run, so the best way to make your chicken coop raccoon-resistant is to invest in a strong setup. 
Add another layer of security to your hens' home with an automatic chicken coop door. Omlet's Autodoor opens and closes on a horizontal spiral mechanism that is extremely difficult for predators to pry open. And, with the light and time settings, your flock will be safely closed in each evening before predators are at their most active. 
The Autodoor is designed to integrate seamlessly with the Eglu Cube chicken coop, but can also be added onto any chicken run through one of our attachment kits. 
5. Wooden chicken coops aren't waterproof 
Wood is porous and gets saturated when it rains. Not only does this lead to rotting, but it also creates breeding grounds for mold and mildew. Spores from these fungi can spell respiratory problems for your flock, and create very unpleasant living conditions. 
Omlet's coops are waterproof and won't mold, mildew, or rot as a result of rain. And, additional chicken run weather protection will keep your flock stay nice and dry on rainy days in their run. Chickens can enjoy rainy days when they're covered and have a dry coop to roost in. 
6. Wooden chicken coops aren't insulated 
One of the biggest issues with wooden chicken coops is their lack of insulation. Drafty chicken coops can be deadly during winter storms, and downright scorching in the summer heat. Without insulation, your hens' house will fluctuate wildly along with the weather. 
Omlet uses twin-wall insulation methods in our chicken coops to ensure ultimate comfort. Our line of Eglu chicken coops help keep your hens cool in the summer and warm in the winter. 
7. Wooden chicken coops have a short lifespan
Replacing your chickens' coop every few years sounds like a costly endeavor, right? But it's exactly what you'll be doing with wooden chicken coops. The best chicken coops are designed to last a lifetime, and can grow with you and your flock. 
Omlet's chicken coops aren't just long-lasting but have attached runs that can be extended to up to 12 feet long. They also integrate seamlessly with our heavy-duty walk in chicken runs, which can be extended indefinitely. 
8. Wooden chicken coops let mites thrive 
Mites are a nightmare for chicken keepers and hens alike. They make your flock feel miserable, and are hard to eradicate, as they thrive in moist, dark crevices. Mites are easier to prevent than to treat, and one of the best ways to avoid mites in the first place is to create an inhospitable environment for them. 
Avoid mites by investing in a plastic chicken coop. Regular pressure washes or wipe-downs will prevent the presence of these parasites and give your flock a much more hygienic environment. 
9. Wooden chicken coops are hard to move 
There's a sense of finality when you set a wooden chicken coop in its place. Once erected, a wooden coop cannot be moved easily. Whether it be from rot or weight from being rained on, wooden chicken coops are not meant to be relocated. 
Some wooden chicken coops claim to be chicken tractors (mobile chicken coops), but due to their deterioration in the elements, they become increasingly difficult to move. 
Our mobile chicken coops are designed to be moved as often as you'd like, and can be moved with ease by just one person. All of our coops can have wheels and handles added to make moving them a breeze. Their structural integrity holds up against the elements, so you'll never need to worry about them falling apart.    
10. Wooden chicken coops are flimsy 
Wooden chicken coops are no match for wild weather events or large predators like bears or coyotes. During storms, roofs can be blown off and boards loosened by battering wind and rain. Predators can easily push through chicken wire or dig under runs. 
Omlet's Eglu Cube chicken coop is strong enough to withstand hurricanes, bear attacks and falling trees.  And, all of our chicken runs are made from heavy-duty wire-welded panels that feature anti-dig skirting to help prevent predators from digging into your chickens' space. 
Omlet's Eglu Cube chicken coop
The winner is clear: the Eglu Cube chicken coop, exclusively by Omlet. But don't just take our word for it — see why thousands of chicken keepers across the globe trust the Eglu Cube with their flocks. Plus, the Eglu Cube is backed by our 10 year worry-free warranty, and a 180 day money back guarantee. When you choose the Eglu Cube, you're investing in the only chicken coop you'll ever need to buy.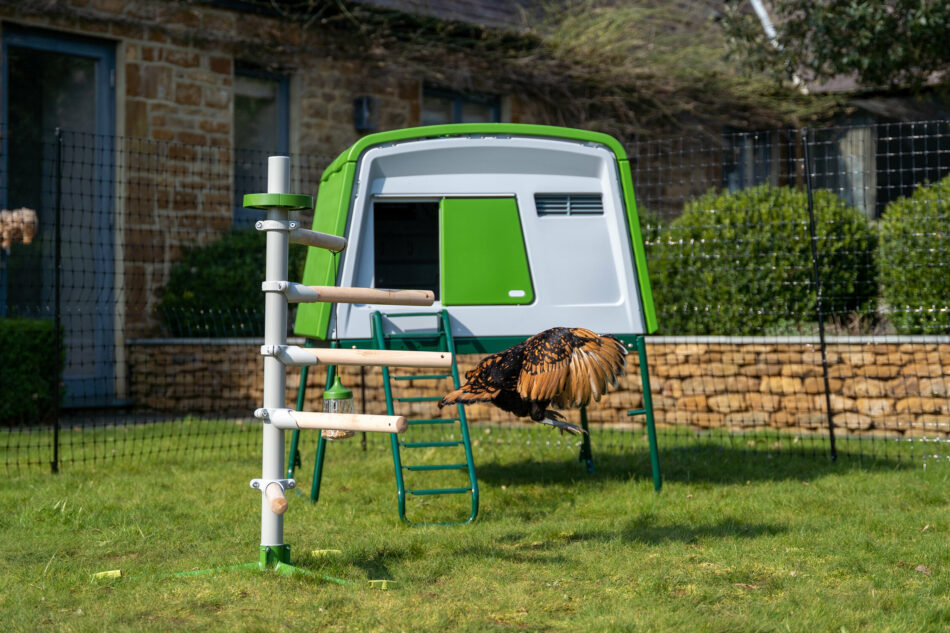 Omlet's plastic chicken coops
Like all Omlet chicken coops, the Eglu Cube has been designed to outlast and outperform wooden chicken coops. With the addition of the Autodoor, your Eglu Cube will be a force to be reckoned with — deterring persistent predators, parasites, and perilous weather conditions. Invest in your flock's future when you choose an Eglu Cube, and never worry about having to repair or replace your chickens' coop.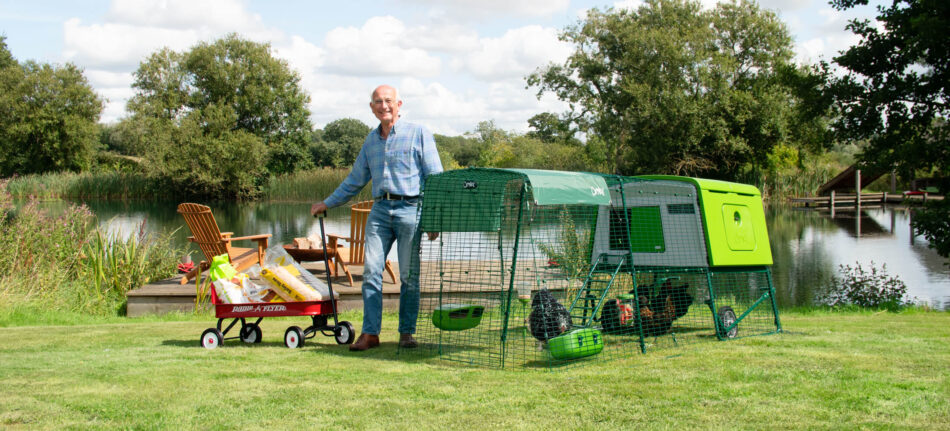 This entry was posted in Chickens
---