Best chicken coops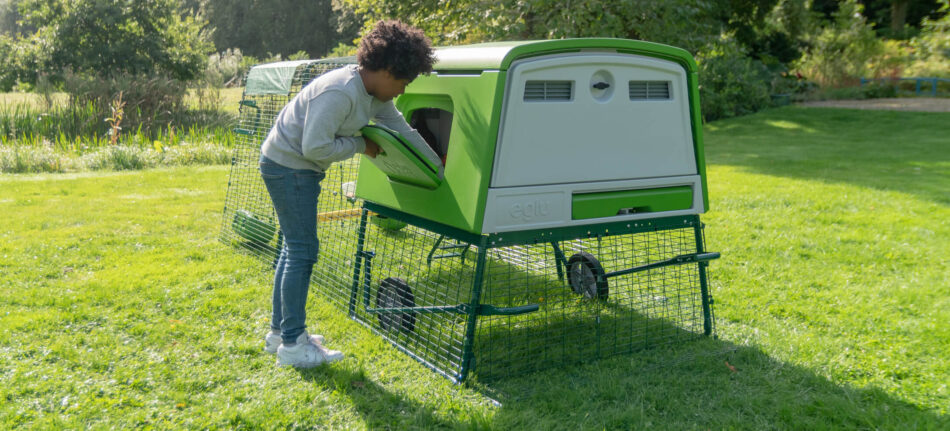 The best chicken coop is safe, functional, and comfortable for the hens they house, and easy to clean and maintain for their keepers. In short, the best chicken coops are those that bring joy to flock raisers, and keep their inhabitants healthy and safe. 
But not all chicken coops are created equally. A high-quality coop may require some investment upfront, but will more than make up for it in the long run. Selecting the best chicken coop can seem overwhelming, but by simplifying the process down to comparison of quality and functionality, you'll be prepared to make the right choice.  
How to choose your chicken coop
When choosing a chicken coop, size matters! First and foremost, you'll want to decide on what size flock you want to keep to determine which chicken coop will meet your needs. For most chicken keepers, a small number usually evolves into more hens than originally planned (a phenomenon known as "chicken math" to those in the poultry world). By getting the largest coop within your budget, you'll allow room for a potentially growing flock. 
Next, you'll need to decide if you need a run attached to your chickens' coop. Providing the most outdoor space possible will make your hens the happiest, regardless of the size of your flock. Chicken runs that come standard with some chicken coops usually aren't large enough to provide that free-range feeling, but not all chicken keepers are able to give their hens free rein of their yards either. Attaching a walk in chicken run to your chickens' coop will offer plenty of space for your flock to forage and flourish. 
Finally, you'll want to fully weigh the pros and cons of the material of your chickens' coop. Traditionally, chicken coops are made out of wood, but many chicken keepers are making the switch to plastic chicken coops. There are many reasons for this, but one of the biggest deciding factors influencing this change is the longevity of plastic over wood. 
Plastic vs wooden chicken coops
Plastic chicken coops, such as those designed by Omlet, do not require seasonal maintenance. The advantages of plastic over wooden coops are staggering, and can save chicken keepers countless hours and dollars throughout the years. 
The advantages of plastic chicken coops include: 
No rotting or warping in the elements 

Less hospitable environment for mites 

No painting, re-roofing, or maintenance required 

Maintains structural integrity 

Regulates temperature and humidity more effectively 
Plastic coops also offer a less-hospitable environment for mites, which thrive in wooden coops. Mites take shelter in the grooves and crevices of wood, and flourish in damp, porous surfaces. Regularly cleaning a plastic chicken coop is the best and easiest way to keep mites at bay. 
One of the biggest mistakes new chicken keepers make is not factoring in the maintenance required to keep wooden chicken coops safe and functional for their flocks. Even weather-treated wood warps and rots in the elements over time, which causes the structural integrity of the coop to be compromised. Roofs need replacing, paint needs reapplications, and the drafts resulting from shifting or settling require attention. Depending on the amount invested in the original coop, sometimes it's more cost-effective to replace the entire coop rather than to mend seasonal issues. 
Best chicken coop for large flocks (5 – 10 chickens)
Omlet's largest chicken coop, the Eglu Cube can accommodate flocks of up to 10 small breed hens. Larger breeds of hens or larger flocks thrive in this size coop because of the:
Spacious roosting area inside 

Partitioned nesting area 

Shaded area beneath the coop. 

Wide roosting rack to accommodate hens of all sizes 

Twin-wall insulation 

Draft-free ventilation

Heavy-duty plastic construction 
Most hens don't mind sharing a nest with other hens, but after the 5th or 6th visitor to the same nesting spot, hens may seek out alternate laying locations. The expanded nesting area of the Eglu Cube factors in picky hens, giving them ample space to fluff up a new spot to lay in. 
Best chicken coops for smaller flocks (2 – 4 chickens)
Perhaps you live in an area that limits the number of chickens you can keep, Or, maybe you're just getting started with chickens and are hesitant to get too many hens at once. If so, Omlet has the best chicken coops for you too! 
The Eglu Go Chicken Coop is a compact, ground-level coop that is the perfect size for small flocks of 4 hens or less. This coop is a great option for
 Small-breed hens

Chicks 12 weeks or older 

Chickens that prefer to roost on the ground. 

Secondary

hen house and nesting area

for growing flocks or injured hens  
If an elevated coop still appeals to you, the Eglu Go Up Chicken Coop is the raised version of the Eglu Go. The added height allows for easier coop cleaning and egg collecting, and offers additional space beneath the coop.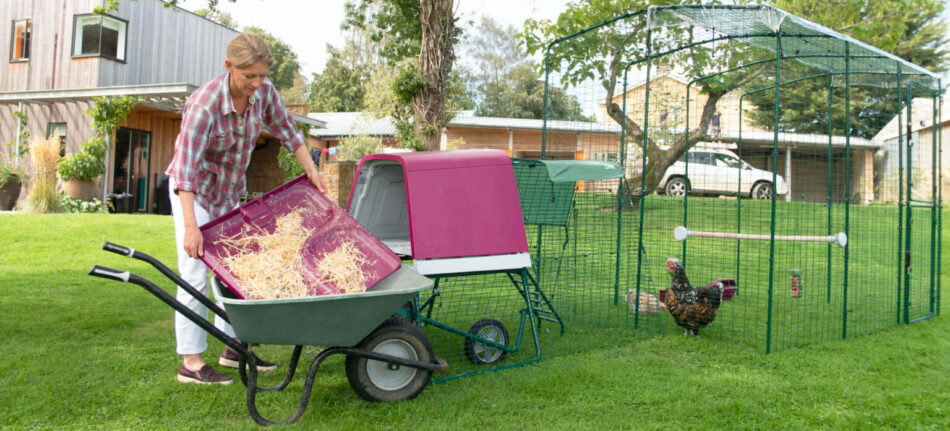 Best portable coop
Chicken tractors offer the freedom of flexibility for chicken keepers and their flocks. Chicken tractors are portable chicken coops that can be:
Relocated easily for chickens to have access to fresh pecking grounds 

Mobile chicken coops

that can be moved quickly and easily 

Beneficial to those in areas that experience severe weather events 
Omlet's chicken tractors can be moved effortlessly by one person. Simply engage the wheels and use the handles to roll your large flock's home to a different location. Once the coop is in place, disengage the wheels and watch as your flock gets busy pecking around in their fresh patch of vegetation. 
Just because they're mobile doesn't mean we've skimped on features – Omlet's portable chicken coops have the same ingenious features as their stationary counterparts. Broad roosting racks, designated nesting areas, and heavy-duty construction are components of all of our chicken tractors. 
Best coop with attached run
An attached run offers additional space for chickens that may not have a safe area outside of their coop. All Omlet chicken coops can be customized with attached runs of varying lengths, which can also be moved along with mobile coops. Large flocks can enjoy up to 12 feet of attached run space when combined with the Eglu Cube Chicken Coop.
However, the best option that offers the most space for your flock is a walk in chicken run. Connection kits make integrating your Omlet coop or attached run quick and easy, or simply place the entire coop within the walk in run. Omlet walk in runs make it easier than ever to spend time with your flock, and maximize your chickens' outdoor space. 
Best budget coop
In terms of price, the Eglu Go Chicken Coop is the most budget-friendly chicken coop from Omlet. When compared to similar sized wooden chicken coops, its price point is slightly higher. However, these cheaper, wooden coops will need routine maintenance up to and including full replacement over time, whereas the Eglu Go does not require the same upkeep. 
It's also worth noting the quality of the attached runs. Wooden chicken coops weaken in the elements, causing chicken wire to come loose. Most wooden chicken coops use staples to affix mesh to the run, but when the wood rots, these staples are easily pulled out – leaving your chickens vulnerable to predators. Omlet's attached wire runs are heavy-duty, and are held together by our innovative clips that won't rot in the elements. Depending on the method of galvanization, chicken wire can bend and break under force from predators, giving them access to your hens and their eggs. 
Easiest coop to clean
Keeping your Omlet chicken coop clean is immensely easier than cleaning a wooden coop. All components of the interior of Eglu chicken coops can be removed and thoroughly cleaned in minutes, and the entire coop can be pressure washed for a deep clean. Omlet's portable chicken coops can be moved closer to designated cleaning areas for even easier access. 
Routine cleaning and disinfecting is important for your hens' health. Mites and other parasites that commonly seek out chickens live in damp, porous surfaces that are left alone. Wooden chicken coops are often breeding grounds for mites if not treated with insecticides– which in turn can irritate your hens. The best method to control mites is preventing them from taking hold. Plastic coops are not ideal environments for parasites, and daily cleaning will virtually eliminate their presence. 
Best hen house for collecting eggs 
A raised chicken coop is the easiest type of coop to gather eggs from. The Eglu Cube has a separate door that opens to the nesting area, giving you quick and easy access to fresh eggs. Children especially will enjoy how easy it is for them to participate in this favorite activity among chicken keepers. 
Eggs can stay in the chicken coop for several days and still be fresh, but collecting eggs daily is always the best practice. Daily egg collection removes temptation for predators, gives your hens room to lay the following day, and gives you a chance to evaluate your hens' health. And, as you'll soon learn, there's nothing quite like collecting a still-warm egg from the nesting box, laid by one of your own hens! 
Chicken coop essentials
Once you've selected the best coop for your hens, there are optional accessories you can add to make your chicken keeping experience even more enjoyable – for both you and your flock:
Award-winning chicken coops from Omlet

Omlet has been in the business of creating the best chicken coops on the market for decades. Our hen houses, chicken pens, and line of chicken toys add joy to the lives of flock raisers, and help them keep their chickens happy and healthy. If you have questions about our chicken products, feel free to reach out to one of our experts at Omlet, and we would be happy to assist you in beginning your chicken-keeping journey.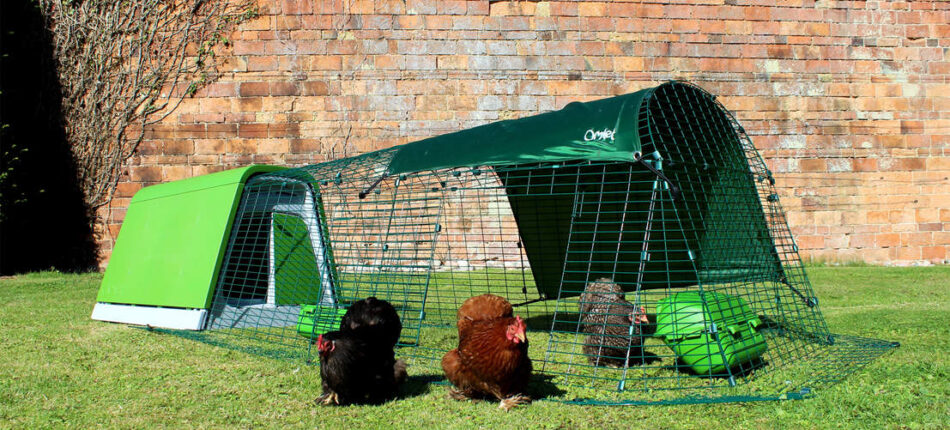 This entry was posted in Chickens
---