Benefits of a chicken tractor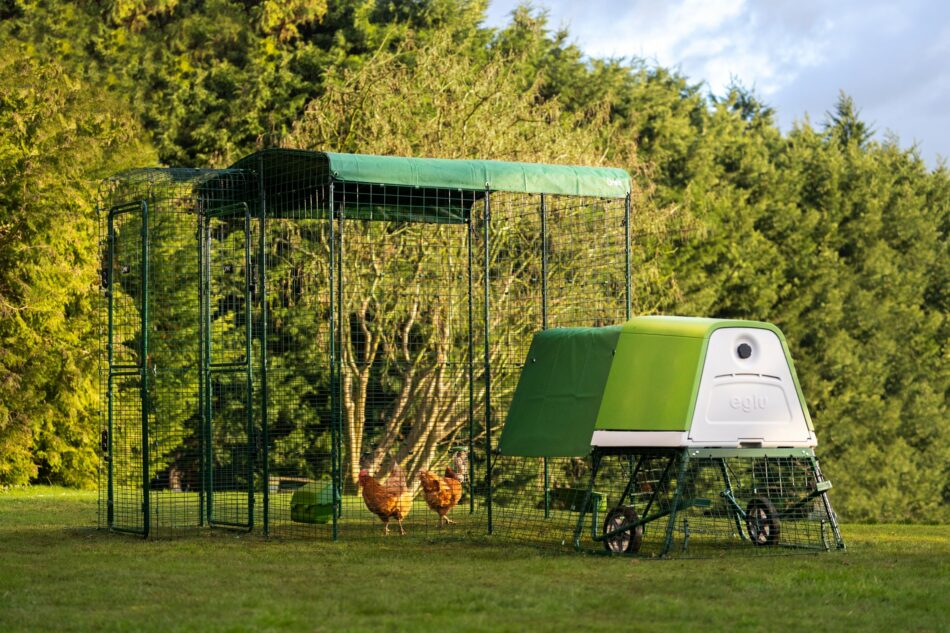 Wondering what the benefits of a chicken tractor are? The term may or may not be familiar to you, but it's one that chicken keepers across the US are researching more and more. You may also be wondering: what exactly is a chicken tractor? 
Chicken tractors are great for adding diversity to your flock and your yard or garden. They also make it possible to move your hens quickly and safely, which is appealing to those that live in areas that experience severe weather events. 
Omlet offers easy-to-assemble chicken tractors that are perfect for backyard flocks. Does the ability to move your flock appeal to you? Let's take a look at chicken tractors, and how they can benefit flock raisers. 
What is a chicken tractor?
Chicken tractors are floorless, mobile chicken coops, with or without wheels. The idea began when farmers wanted to raise meat chickens on pasture, but without the risks that free-ranging can bring. The result was the "chicken tractor", so named because the animals contained within it churn the ground much like a tractor would. There are "tractors" for multiple species of farm animals, such as rabbits, poultry, and pigs. The effect was two-fold: pasture-raised animals produce higher quality meat than those raised in a barn or coop, and areas of dense vegetation could be mowed down by animals inside of the tractor. 
This method has practical applications for backyard flock raisers that keep laying hens as well. Fresh grass, vegetation, and insects that hens ingest while foraging outside of their coop offer great nutritional value to their diet. In turn, some of these nutrients pass through to their eggs, making them healthier for you! 
Reasons to get a chicken tractor
Aside from adding supplemental nutrition to your flock's diet, keeping your flock in a chicken tractor has other benefits. 
Chicken tractors are easily moved, allowing you to relocate your coop whenever you'd like 

Mobile chicken coops can be moved in preparation for severe weather, changes in the seasons, or to help with landscaping 

Relocate your coop easily if you move, or if you have a small yard that would benefit from rotating your hens' area 
Chicken tractors for flocks of laying hens can be very practical, depending on your routine and space. A chicken tractor from Omlet can also be attached to chicken runs later for a more permanent chicken coop setup, making them a flexible and customizable option. 
What's the best chicken tractor for my hens?
Omlet chicken tractors come in different sizes and configurations. The Eglu Cube Chicken Coop configured as a mobile coop has an attached run with added wheels and handles. Our largest coop, the Eglu Cube is the best choice for larger flocks of 4 hens or more. Despite its ample size, the Eglu Cube chicken tractor can be moved easily by just one person. The raised coop offers extra pecking space below, as well as a shady area for your hens to get relief from the sun. 
The Eglu Go Up Chicken Coop is a more compact version of the Eglu Cube. Best for flocks of up to 4 hens, the Eglu Go Up offers elevation to make coop cleaning and egg collecting easy. This smaller chicken tractor is perfect for children to help clean and move around. 
Lastly, the Eglu Go Chicken Coop is a ground-level chicken coop that can be configured with handles and wheels to be converted into a chicken tractor. Some breeds of chickens (or individual hens) prefer roosting on the ground, making the Eglu Go an ideal choice. 
What to expect the first time keeping chickens
Lean into the first-time chicken-keeping angle, as many people looking at the benefits of a chicken tractor will be in the research phase before taking the leap.

Consider presenting the types of thing people should expect from their first flock, and what they should have to be prepared for them.
How often to move your mobile coop
When to move your chicken tractor depends on a few factors. Chickens don't just eat the bugs found in the grass – they actually eat the grass as well. The best method for deciding when to relocate your chicken coop is by observing the grass. Once your hens have mowed it down, it's time to move to a new patch. It's entirely possible to have your hens mow your entire yard by rotating them in a pattern. 
It's also helpful to move your mobile chicken coop to sunnier areas in the winter, or to shady areas in the summer. In the case of severe weather, a chicken tractor can also be moved quickly to a secondary shelter, or out from under trees to avoid potential falling limbs. 
Can I move my tractor with the chickens inside?
Keeping your chickens inside your chicken tractor while moving it is dependent on their personalities and your terrain. Some hens may be content to go along for the ride when being relocated, while others may be alarmed. If your yard is relatively flat, the gap created along the bottom from engaging the wheels of the chicken tractor should not be large enough for hens to escape through. However, a panicked hen may attempt to squeeze through small spaces. 
Test your flock's reaction and build their confidence by moving your chicken tractor by just a few inches at a time. After some practice, you'll likely be able to keep your hens inside while your mobile coop is being relocated. If your property isn't flat, or if your flock is upset by being moved around, you'll need to relocate your hens to a chicken pen during moves. 
Tips to make your flock love their chicken tractor 
Chicken tractors can be customized just like their stationary counterparts. Chicken toys and accessories or a chicken swing are perfect for adding height and enrichment to your hens' environment. Simply add these entertaining pieces to the attached run of your chicken tractor, and enjoy watching your hens peck the ground and play in their personalized space. 
Freedom with Omlet
Omlet believes in letting chickens live their best, most natural lives while being protected. Our chicken tractors have all of the features of our stationary coops, with the added convenience of being mobile. Flexibility in chicken keeping has never been easier than with Omlet's mobile chicken coops. Combine our chicken tractor with chicken fencing to create custom boundaries for your chickens, and add chicken treats to your routine to deepen the bond between you and your flock.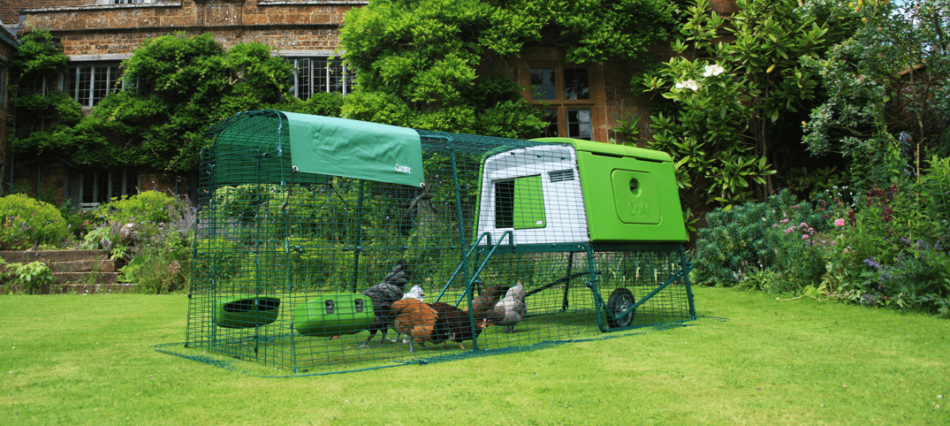 This entry was posted in Chickens
---