Plastic or wooden chicken coop?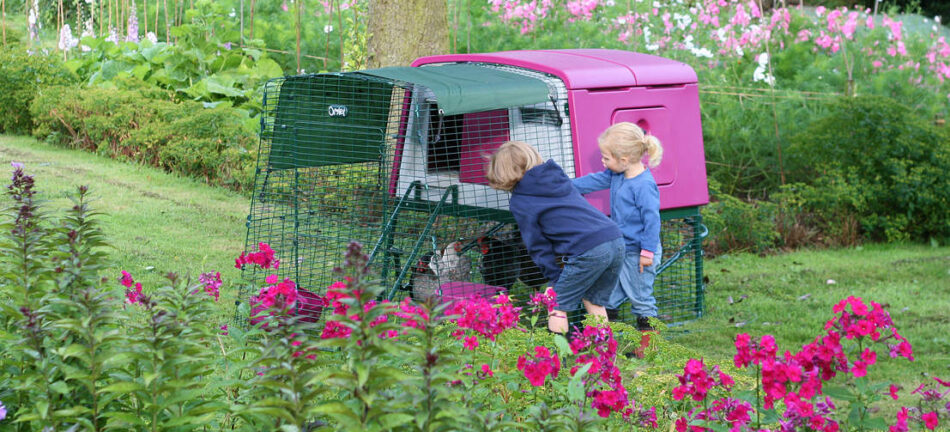 There's a new dilemma that chicken keepers are faced with: whether to invest in a plastic or wooden chicken coop. Wooden chicken coops are common, but plastic coops are rising in popularity due to their low maintenance and ease of cleaning. Maintaining and cleaning wooden chicken coops is costly and time-consuming – but Omlet's plastic chicken coops are saving chicken keepers both time and money. 
Comparing wooden vs. plastic chicken coops 
There are some major differences between wooden and plastic chicken coops. Ultimately, it comes down to which type of coop best fits your budget and lifestyle, but we'll help you decide how to choose your chicken coop with a visual list of pros and cons for each. 
Wooden chicken coops 
Pros: 
Lower upfront costs 

Readily available at many chicken supply stores 

Traditional look 
Cons: 
Difficult to clean thoroughly 

Absorbs moisture, which can lead to mold or mildew 

Porous, grooved surfaces attracts and harbors mites 

Drafty (particularly dangerous in the winter months)

Requires maintenance such as repainting and roof or board repair and replacement

Hardware cloth or chicken wire is stapled into the wood, which loosens over time, making it easier for predators to push their way in 

Difficult to move once in place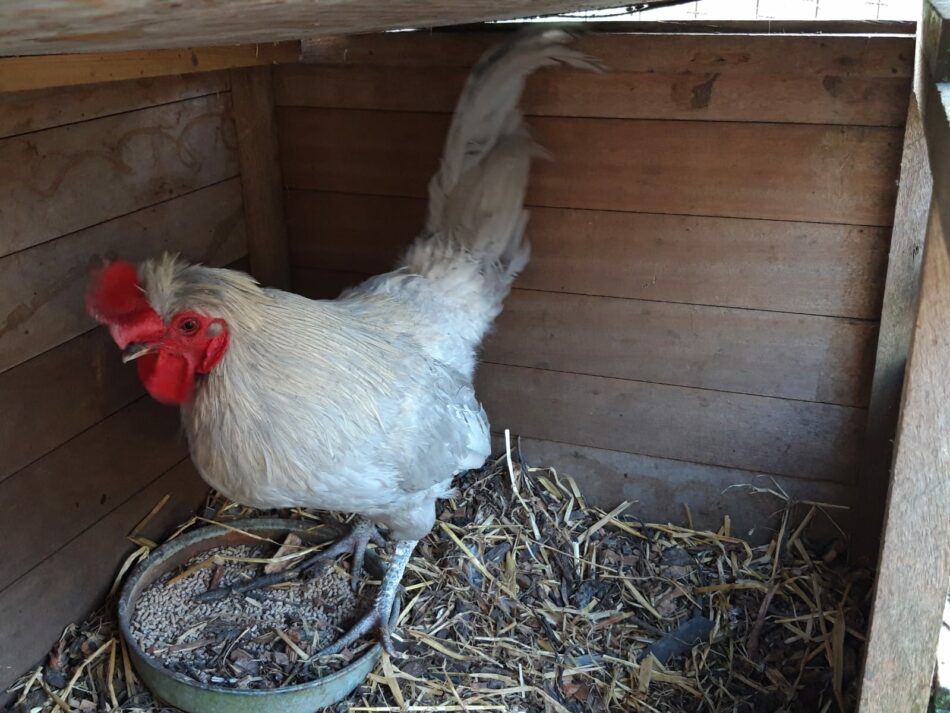 Pros: 
Easy to clean 

Waterproof 

Twin-insulated to keep your chickens cool in summer and warm in winter 

Draft-free ventilation that keeps humidity levels down inside the coop 

Inhospitable environment for mites to thrive 

Zero maintenance required 

Doors that are easy for humans to open, but difficult for predators to infiltrate 

Attached chicken runs are made from welded wire mesh connected by heavy-duty clips 

Bold, modern look 

Easily moved with added wheels and handles

An all-in-one chicken coop, designed to last a lifetime 
Cons: 
Moving your coop 
At some point, you may want to relocate your chicken coop. It may be to a new spot in your yard, out of necessity for safety, or when moving to a new home. Wooden chicken coops are difficult to move once they've been constructed, and often are too heavy to move efficiently without taking them apart. Commercially bought wooden coops are often constructed from tongue and groove planks, which do not hold up when moved. 
Omlet's mobile chicken coops can be moved easily by one person with the use of integrated handles and wheels. This is particularly helpful in areas that experience severe weather such as tornadoes, hurricanes, or flash flooding when notice is often in short supply. 
Chicken tractors enable you to give your chickens a new patch of grass to forage through, or relocate your flock should the need arise. Simply engage the wheels, then use the handles to push or pull your hens' home to a new spot. Disengage the wheels, and your hens are ready to peck their way through their new turf – without ever having to leave their run! 
Customizing your chicken coop 
Plastic chicken coops offer customization options that wooden chicken coops simply can't. Additions of walk in chicken runs can expand your flock's space and can continue to expand along with the number of chickens you have. You can also automate your chickens' schedule by installing an automatic chicken coop door. 
These accessories can be added to a wooden chicken coop, but the structural integrity of wooden coops becomes compromised after time in the elements, making them a less-than-perfect match. A plastic chicken coop designed to last a lifetime is not limited to a short timeframe for upgrades and customization. 
Coop cleanliness 
It's important to regularly clean your chicken coop – no matter the material. Chickens themselves don't smell, but their droppings do! Coops that aren't clean attract flies and other pests that affect both you and your flock, and harbor bacteria that can bring harm to your flock.
Wooden coops need to be washed, but wood is porous and difficult to clean. Droppings usually need to be scraped off with a putty knife, with surfaces then sprayed with a chicken-safe disinfectant. Because wood absorbs moisture, you'll need to allow ample drying time for any products or water applied to a wooden coop. Once dry, wooden coops need to be treated for mites after each cleaning with chicken-safe antiparasitic sprays or powders. 
Plastic chicken coops can be deep cleaned quickly and easily. Omlet's plastic chicken coops have removable roosting racks and droppings trays that can be pressure washed along with the entire interior. No antiparasitic treatment is needed after a plastic chicken coop has been pressure washed and wiped clean. 
Predator resistance 
Chicken predators are a danger that every flock raiser will encounter at some point. The sounds your hens make attract predators, as do the rodents that try to steal a snack from your chicken feeders. Even in urban backyards, chicken predators such as racoons and hawks can pray on your hens. 
Wooden chicken coops usually have hardware cloth stapled around the inside of any openings. However, wood gets weaker the longer it stays in the elements, so the staples are easily pushed out of the wood from an outside force. Hardware cloth or chicken wire also rusts and weakens over time, making it prone to breaking under stress. Some wooden coops also have tops that open on hinges for you to access your hens or eggs. The problem is that predators (especially crafty ones like racoons or foxes) can lift any unlatched openings to access your hens themselves. 
Omlet's plastic hen houses have latching doors that are difficult for predators to open. They also have solid, heavy-duty walls with no wire to push in or break. Plastic is more resilient to the elements, so there's no concern for warping or weakening over time. The attached chicken runs that are available with all of Omlet's chicken coops are made of welded wire mesh that is treated against the elements. This heavy-duty wire does not weaken in the elements, with the panels being held together by our ingenious weather-resistant clips. 
Insulation & performance in extreme weather 
Chickens thrive in many environments, but the more assistance they get to regulate their temperatures, the better they weather the seasons. Heat stroke and frostbite can easily plague chickens that are kept in under-insulated coops. Depending on your climate, your main concern will be to either ensure your hens don't get too hot in the summer or have chilly chickens in the winter. 
Wooden coops need additional layers to offer sufficient insulation. Adding another wall with insulation in between can achieve this effect, taking care to allow for ventilation. Ventilation is key when keeping a chicken coop at a comfortable temperature and humidity level. Too much ventilation will allow insulated air to escape, making the coop too hot or too cold. On the other hand, too little ventilation causes moisture to build up, creating a damp, stuffy, overly warm coop. 
Superior ventilation and insulation is found in Omlet's plastic chicken coops. The twin walls trap a pocket of air (the best insulator) around the coop to help keep the temperature at a comfortable level. Mindfully placed ventilation points allow for just the right amount of air to circulate even when the coop door is closed. This reduces the humidity level in the coop and allows for fresh air to circulate. 
Additional extreme weather protection for your hens can be added to Omlet chicken coops. This cold weather preparation for chickens helps your coop stay as warm as possible in the winter.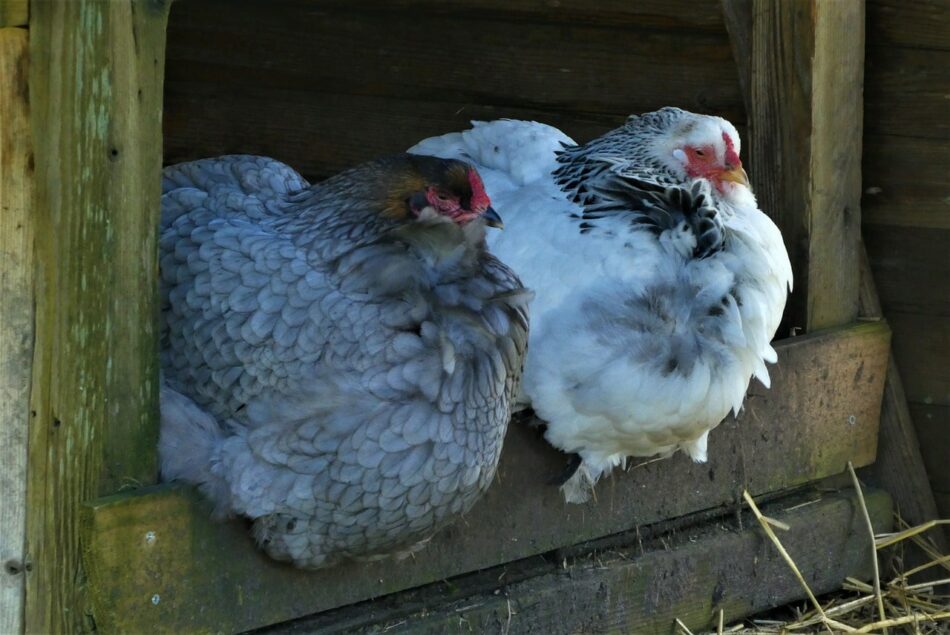 Durability – how long will a coop last? 
The elements are not kind to wooden chicken coops. Harsh UV rays, soaking rains, heavy snow, and high winds all wreak havoc on traditional chicken coops. Wooden chicken coops maintain their integrity for the first few seasons, but soon you'll notice the beginning stages of the deterioration process. 
Rotting or weakening wood, faded paint, and missing roof shingles are usually the first elements of a wooden coop that fall prey to the weather. Replacing any weak planks and repainting or retreating boards with weather-resistant paint is an annual affair. Shingles can be reapplied to roofs, but it's a sticky and time-consuming task! 
Choosing a chicken coop that fits your budget is important, so keep in mind the long-term expenses that a wooden chicken coop will inevitably incur. A plastic chicken coop may cost more in the beginning but will save countless hours and dollars over the years, as they do not require maintenance. 
Additionally, Omlet chicken coops are strong. So strong in fact, that real-life Omlet customers have shared stories of their coops surviving hurricanes, tornadoes, falling trees – and even the full weight of a bear! Heavy-duty plastic lasts for years, and you'll never need to worry about rotting or weakening parts. The only maintenance needed on an Omlet chicken coop is regular cleaning and ensuring that the ground beneath the coop has not shifted to create gaps or misaligned doors. 
Ease of building 
Building a wooden chicken coop from scratch is a daunting task! Like any carpentry work, it must be squared off, level, and properly constructed. The supply list alone will have you making several trips to various hardware stores! How nice would it be to have everything come inside of a box, requiring only a screwdriver to assemble? 
Deciding to buy or build a chicken coop relies heavily on your experience. Chicken coops (or any other animal enclosure) are not a project for beginners! Your flock's comfort and safety depend on the design of their coop. 
Thankfully, assembling an Omlet chicken coop can be done in just a few hours. Our step-by-step videos make assembly easy and enjoyable. All you'll need is a level space and a screwdriver. Your children can even help build an Omlet coop, which will help include them in your family's flock-raising journey. 
Is a plastic or wooden chicken coop best for me & my flock?
Maybe you're already the owner of a wooden chicken coop and thinking about upgrading to a plastic coop. Is it really worth all of the fuss? Check with your hens to see! Are your chickens happy in their wooden coop?
Unless you are meticulous with repairs and maintenance on a wooden chicken coop, your chickens would probably be happier in a plastic coop. The increased security, ventilation, insulation, and ease of cleaning that plastic coops have to offer make keeping chickens much more enjoyable. So ask yourself: are you happy with your chickens' wooden coop? If the answer is "no", then it's time to upgrade to plastic! 
Omlet's easy maintenance plastic chicken coops
Omlet has a variety of high-quality plastic chicken coops to fit your flock and family's needs. From the original Eglu Go, to our largest coop yet – the Eglu Cube, there's a coop for everyone. 
Reasons to choose a chicken coop from Omlet: 
Easy to clean, move, and customize 

Superior safety, insulation, and ventilation

Weatherproof and predator-resistant 

Excellent customer service 

Backed by a 2-year warranty 
Thousands of chicken keepers have experienced the ease of owning hens with an Omlet chicken coop. In fact, you can reach out to a local Omlet ambassador to ask them about their experience, and see their setup for yourself. 
See the Omlet difference 
We've invented coops that bring joy to chicken ownership. Keeping chickens shouldn't be a chore – it should be a relaxing and rewarding hobby. Once you've decided on an Omlet chicken coop, explore our other products that are designed to complement to your coop, such as:
As always, our team of experts are ready to help you decide which coop is right for you and your flock, and to support your entire chicken-keeping journey.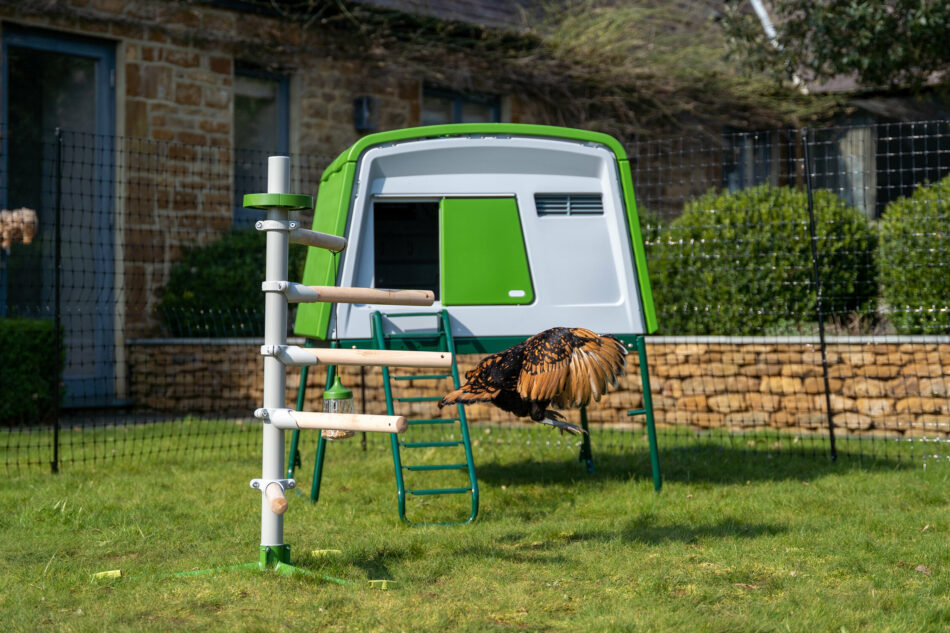 This entry was posted in Chickens
---