How easy is it to assemble an Eglu Cube chicken coop?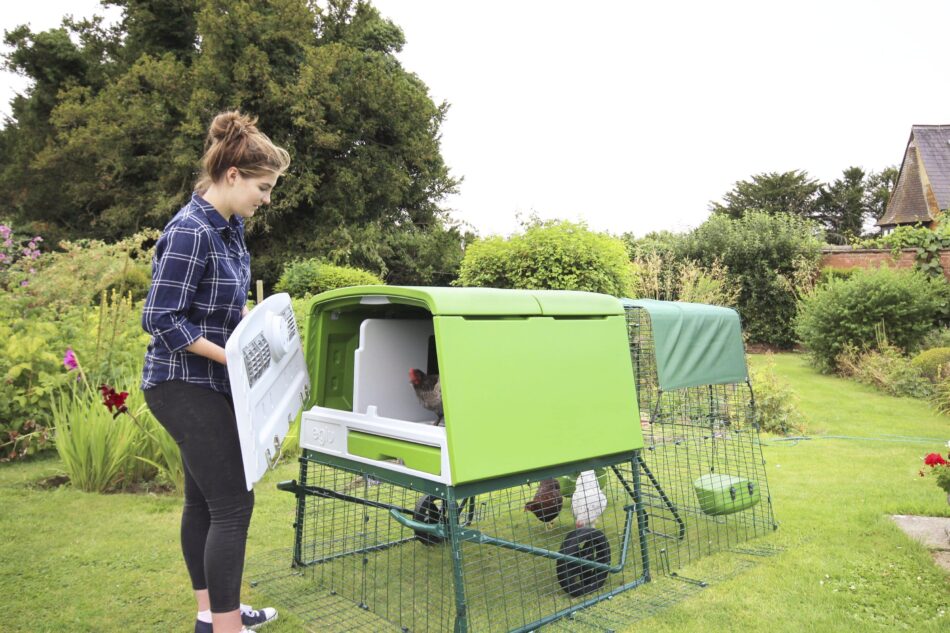 A quick search on the internet will provide a plethora of chicken coop options to purchase. But not all coops are created the same! At Omlet, our product designers know that keeping chickens is fun and simple, which is exactly why they created the easy to assemble and quick to clean Eglu Cube Chicken Coop.
Why you need an Eglu Cube
While wooden chicken coops have traditionally been used to house hens, there are better options available! Before you go buying a mini-house lookalike, take a read over all the reasons the plastic Eglu Cube is the best option:
The material your coop is made of matters!

The Omlet Eglu Cube is made of hard, durable plastic making it resistant to termites and parasites. Unlike a traditional wooden coop that needs to be treated, painted, and reroofed regularly, the Eglu Cube doesn't require any of that maintenance – think of all the time and money you will save!

The easiest to clean coop on the market!

The product designers made this coop with clean-up in mind so all of the surfaces are easy to wipe down in minutes. No more need to worry about smelly chicken coops! In fact, all of the Eglu parts are easy to remove and even pressure wash clean if needed. Your hens will thank you for a sparkly clean and hygienically healthy home!

It's a weatherproof wonder!

Chicken keepers from Florida to Fargo can attest to the outstanding weather performance of the

Eglu Cube

! Carefully designed with a unique double-wall insulation system, the Eglu allows your chickens to stay warm in the winter and cool in the summer. When

tested against a traditional wooden coop

in the cold winter of Germany, we concluded that a winter ready chicken coop like the Cube can make all the difference between a cozy night's sleep and one spent shivering to keep warm!
Hassle-free Cube = hassle-free chicken keeping
Some people may object to keeping chickens for reasons that include smell, time commitment, and space. But the reality is that these are all just chicken myths, and with the right products and preparations, chickens are low-maintenance pets. The Eglu Cube from Omlet helps to make that job easier!
SMELL
So you think chickens in your backyard might create a bad smell? Well, the truth is, chickens are actually clean animals. The smell that many are afraid of isn't from the chickens themselves, but rather from the chicken droppings. But, with the easy to clean Eglu Cube, you can spray down your coop in minutes and avoid any unpleasant odors.
TIME
Like any animal, owning chickens requires a time commitment! Just like cats and dogs, they need daily food and water and physical and mental stimulation. Other than that, they are self-sufficient animals! Investing in the Eglu Cube allows you to save even more on time with its easy assembly! We had the novice chicken-keeper in mind when designing this coop, so we created a product that is super easy to put together. In fact you just need one tool to get started!
SPACE
Probably one of the biggest myths in owning chickens is that you need to have a huge backyard to house your hens! For the average chicken-keeper, a regular sized backyard will do just fine! The great thing about the Eglu Cube is that you can opt to add wheels to the coop allowing for it to be movable by one person to another location. What chicken wouldn't like a house on wheels?
Step-by-step guide 
Choosing the right chicken coop can be the hardest part of chicken keeping. So now that you have decided on the Omlet Eglu Cube, let's take a look at the 7 simple steps to assemble your hen's new house!
STEP 1:

Grab a screwdriver and a friend. Yes, that's all you need to put together this super easy to assemble coop! All of the materials are included in the boxes upon arrival, so you simply need to lay everything out to get started. If you want, you can even watch this tutorial

video

to follow along each step!
STEP 2:

Now it's time to construct the frame! With the help of a friend, follow the

detailed step-by-step instruction manual

to build your coop base. Made from heavy duty steel, this frame is not only strong but will keep your chickens safe and secure.
STEP 3:

Now it's time to get rolling! If you opted for the wheel accessories, this step includes their installation. The moving mechanism of the Eglu Cube wheels was created to allow for one person to move the coop with ease!
STEP 4:

Time to install the run – a chicken's favorite part! The size of the run you buy depends on how many chickens you plan on keeping. The goal should always be to give your chickens the most space you can – either free range in the backyard or with a bigger

walk-in chicken run

. And if you find it hard to decide which is best for you, just contact our customer service and we will be happy to help!
STEP 5:

You're almost there! Now it's time to assemble the cube house and attach it to the frame! Made from 100% recyclable and UV stabilized polyethylene (super strong plastic!), you will have peace of mind knowing your chickens are in the best built hen house on the market. 
STEP 6:

It's accessory time! One of the greatest benefits of the Omlet Eglu Cube is all the optional accessories you can add to your hen house! The essential

feeder

and

waterer

bins are constructed from the same strong material as the house and designed to be just as easy to clean! You can also add the

automatic chicken coop door

which allows your chickens (and you!) to sleep soundly at night knowing that predators cannot get in!

STEP 7:

All that's left to do now is add your flock! You have just built an efficient and practical home for your chickens that can stay with them for years to come.
Maintenance of your coop
While Omlet products are known for their durability, we always recommend regular maintenance on all products to ensure you will get the most out of them! The Eglu Cube is practically maintenance-free with its super easy to clean design, but there are few things you can keep your eye on when out and about with your chickens to make sure stability and security are 100%. 
If you notice any

run clips

not as tightly secured, it may be time to replace them.

If you are a seasoned chicken-keeper and purchased an Eglu Cube before summer 2019, you may start to notice some wear on the previously provided friction stair strips. Consider upgrading your coop with the Eglu Cube

ladder grips

that not only make it easier for your chickens to walk in and out of the house, but are more durable as well!

While the cube house is completely covered and protects your chickens from the elements, many chicken-keepers add

run covers

for added protection when the chickens are roaming the run. 
One of the greatest gifts of chicken keeping is, of course, the benefit of wholesome, fresh eggs! But chickens can also be very henertaining! After long, you will notice you are loving your chickens just as much as your four-legged pets. So when it comes to making sure they have the best life possible, be sure you get them the best house!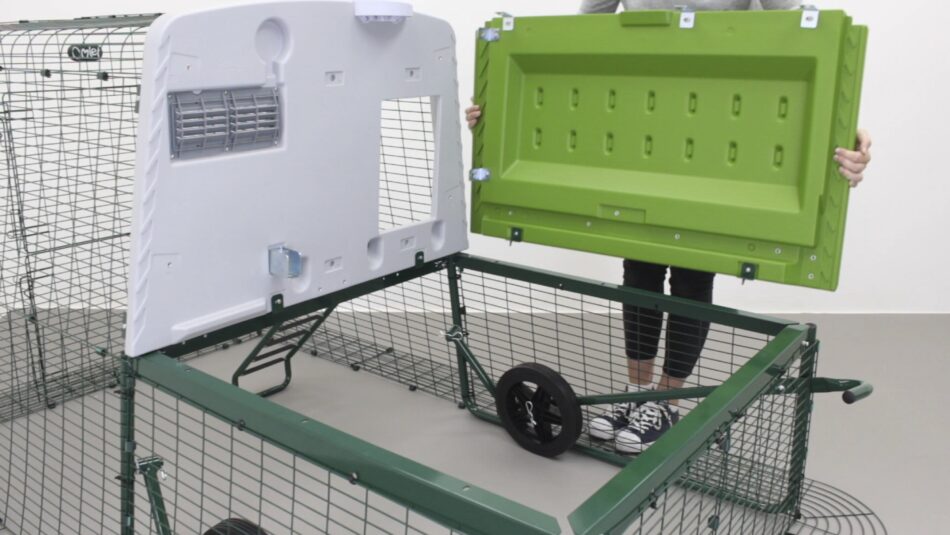 This entry was posted in Chickens
---