Are Your Chickens Happy in Their Wooden Coop?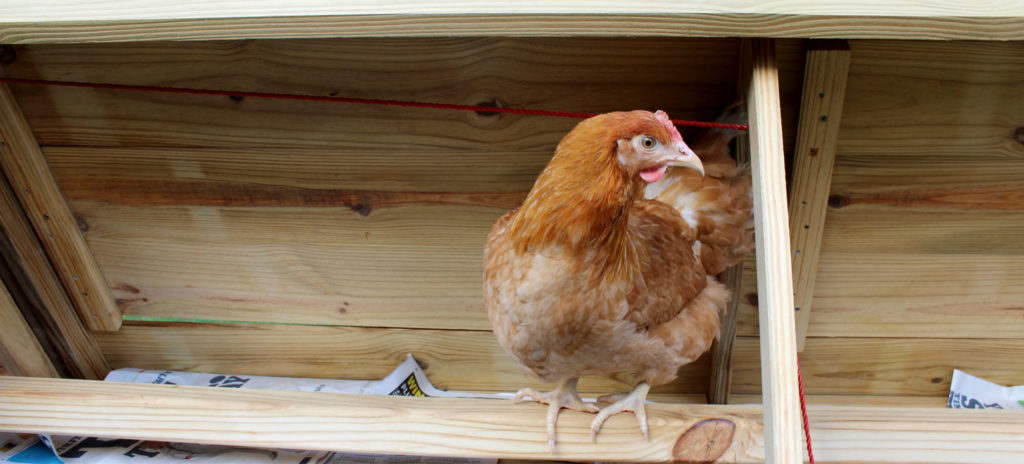 Are your chickens happy in their wooden coop?

Is your chicken's coop strong enough to survive the winter?

Is it time I upgraded my wooden coop?
These are all questions many chicken keepers ask themselves when facing the reality that their wooden coop may not be up to another winter. 
Take this short test to see whether your wooden coop is suitable for the winter.
Wood absorbs water, does it seem heavier to move in the winter? 
A = Yes, either I'm getting weaker or my coop is definitely heavier in the winter
B=  Yes, but I solved it by getting someone else to move the coop for me. 
C = I've given up trying to move it. 
D = Nope, I spent the summer sanding and varnishing my chicken coop and now it's more waterproof than a Norwegian fisherman's beard.
Have you had to pour boiling water onto locks to get them to open?
A = Yes, my coop deicer kit is more comprehensive than the one I use for my car.
B = Boiling water would have been a better idea than the brick I used to hit the sliding bolt which slipped and went straight through the greenhouse. 
C = I religiously grease all hinges and bolts every few weeks to keep things moving. 
D = I have very carefully aligned my coop to the morning sun so that the bolts and hinges have defrosted by the time I get out. On cloudy days I resort to the kettle. 
Has your wooden coop grown over winter?
A = It's funny you should mention that, yes the doors all seem too big for the frames and nothing opens or shuts properly any more. 
B = Yes, all the panels seem to have swollen a bit and I'm a bit worried about what will happen when they all shrink again because I filled all that extra space with another couple of chickens. 
C = Mostly seems fine, but the bottom sections are looking a bit soggy. 
D = Thanks to my painstaking varnishing and siting of the coop on some free draining pea shingle it's in tip top condition. 
Is the roof leaking? 
A = I've already fixed the roof a few times this year, and it's leaking again.
B = Yes, but this is the first time and I think it's easy to fix. 
C = At the moment I don't have any troubles with the roof. 
D = My wooden coop is brand new and I don't expect to have any problems this winter. 
Is it cold and damp inside?
A = Yes, it does feel cold inside and the bedding gets damp quickly. 
B = It is a little chilly in there, but my chickens huddle together for warmth. 
C = I have no problems with dampness, and I have a lot of chickens to keep each other warm.
D = The coop keeps warm well overnight once I have shut the door, and my chickens are outside during the day. 
Did you have difficulties with red mites in summer?
A = Yes, I had to clean and treat the coop and my chickens regularly and I am dreading this summer. 
B = No more than usual, I'm used to it and tackled the problem as best I could.
C = I did have some mite issues over summer but I have a solid cleaning strategy in place.
D = The red mites didn't cause a problem in my coop this year. 
How long does it take to clean?
A = It's an all day task which I dread doing so it doesn't get cleaned regularly in winter.
B = It does take quite a long time, so it's not fun in winter but I know my chickens appreciate it. 
C = It takes a few hours to do but the whole family helps. 
D = It doesn't take me long at all and I have a good system in place.
---
The results…
Mostly A's = If you experience repeated issues with your wooden coop, like red mite, a leaking roof, or poor ventilation, then these problems are unlikely to disappear overnight, and will only get worse in poor weather conditions. Consider upgrading to a plastic chicken coop for faster cleaning and red mite removal, better insulation without compromising ventilation, and happy chickens all-year round. 
Mostly B's = You've done well to keep going with your wooden coop this far, and seem to be willing to overcome the problems involved in owning a wooden chicken coop. The coop itself may be able to survive another winter, but are you and your chickens happy about it? The most important thing for you to do here is keep an eye on any dampness inside the coop and ensure that the coop has plenty of ventilation to keep the water particles moving through without making your chickens super cold. 
Mostly C's = Sounds like you're a veteran wooden chicken coop owner and know exactly what you're doing! Keep an eye on the typical problems areas throughout winter, and make sure you're keeping up with the cleaning, especially if you have lots of chickens sharing the coop. In spring, reevaluate how your coop held up during the colder months, if some damage is done, or some of your chickens got ill, consider why this might be and look to other housing options. 
Mostly D's = Your wooden coop is likely in its early days, or you have spent lots of time and effort in preserving it as best you can. It's still worth checking around all the problem areas before the worst of winter hits, and looking at potential accessories which could improve your chickens' home. For example, an Automatic Chicken Coop Door can be placed on the wooden coop door so that it can be shut earlier in the evening once all your chickens have gone to bed, even when you're not yet home. This way your chickens can begin to roost in the warm with no blowy drafts, and they will also be safe from predators once they've gone to bed. 
This entry was posted in Chickens
---