How to Insulate a Chicken Coop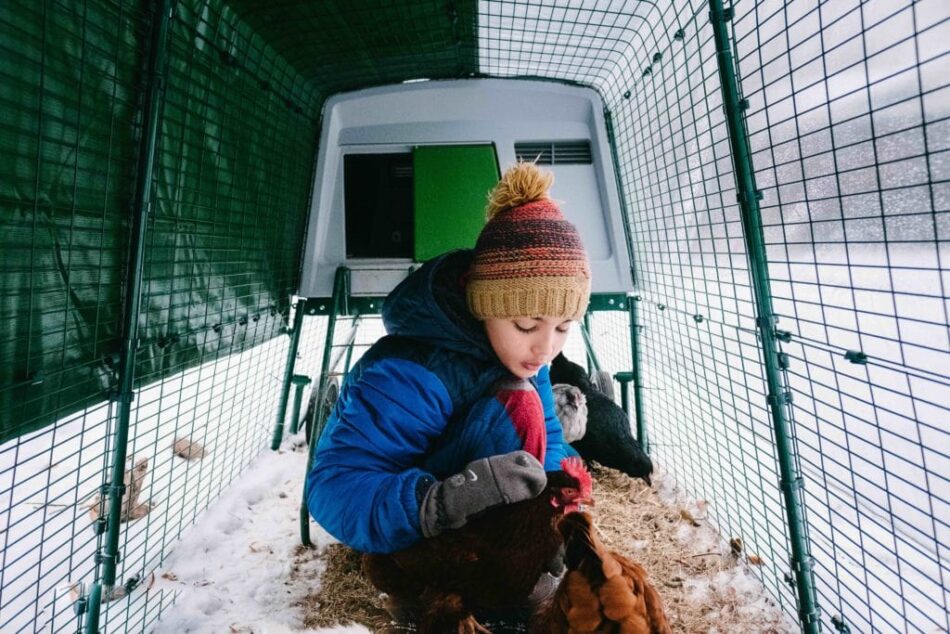 Insulating your chicken coop and getting your flock ready for winter is vital for their health and happiness. Most chicken breeds cope well in moderately cold temperatures as long as they have a well-insulated, dry coop. Chickens normally acclimatize to the cold weather, so if you have an insulated coop such as an Eglu Chicken Coop, you won't need to fret during the cold months. In fact, chickens are able to adapt to the cold much better than hot weather! But with a little extra planning and preparation, you can ensure that your flock not only endures the winter, but thrives in it. 
Why you should use an insulated chicken coop 
Whilst chickens tolerate the cold well, ensuring your chicken coop is insulated during the cold months can promote their health. Whether you live in a state such as Alaska that is cold all year round, or experience warm summers followed by cold winters it's vital you choose a coop suitable for the weather.
Our range of Eglus are designed with warmth as a core aspect. With a unique double-wall insulation system, you'll find that our coops work in a similar way to double glazing. Your hens' body heat is trapped inside whilst ensuring cold air cannot get into the sides of the coop. When comparing Eglus to a traditional wooden coop, you'll discover that the Eglu provides far more insulation. 
The insulation of our chicken coops is not the only benefit they provide. They are easy to assemble, easy to clean, portable and simple to attach to chicken runs. This will allow you to give your flock the space they need to roam during the day, as well as a cozy spot to sleep at night.
How to easily insulate your chicken coop
Whilst our chicken coops are naturally insulated, in really cold temperatures you may wish to insulate their home even more. Our Eglu Extreme Weather Protection are designed to perfectly fit your coop for added insulation. The temperature blankets are filled with a heat trapping recycled material that is breathable whilst keeping your pets warm. They are simple to fit to your Eglu and are easily secured with bunjees. 
However, if you do not have an Eglu there are other ways to insulate your coop:
Weather protection & insulation for wooden coops
Your chickens' coop must be waterproof! Most chicken breeds do well in the cold so long as they are dry. Chicken coops should also be insulated enough to remain warm inside even in the cold of winter. Here are our tips for insulating a chicken coop:
Keep your coop and run dry

– you can use

coop covers and tarps

to do this.

Spray foam insulation

– you can hire someone to insulate your chicken coop with spray foam to help trap heat inside your hens' nest.

Fiberglass insulation

– using fiberglass insulation is an easy way to add DIY warmth.

Wool blankets

– adding wool blankets to the smalls can help to keep the coop insulated. 
Ventilation whilst keeping cozy
A well-ventilated chicken coop will ensure that plenty of fresh air gets inside the coop. This will keep the odors down and avoid moisture build-up. Whilst you want to stop chilly drafts, a chicken coop without ventilation will retain moisture along with heat. And while some air circulation is good, make sure the coop is draft-free.
Elevation to reduce dampness
Height can also be an issue when making sure chicken coops are insulated. Coops should be raised off the ground to prevent the base becoming damp. For larger flocks, the Eglu Cube is an excellent choice for both insulation and elevation. If your coop doesn't have legs, you can place bricks under the coop to allow air to circulate and reduce dampness. Always make sure you place or build your chicken coop and run-on high ground that won't flood during heavy rainfall. 
Size of the coop
It seems counterintuitive, but chicken coops can actually be too big. When the coop is too big for the size of the flock you have, your chickens won't create enough body heat to warm up the space. This is why it's so important to understand how much space your chickens need, when deciding which coop to buy. Chickens huddle together and keep each other warm, so they don't need much space in their sleeping quarters. Try not to open the door of the coop at night when your chickens are roosting as it can compromise your insulation. Be mindful that this pent-up body heat is keeping them warm, so make coop and egg checks quick! If you have a large coop or barn and just a few chickens, you can place a large cardboard box on its side, half filled with chopped straw or wood shavings in a corner to help them conserve their body heat.
Keeping your chicken run insulated
It's important that at least part of your chicken run is covered during winter months. Using weatherproof chicken run covers will help reduce how much snow can build up inside the run. You can also build a greenhouse-style addition to your coop, covering it with clear plastic, which will help convert sunlight into warmth. To prevent areas under the run from becoming too muddy, cover wet spots with pelleted pine bedding (usually used for horse stalls). Mud is a breeding ground for poultry parasites, so muddy areas should always be addressed.
Perches for cold chickens
Give your chickens plenty of places to roost. To prevent their feet from getting too cold on the frozen ground, you'll need to give your chickens a place to perch in both their coop and run. The perches need to be wide enough so that the chickens can cover their toes with their feathers to thaw out chilled toes. By placing freestanding chicken perches or wire-mounted chicken perches, you'll give multiple hens the opportunity to warm their feet while they're out of the coop. 
Cleaning your coop in winter
Keep your chicken coop clean and dry. Clean the droppings from inside the coop daily and replace bedding as necessary. By keeping the coop both dry and clean, you will help to prevent moisture buildup, which can lead to frostbite on your chickens combs and wattles. 
Caring for your hens in cold weather
Keeping your chickens fit and healthy in winter goes beyond just insulating your coop. Here are our top tips for happy winter chickens:
Water in winter
It is important your flock always has a source of fresh, unfrozen water. Depending on where you live, this can pose a challenge. To prevent frequent defrosting, you can invest in a heated waterer or heated poultry drinking base. You can also insulate the water like you have your coop, by wrapping the chicken drinkers up in a layer of bubble wrap to keep the water thawed for longer. Don't place the water inside the coop, as it will increase humidity levels. 
Chicken feed in the cold
During winter your chickens feed consumption will be higher than in the spring/summer. Often chickens enjoy warm feed, like cooked lentils or warm oatmeal with some raisins or other small, dried fruits. Give your hens extra corn or scratch inside of a peck toy for both physical and mental stimulation in the afternoon, as this will heat them up internally as they digest it overnight. Offer hay or dried grasses for extra ruffage to fuel their metabolisms. Hens will decrease or even stop laying eggs in the winter to conserve energy. But you can help encourage hens to continue laying by providing adequate feed – both in quality and quantity. Supply layer pellets to give the right nutrients your egg-producers need throughout the winter.
Take care of their combs and wattles
If it gets extremely cold during the winter, your chickens' combs and wattles can be in danger of getting frostbite. Most hardy breeds have small combs, but if you have chicken breeds with very large, floppy combs you will need to gently rub Vaseline on their combs and wattles. You will also need to keep an eye out for coughing, sneezing, and general symptoms of being unwell. 
Vermin
Remember at this time of year, there are hungry rats and mice attracted to the chickens feed and water. Take extra care with the storage of your feeds. Store feed away from the coop and keep it in an airtight container. If you notice any signs of vermin, remove the feeders and drinkers at night, when they are most active. Offer kitchen scraps or fresh vegetables in a Caddi Treat Holder to keep the floor of your flock's run free of tempting treats for unwanted visitors. 
Fighting winter boredom
With less grass and weeds to munch and fewer bugs to feast on, your chickens will experience boredom in the winter. This can lead to behavioral issues, like feather pecking, egg-eating etc. Prevent boredom by giving your chickens toys like Chicken Swings, perches, piles of leaves, mirrors, or even a xylophone mounted to the run!  Keeping your chickens hentertained will ensure they're mentally stimulated and kept busy.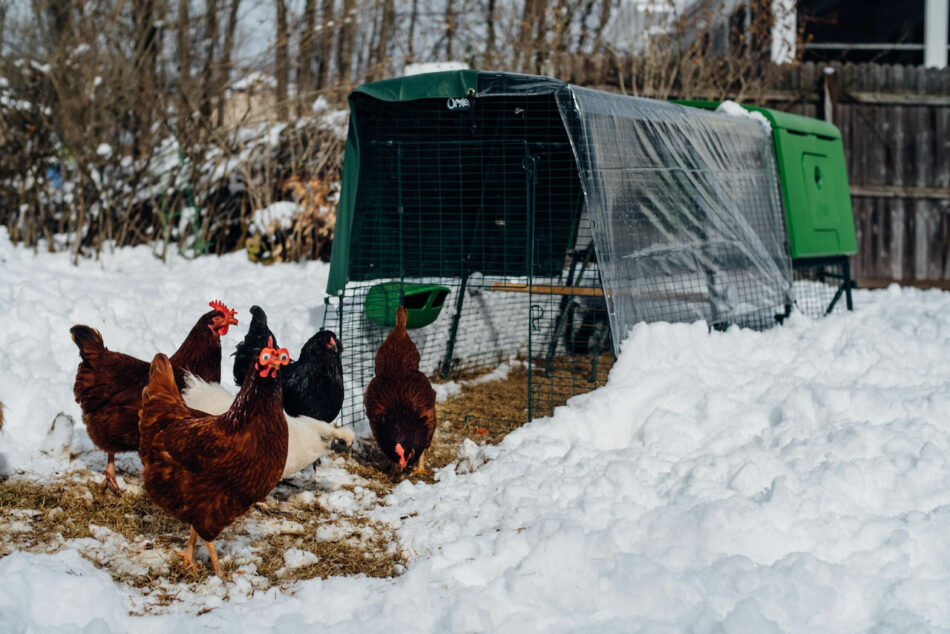 Introducing Omlet Petcare
Whether you're a keen chicken keeper, or have a whole pack of pets, we're here to help you take care of them. From chicken pens to roam in, to comfy dog beds your pooch will adore.
This entry was posted in Chickens
---