12 facts you might not know about your Guinea Pig!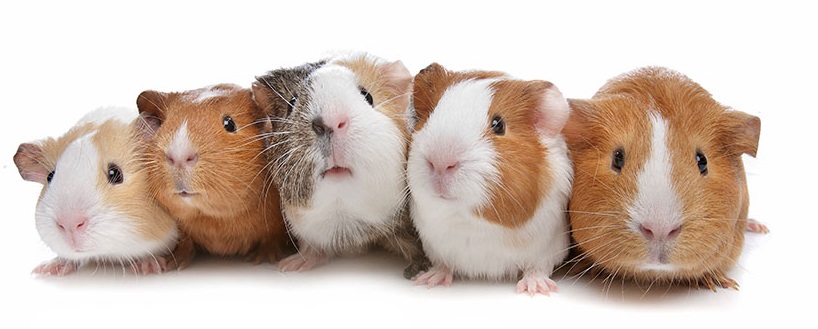 1)
Guinea Pigs are not pigs but, rather, rodents. They are also not from Guinea; they originated in the Andes mountains of South America
2)
A male is called a boar; females are sows and babies are referred to as pups.
3)
"Pups" are born with fur and their eyes open.
4)
A healthy weight of a Guinea pig is between 700 and 1200g (1.5 – 2.5lbs)
5)
Guinea pigs are around 20 and 25 cm long (8 – 10 inches)
6)
The life span of a guinea pig is between 4 – 7 years
7)
They have 4 toes on their front feet but only 3 on their back ones
8)
Their teeth continue growing throughout their lives which is why it's important for them to constantly gnaw on the things they like to eat so they wear their teeth down
9)
Guinea pigs only sleep for about four hours during a 24- hour period and usually nap from between 20 seconds to six minutes.
10)
Guinea pigs are extremely vocal and have a broad range of sounds which include purring, whining, shrieking, cooing, rumbling, hissing and teeth chattering.
11)
They are very social animals and they are much happier when kept in pairs or groups
12)
All breeds of Guinea pigs have five different types of hair that make up their coat.
This entry was posted in Guinea Pigs
---