How the Weather Forecast Can Help Chicken Keepers
While most people check the weather forecast to help them plan their week activities or outfits, chicken keepers can also be using it to predict what accessories their coop needs to ensure their girls are as comfortable as possible. 
From sun to snow, wind to wet, the breakfast time weather reports and the handy app on your phone are all giving you helpful hints that you might be ignoring.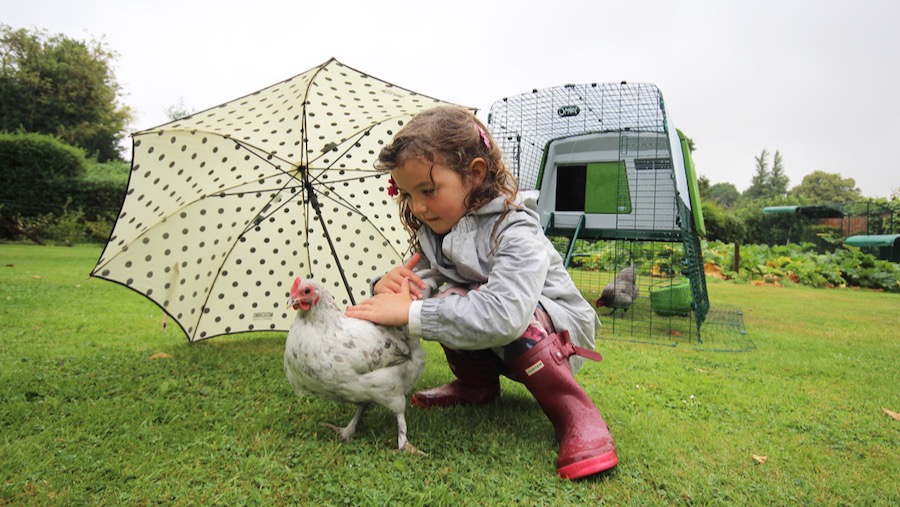 ? TEMPERATURE ?
Firstly, the most obvious indicator: the predicted temperature for the coming 10 days. Depending on what time of year we are in, this can be super helpful or utterly confusing if it is varying drastically. But let's think about what we can act upon.
In winter, if the predicted temperature is at below 32 degrees Fahrenheit for more than 5 days in a row or the temperature is near freezing and you have very few chickens in your coop, you may want to consider attaching the Extreme Temperature Blanket to your Eglu to give your chickens some extra help with keeping warm, without limiting the coop ventilation. 
During hot summer months, when temperatures can be above and beyond 85 degrees Fahrenheit daily in some countries, it is wise to move your chicken coop into an area that is in the shade for as much of the day as possible. For your chickens, daily health checks are essential to ensure they are not suffering with the high temperatures. If your coop is attached to or inside a secure run, you can leave your coop door open to increase airflow at nighttime without your girls being exposed to predators.
☀️ SUN ☀️
When the sun is shining, it is tempting to cover your chickens' run with shades so that it is completely protected from the sun inside. However, this can have the opposite effect on what you intended. Instead of shading and cooling the area, lots of shades create a tunnel which traps the heat, like a greenhouse. 
It is best to keep them in a shaded area, and protect one side of the run from the sun. If your chickens are out free ranging most of the day, make sure that they have access to shady patches in the garden, and that their food and water is also in shade.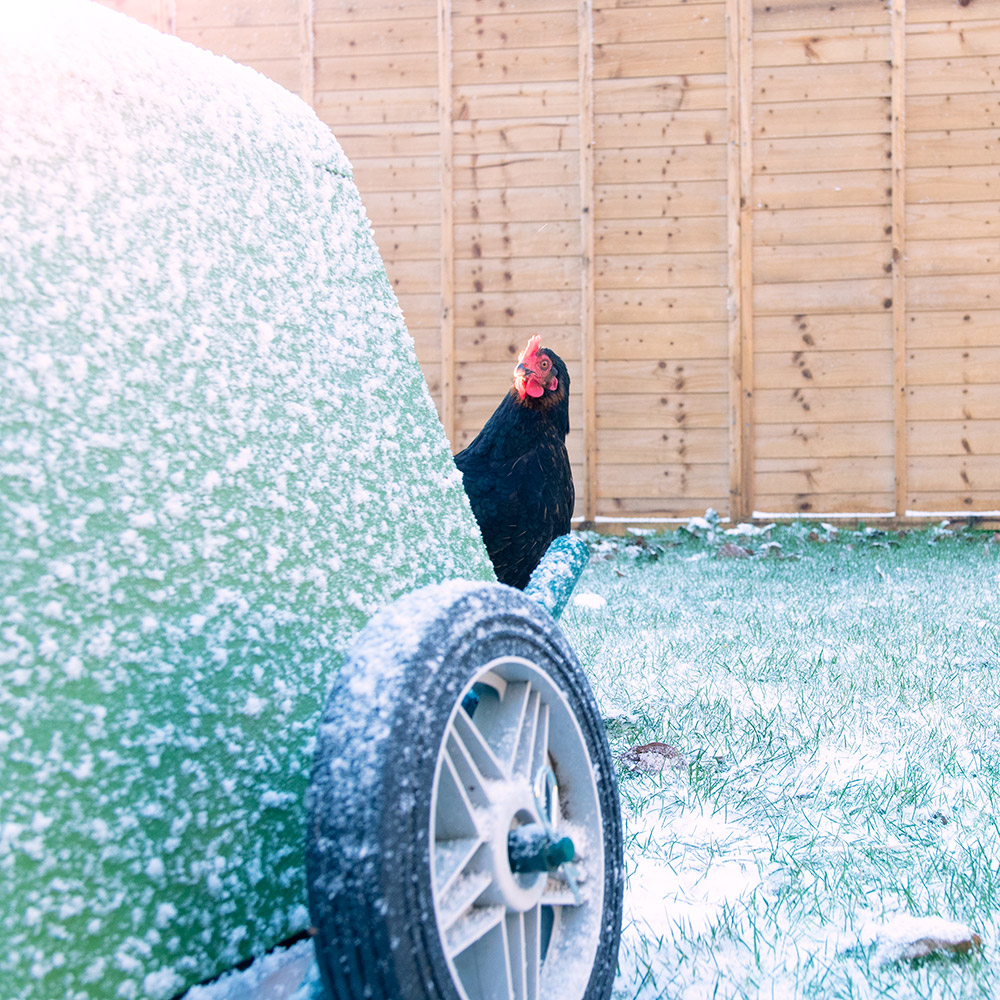 ❄️ SNOW ❄️
Exciting for some, but for others a weather warning for snow can be very disappointing. You may want to consider sheltering your coop's run with clear covers to prevent as much snow getting on the ground inside the run as possible. If snow is predicted for the foreseeable future, you may want to prepare for long term icy conditions and bring your coop closer to the house so it is easier to check on your chickens, and they can benefit from some of the shelter your house might provide. During the snow, be sure to dry off damp feathers and remove any chunks of ice from claws. Increase the amount of bedding and food you are giving your chickens too as this will help them stay warm. 
If you have time, it might be wise to consider how effective your chicken coop will be against the bitter cold. If you have a wooden coop, check if it is water-tight and well insulated. If you are not confident in your wooden coop, consider upgrading to a sturdy plastic alternative, like the Eglu Cube. It's twin-wall insulation works in the same way as double glazing to keep the cold out of the coop, and the heat in during winter. The plastic material is waterproof and super easy to clean out quickly (especially important on chilly winter days).
☁️ CLOUD ☁️
The most boring of all weather forecasts, but often a rest bite from other more extreme conditions. During winter, a few cloudy days should raise the temperature slightly and give you a good opportunity to clean out your coop and thoroughly check on your chickens and make any changes needed for whatever the forecast predicts for the coming days.
? RAIN ?
Some weather reports are more helpful than others when it comes to the exact timing and chance of there being rain. But if you're looking at days of 90% chance of heavy showers, it would be wise to act fast and get some protective clear covers over the run. If the ground under your chickens' coop and run is already extremely muddy and wet, you might want to consider moving them to a new patch of grass, and maybe even laying down a base material, like wood shavings, to prevent it developing into a swamp!
? WIND ?
How you react to a windy forecast completely depends on the wind speeds predicted. Light winds, less than 25 mph, shouldn't cause much of a problem. You might want to add some windbreaks around the base of your Eglu and a large clear cover down the most exposed side. However, in extreme high winds, the worst thing you can do is completely conceal your run, particularly a larger Walk in Run, with covers from top to bottom. In a large run, the mesh holes allow the wind to flow through without causing any issues to the structure, and a clear cover round one bottom corner of the run will provide chickens enough shelter. If you cover the run completely, the wind will be hammering against it and is more likely to cause the structure to lift or move. 
If your chickens are in a smaller run attached to their coop, we recommend moving it to a position where it will be most protected from the wind and any falling debris, for example, against a sturdy building wall. The Eglu's wheels allow you to easily move the coops around your garden to suit the conditions. If you are keeping your chickens in their Eglu coop and run, and not free ranging during dangerous weather conditions, consider adding some entertaining toys and treat dispenser for them to prevent boredom, such as the Peck Toy or Perch. 
---

This entry was posted in Chickens
---