Chicken-Keeping Challenges In The Year Ahead

Backyard hens usually spend their entire lives outdoors. This means they have to cope with everything the year throws at them, from blazing summers and sub-zero winters to year-round downpours.
Being hardy birds, they take much of this in their stride. But there are still ways of helping your flock through the changing seasons.
Winter
This is the most challenging time of year for any animal living outdoors. The cons outweigh the pros, but with a little bit of help from their human friends, chickens can shrug off the excesses of the season.
Although chickens cope well with the cold, they don't thrive when it's both cold and raining. Protecting the run with

extra weatherproofing

will help enormously. Keeping the birds in an insulated

Eglu

is a good place to start.

Keep the hens' feet dry in wet weather by lining the run with wood chippings.

Chickens usually return to the coop at dusk. But in the winter, you may find your birds trying to get more pecking time from the short days. If your hens are prone to wander in the dark, a

high visibility hen coat

will help you locate them – and also ensure they're visible to anyone else, should they stray from the garden. The coats also keep the birds cosy, so it's a double blessing in the winter. 

Roosting perches enable chickens to cuddle up in the cold – something essential on a winter's night. The

Omlet Chicken Perch

is perfect for chickens over this season, being composed of eucalyptus, a strong, untreated wood, which prevents chickens' feet from becoming too cold.

In sustained sub-zero conditions, rub petroleum gel (e.g. Vaseline) on the hens' combs and wattles, to prevent them becoming frostbitten.

Keep an eye out

for coughs, sneezes, lethargy, or other signs of illness. A chicken with a weak constitution may be vulnerable when the cold weather kicks in.

Egg numbers will drop – this doesn't mean you'll have no eggs for breakfast, though. Three hens should till deliver eight eggs a week in the coldest months, but this will vary somewhat.

Make sure the hens' diet remains healthy, and add some extra

vitamins and minerals

to keep their immune systems up to scratch.

Their water will freeze, so be prepared to break the ice, and have some spare water dispensers ready in case things freeze up entirely.

On the upside, winter might kill off any lingering red mite in coops and runs!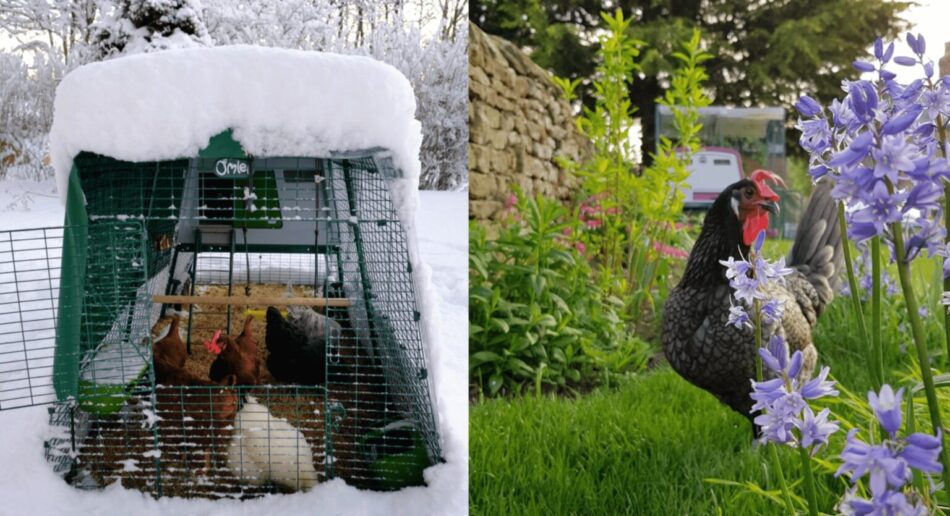 Spring
As the days lengthen, your hens will start laying more eggs. The garden comes back to life, and the chickens will find things worth scratching for in the ground.
Foxes will be hungry after a long, lean winter, so make sure your coop and run are secure.

Automatic doors

will ensure the hens are in and out at the right times, and will prevent predators from gaining after-hours access. The door will also let your chickens out in the morning, so that you can enjoy weekend mornings in bed as the days get longer.
With the warmer weather, the red mites start to gather…

mite-proof your chicken shed

before the situation gets out of hand!
Summer
It's amazing, having seen your chickens happily cluck and scratch their way through freezing winter, to now see them equally happy in temperatures 20-odd degrees warmer. The main problem in summer is too much sun – but with plenty of shade in the garden, your birds will love the warm weather every bit as much as you do. A chicken coop that provides shade in itself, like the space under the Eglu Cube or the Eglu Go Up, is ideal for the summer months.
Keep the water supply topped up, as hens drink more in warm weather.

Provide a dust bath

– either a dry area of ground in the garden, or a tray in the chicken run. Cat-litter trays make good baths.

Daily egg-collecting will discourage hens from going broody – something they sometimes do at this time of year.
Autumn
Although the summer has gone and winter lies ahead, this is actually a great season for chickens. There are lots of juicy bugs to scratch for in the still-soft ground and leaf litter. If you have any fruit trees, there are rich pickings for the birds in the shape of windfalls.
Hens often moult at this time of year, so they need a good diet to help them stay healthy and grow new feathers. Extra

vitamins and minerals

will help, and a little

apple cider vinegar

in their water will help ensure a healthy, glossy new plumage.
Chickens are a year-round commitment. Fortunately, they make it easy for you – these wonderful birds are pretty much happy whatever the time of year.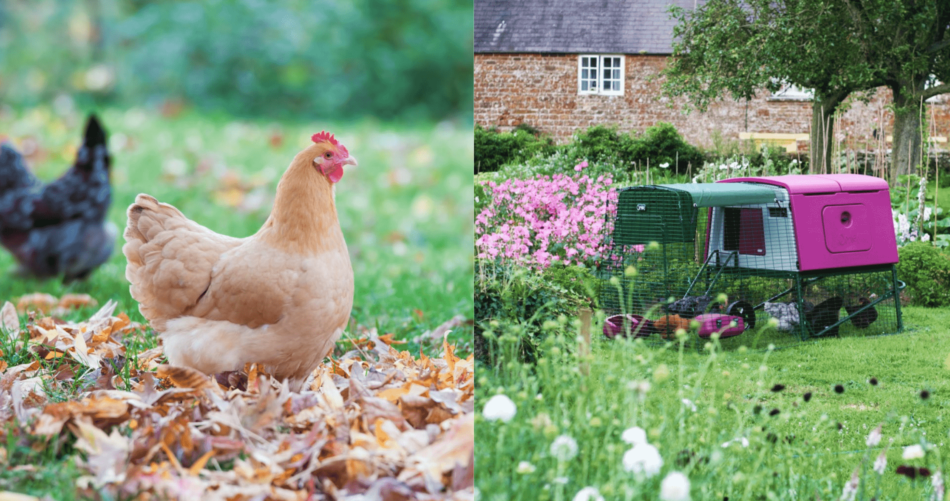 This entry was posted in Chickens
---