How To Minimize Pet Stress When Moving Home

Moving home can be very stressful. Not just for you and your family, but for your pets too.
It's less of an issue for smaller animals kept in cages or enclosures. But even pet rodents and birds will need to be transported to the new residence, and none of them will enjoy the journey.
Of all the pets, though, it's cats and dogs that take the brunt of the stress when moving. Everything they've come to know and rely on in terms of safe places, personal spaces, territories, and familiar scents and sounds disappears.
Here are a few tips to help your furry friends chill-out at this most disruptive of times.
Helping Pets Move Out
There's a shortcut to a stress-free move: put your dog or cat in a kennel or cattery, or hand them over to a dog- or cat-sitter. That way they can ride out the chaos in relative peace and quiet, and you can collect them once the dust has settled at the other end of the moving process.
If you decide instead to let your pet ride out the storm with you, there are several things you can do to make it easier on them.
Put your pet in a safe space – a quiet room in the house away from the main activity of boxes, moving furniture and sweaty removal men. Put familiar things in the room such as bowls and favorite toys, and make sure your pet spends time there in the weeks before the move, to get used to it. This applies not just to cats and dogs, but to small mammals and cage birds too.

If your dog has a crate, that might be an even better option. Similarly, if your cat is happy chilling out in a cat crate or box, let them.

Nominate one member of the family to be responsible for pet wellbeing throughout the move.

Some owners recommend spraying a cat box or basket with calming pheromones (available from vets or pet shops). The calming effect can be increased by covering the crate with a sheet to keep it dark.
Pets On The Road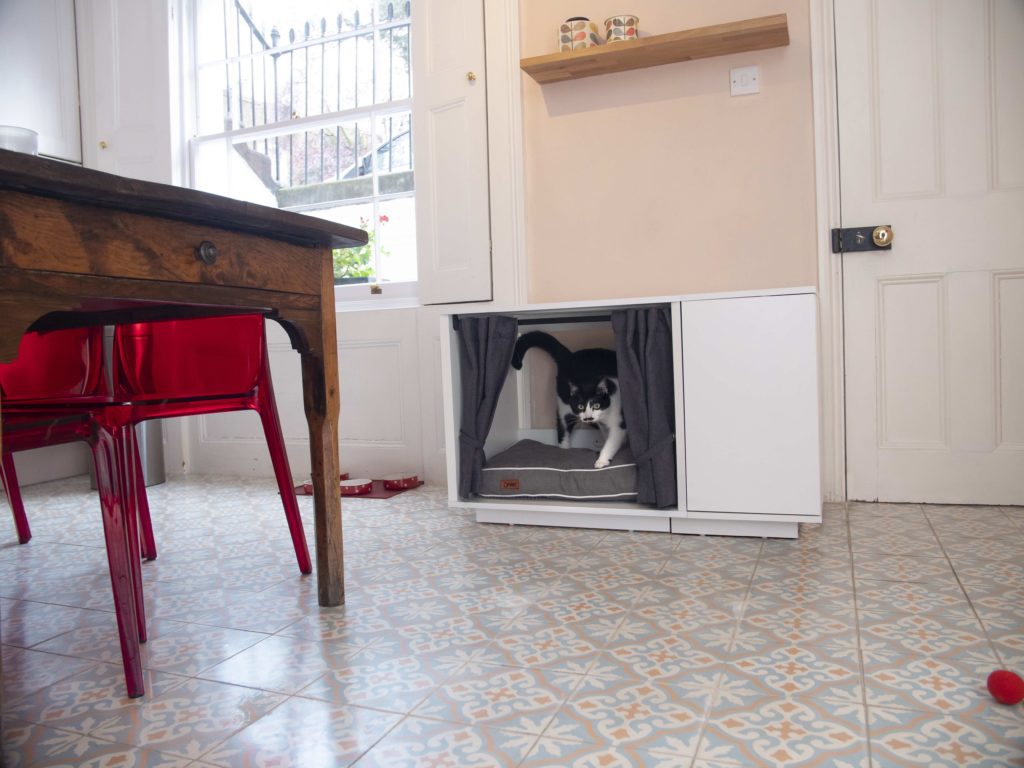 Some pets enjoy traveling. Others hate it. Highway blues can be minimised in the following ways.
If your pet is already used to traveling in a car, great. If not, introduce them to the inside of the vehicle in the weeks before the move.

Dogs should be secured with a doggy seat belt, or installed in a crate if that's possible. Cats should always be transported in cat crates, and ideally they should be used to these before making the journey. Never let an animal remain loose in a car during the move; and don't make a dog travel in the strange and scary surroundings of the removal van.

For smaller cage pets, the journey is bound to be stressful. If possible let them remain in a covered cage and put plenty of soft items around it to prevent it moving around during the journey. If you need to transfer the animals to carrying boxes, make sure these are placed somewhere dark, with no chance of moving around. Never put the box in the glove compartment – there's a chance of noxious fumes building up in there.

If the journey is long, take breaks to allow your cat or dog to drink and, in the case of a dog, to exercise and relieve itself.
Helping Pets Move In
It takes time for pets to settle into new surroundings. But the first few hours are likely to be the most stressful, so, again, make it as painless for your pet as possible.
Choose a quiet settling-in room, put the pet's basket or blanket in there, along with some other familiar items, and then close the door for as long as it takes for your stuff to be relocated from the removal lorry to the new house or flat.

Once everything is inside and the doors and windows are all closed, let your pet out for an exploration of the new place. Keep close, to reassure them. Most pets will relax within five minutes after a good sniff around, and will happily accept a tasty treat.

If you have a cat, rub its head and cheeks with a cloth, and then rub the cloth on surfaces and skirting boards around the new place. This will transfer the cat's natural pheromones.

Put the pet's bed in the place you intend it to sleep in, rather than letting it spend a few nights here, there and everywhere. Routine and familiarity are what it's all about.

When outside, keep your dog on a lead in the first few days, to prevent him chasing new scents and getting lost, or attempting to head for his former residence, which for a short time will still be 'home' in his brain.

Keep cats indoors for at least one week, otherwise they will wander away. This is very likely to happen if you have not moved very far. Only let them out after dark once you're confident that they have properly settled in.

Make sure your pets are microchipped and have IDs on their collars, in case they stray.
Pets soon settle into a new home. All they really need is a little time, the reassurance of your continuing presence, and the sight and smell of familiar toys, food and bedding. 
It's these things, rather than a mere accident of geography, that means 'home' to a happy pet.
This entry was posted in Pets
---